| << | 20 | 21 |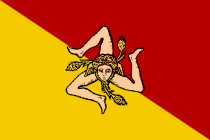 | 23 | 24 | 25 |

| 27 | 28 | 29 | >> |

Be sure to hover the mouse over the images.


| | | |
| --- | --- | --- |
| | Bicycle Tour Adventure #29 | |
Pictures and Stories About Bicycle Tour Adventures
Great Divide Mountain Bike Route (GDMBR - Segment):
Del Norte on the Rio Grande, La Garita, Colorado;
By Bicycle Tour; July, 2010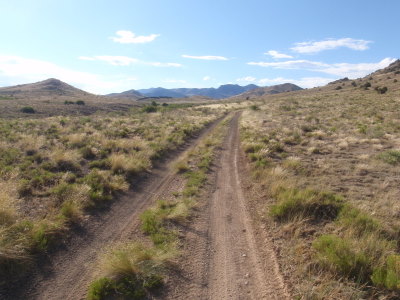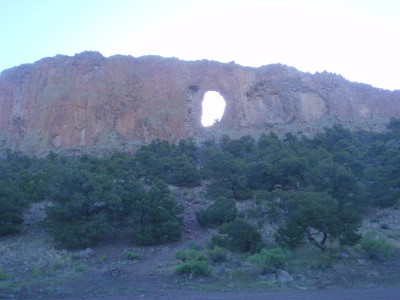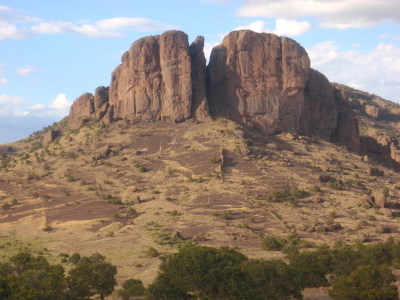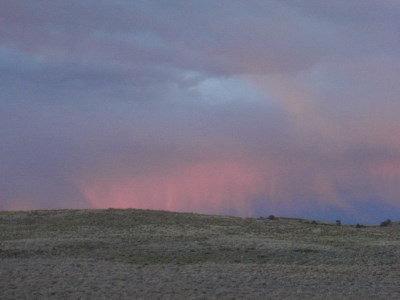 - Cycling Summary -
Goal: Completely Ride Adventure Cycling's 'Great Divide Mountain Bike Route'
This short ride was quite the mini adventure.
This was a 4 July, holiday, long weekend and we wanted to ride one long day and two short days on a tandem (mountain daVinci hybrid tandem touring bike).
Our first and only ride was to be an evening round trip ride, 18 miles each way, from 5pm to 10pm (hot day time valley temperatures in the 90°s F). The temperature timing was perfect.
We thought this would be an easy round trip segment but we quickly found ourselves in very tricky double track jeep trails. In fact, some of the trail ruts were deep enough and the bunch sage was thick enough that one could not change riding lanes for long riding durations. We frequently found ourselves in soft dirt that robbed the bike of all forward momentum and caused unstable steering situations.
We had two zero mph fall-overs in the soft dirt. One of the fall-overs resulted in a butt-thigh commbination bruise that brought on just enough soreness that we could not bike comfortably the following days (thus ending the ride).
The big roads (wide dirt), while navigable, had washboards that were nuisance enough to vibrate a pannier off the bike, twice. We spent much effort riding between the soft dirt edge and the bumps, usually with success.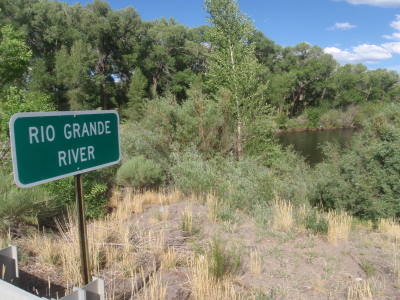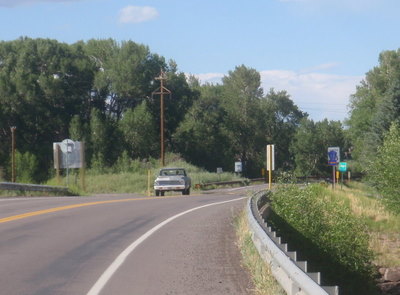 Above Left: 5 PM, we headed north out of Del Norte, on State Road 112 only far enough to cross the Rio Grande.

Del Norte is Spanish for Of The North meaning Northern, as in the Northern End of the Spanish Settlement Territories of/from Mexico. Also, Salida, a town just north of Del Norte, is Spanish for Exit. Del Norte is a town just big enough to have one of each kind of store and small enough that everyone knows each other. We stayed at the Country Family Inn and Restaurant, it is the only Motel in town and it is very Spartan (no fridge, microwave, or air conditioning). The hotel does not need air conditioning as the rooms stay cool during the day and the nights are usually cold at about 7,800 feet elevation.

Above Right: After crossing the Rio Grande, a quick left turn on County Road 15 which bends back northward.
This was our last good map direction. The Great Divide Mountain Route's Map is designed to go from North to South (all of the written detail notes are from north to south); we're traveling in the opposite direction, south to north, and it's a bit like traveling up the down escalator. As it just happened to be, all of the dirt road signs existed on the north end of the roads but not the south end of the roads and in a few important situations, the south road entrances were at intersections with devious choices (other dirt roads intersecting). It did not help that the GRDMR map layout was inaccurate just in this very segment that we were traveling. We were truly left to our on wits and skills (yea us). We did have to backtrack a couple times; we stopped a car once; we flagged down a truck with two cowboys going to town (Friday Night!), and we stopped at a very remote field of holiday campers to validate our position (that turned out to be a college type of Kegger Partay with a Live Band with generators and such) but the local attendees validated that we were on the right course (we were invited and we gave thought to staying there for a while and/or maybe coming back later to the party - mostly college kids - We didn't think to take pictures). In any case, navigation was problematic for cycling northward.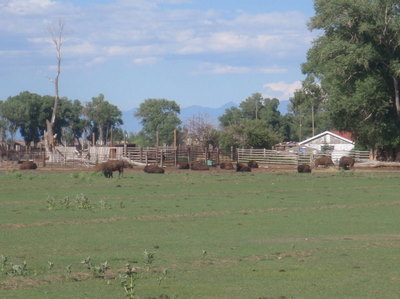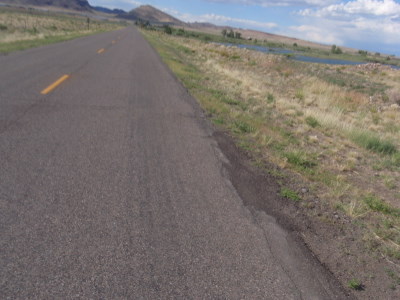 Above Left: Buffalo Farm. All the animals were as far as possible from us, within their fenced area, thus making it difficult to get a good buffalo picture. Their fence is just for the honor system, as no fence will hold a determined buffalo (for that matter, nor will it hold most determined bovine bulls).

Above Right: One of those accidental pictures which captured the last water that we would see for the evening. We were carrying a full load of water.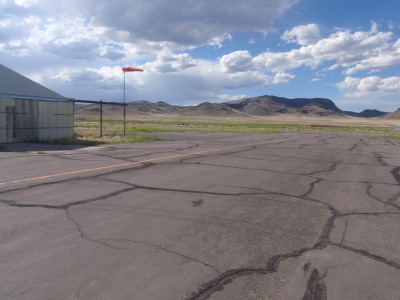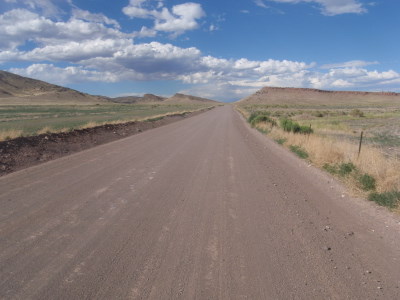 Above Left: The Del Norte Airport. Not a person around. We saw our turn-off but it had a Road Closed sign. We had expected to see some sort of detour sign, so we kept riding (which in 200 yards had lead us right to an airport taxi-way - pictured). We took this picture and turned/rode back to the road closed sign. Luckily, we met a family/vehicle that had just pulled up (the parents were probably the FBO - Fixed Base Operators [Dennis was a Military Pilot, in the Old'n Days]). They explained to us that we could ride on the closed road now and they told us that there was some airport expansion construction occurring and eventually the road will permanently close and future cyclists and vehicles will have to ride around the airport the long way around.

Look at the wind sock, it was that windy! One of those rare mostly tail winds about which one never reads or writes.

Above Right: We are now traveling northeast, paralleling a dirt Landing Strip on the left side of the road in this picture. At the end of the Strip we will have no idea which way to proceed. The map implies that we continue northeast, but the true road heads west for 100 yards and then turns north there are no signs or previous bicycle tracks anywhere. A car passed by us while we were studying our map and the car seemed to drive slowly for our account, hint hint, drive this way bikers! So we did. Thank You Stranger (our Guardian Angels at work).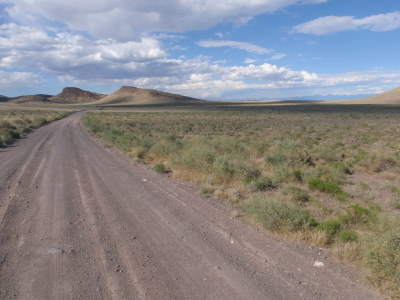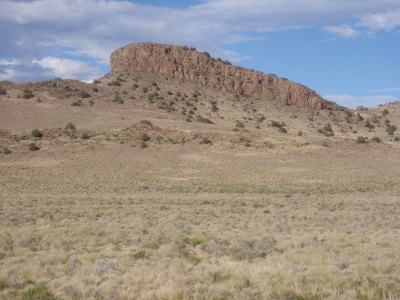 Above Left: We are on the correct road but we are riding without validation and we are riding in contradiction to the road map. Worry worry, fret fret, the road continues to degrade in quality and use. Eventually the same road turns to Jeep Track (aka double track). We stopped a pair of cowboys in a truck; they were polite and affirmed that we were on the correct road. BTW, that was only the second and last vehicle that we would see (on FR 665). The other bothersome cross reference was that we would not see a single bicycle tire track for another 5-6 miles; that's rare and unnerving for deciding if one is on the correct dirt road for a well traveled and popular bicycle route. There are dirt roads every 400 yards and many appear to be parallel. There is room for error and recovery for the experienced traveler.

Above Right: A volcanic butte (same as in the left side image). As we ride, we see more and more volcanic remnants. The road is about to turn northeast for a long ways (as opposed to the left horse shoe turn on the map).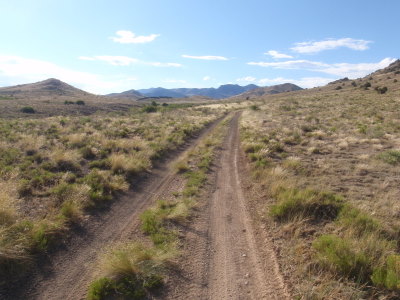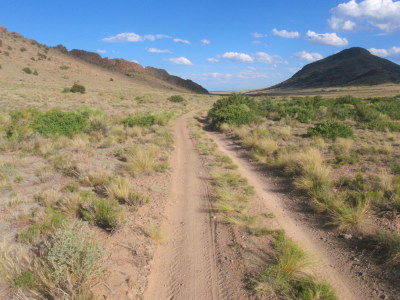 Above Left: This is good double track. We were too busy to think about taking pictures in the rough tracks. Don't get this wrong, we are having a grand time but we are traveling much slower than we had budgeted time. No worries, we are good night riders and we are night equipped. We will be riding tonight.

Somewhere along the way, we will run into college kids setting up for a big 4 July Weekend Bash on private property. We estimate that there were 15 vehicles and about 50 people; they even had setup a covered wood performance stage and had generators for power. They were very helpful and assured us that we were on the correct road (at a point where the road was at its worst and in-between big overhanging shrubs). Thank You Revelers!

Above Right: More good track, some soft dirt areas. The view is great. NO Snakes.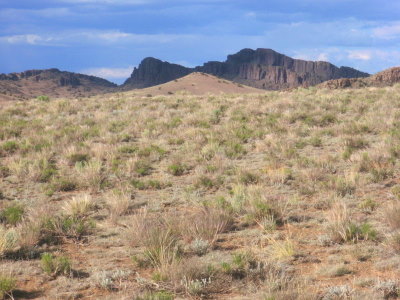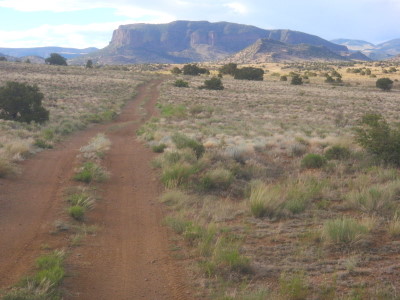 Above Left: View to the north, clouds effecting lighting.

Above Right: Course to the northwest. We will hit soft dirt in the dip in about 100 yards ahead. We will have come to a near stop while the tire gets caught in a dust covered rut that turns the tire to the right, and we will have a slow motion fall to our left side. The power grips on the Copilot pedals will keep her feet strapped in and her butt will take most of the fall impact, the Captain gets some minor scratches.

Caution to Cycling Readers: 20/20 hindsight, demonstrated that we had enough soft dirt warnings that we should have had the Copilot's feet ride outside of the Power Grips; we should have turned the pedals over and we should have ridden on the other side of the pedals (strapless).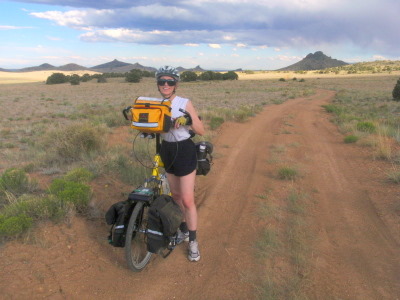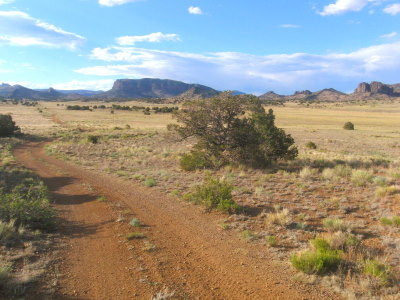 Above Left: Terry holds the Bee. View to the east.

Above Right: Still heading northeast, looking for Colorado A32.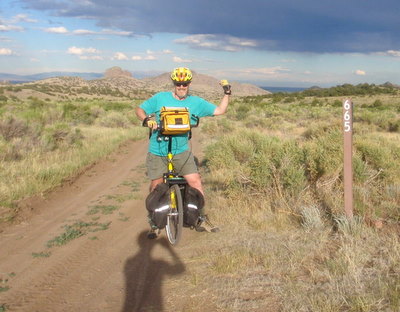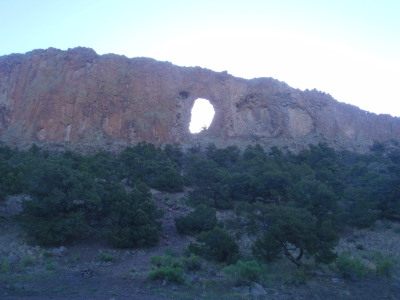 Above Left: At the very end of FR 665, we find the one and only road marker. Yeah Baby! Shadows are getting long, the temperature is just right. We turn right (east) on CR A32.

Above Right: In about 300 yards, after our turn onto CR A32, there is another side road that leads to a Natural Arch. Signage from the other direction indicates that the side rode is 1 mile to the arch but it is probably closer to 2 miles each way over a very rocky road. Lighting is not favorable. Do you see the Portal's Guard Dog?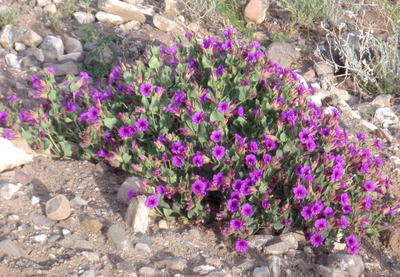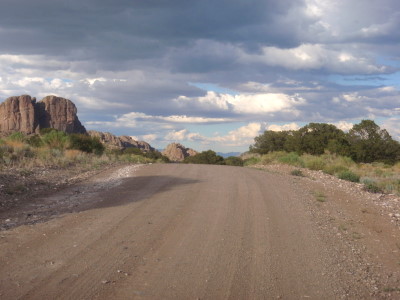 Above Left: Morning Glories (in evening mode).

Above Right: A little rise on A32. We didn't realize until later but all of the road ridges were volcanic rock (why it did not erode and why it is a ridge) and the ridge passings were always rough to the ride. Same Butte in next image.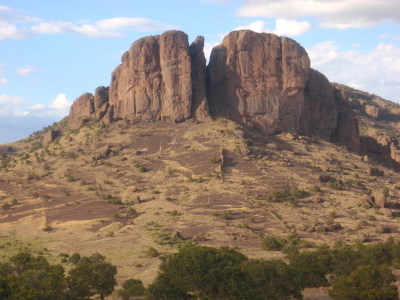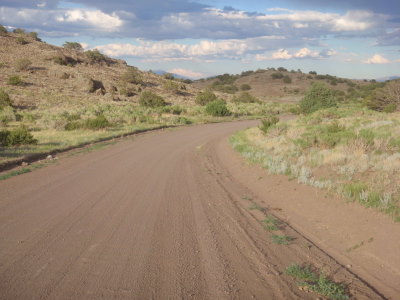 Above Left: Interesting Ridges. Lava Tubes? If it were midday, we would have investigated. In any case the lines that look like stone fences are natural and they vector in many different directions (like fracture lines). We are within 4 miles of the Natural Arch.

Above Right: A climb on A32, heading east.
Along the way, we saw the largest Jack Rabbit that I have ever seen. It looked to weigh 30 to 35 pounds and was the size of a dessert coyote. Later, I learned from a friend who knows this area, that large jack rabbits are common around this area and that they are often mistaken for baby antelope.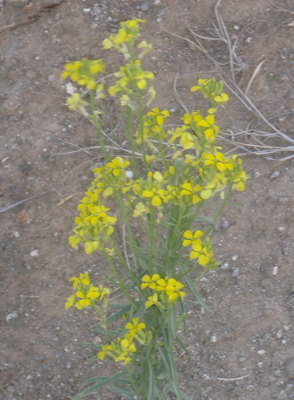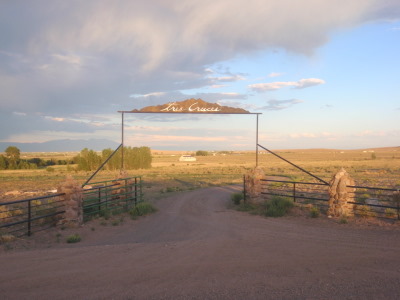 Above Left: Roadside flowers.

We made it to the turn off for 'La Garita' but it is not pictured. We have previously biked to La Garita coming from the north on the GDMBR (see link). It was 8 PM exactly. Official sunset on this day is 8:20 PM. So we had a snack and decided to take 38A more or less due south to 112 (which leads into DelNorte at the bridge shown in the first big picture of this web page).

Above Right: Tres Cruces Ranch (in English: 'Three Crosses', a Biblical reference to Jesus and the two convicted criminals that were crucified next to him, the story is in Luke).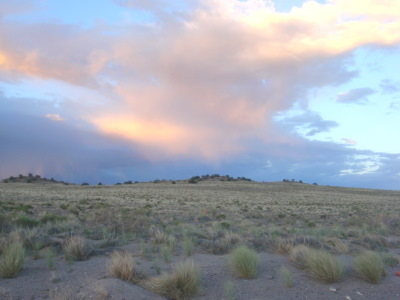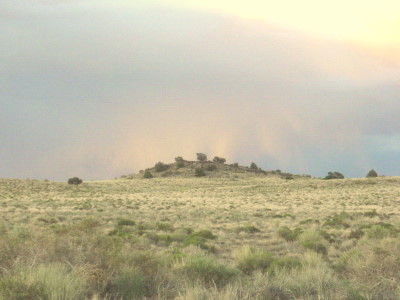 Above: The sun is setting and these are the last pictures. It was kind of painful to ride for Terry, due to the fall. We turned on all of the bicycle lights and rode back to Del Norte more or less due south on the improved dirt road 38A and then onto the paved State Hwy 112 into Del Norte. We have no night time / night ride photos.



We completed yet another leg of the Great Divide Mountain Bike Route
and it turned out to be quite the surprising mini adventure.





Previous Adventure Top Next Adventure