| << | 30 | 31 |

| 33 | 34 | 35 | 36 | 37 | 38 |

| >> |


Be sure to hover the mouse over the images.


| | | |
| --- | --- | --- |
| | Bicycle Tour Adventure #37 | |
Pictures and Stories About Bicycle Tour Adventures

Great Divide Mountain Bike Route (GDMBR - Segment):
Slater, Colorado to Medicine Bow National Forest, Wyoming;
by Bicycle Tour; Sept, 2011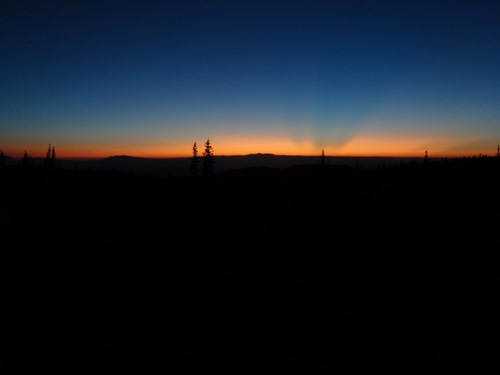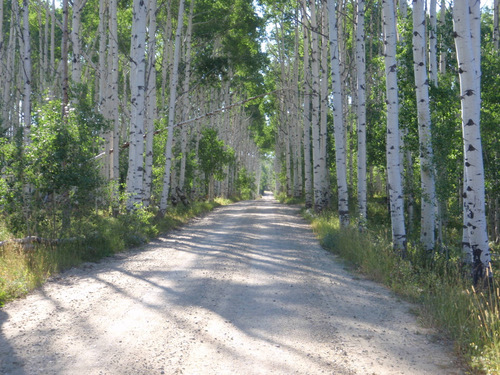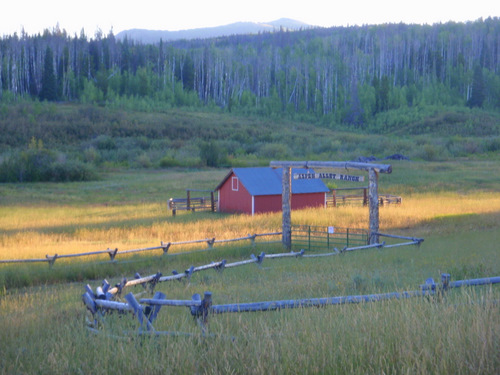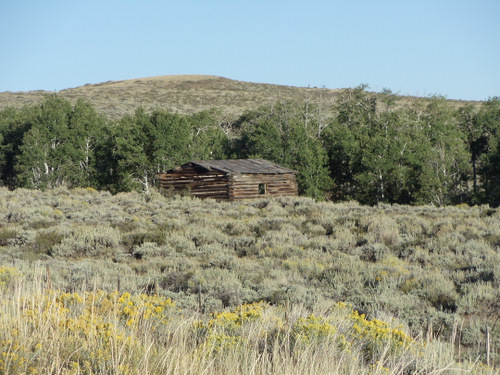 - Cycling Summary -
Goal: Completely Ride Adventure Cycling's 'Great Divide Mountain Bike Route'.

Objective: Ride as much as allowed by the Weather for the Long Labor Day Weekend of September, 2011.


-- Highlights --
The Original Plan was to tandem bike the 70 mile distance between Slater, CO, to Rawlins, WY, over a two day period on a September Labor Day Weekend. We intended to shuttle the bike, daily, from any nearby motel, we ended up with a nice motel in the small mountain town of Encampment, WY.


Day 1, Sunrise: While we unloaded the bike and gear, Dennis saw two sheep turn and run away (surprised by our presence, details inside); they were probably Bighorn Sheep but the encounter was too brief to know positively. We biked an initial mountain dirt road distance of 5 miles/8 K (one way) as a 10 mile/16 K loop (the two of us on a tandem). The leg for this day had the most difficult terrain of all the remaining travel legs. Our initial start point was the intersection of WY Hwy 70 on Deep Creek Road (aka NF 801) with an intention to ride toward Rawlins (northward), but we only made it as far as Big Sand Creek. Most of the ride was a downhill run and the air temperature was too cold! The outside temperature was 39°F (3°C) and with the downhill ride the 'wind chill' temperature was below freezing. So we did the right thing, we stopped, warmed up (with chemical hand warmers), and turned around so as to warm up our bodies with the work of pedaling uphill (at about 4 MPH). While Terry was smart enough to have brought HD Gloves, Dennis did not. Dennis only brought his Golf styled Knit Bicycle Gloves and his hands were officially cold. We got smart enough to break out the GoreTex bags (that hold our GoreTex rain jackets) and wear the bags like mittens; 'Necessity being the Mother of Invention', the bag-mitten idea worked instantly. By the time that we cycled out of the near freezing valley, the sun was up high enough to warm up the environment to a balmy 50°F (10°C). We saw a huge owl on our way back, probably a Great Horned Owl (details inside).
So, yes, there were a few learning lessons (or re-learning lessons)!
Day 1, Before Noon: We decided to bike the lower valley between Slater, CO, and Medicine Bow National Forest (because it would be warmer!). So we loaded the bike and drove to the lowest elevation (near Slater, CO) and we biked uphill toward the intersection that we just departed (Hwy 70 and NF 801). This loop ride leg was accomplished without incident. This paved road leg was about 15 miles/24 K (performed as a 30 mile/48 K loop).
Day 1, After Noon: We loaded the bike again and drove back our sunrise ride's terminus (NF 801 at Big Sand Creek). We cycled up a very difficult climb to a high ridge line where the dirt road turnoff headed east to the town of Saratoga. At that time, it was 1600 hours and that was enough biking for one day. We returned to the vehicle (via a slow gravely downhill handbrake ride), then loaded the bike, drove to our motel, and our intention was to return tomorrow - so goes the best laid plans.
Day 1, Evening: At the restaurant parking lot, our motor vehicle's right rear tire went flat. We managed to mount the spare tire, but we had to remove the bike and the carrier from the vehicle to accomplish this task (he said while smiling). Because this was a Labor Day Weekend, we could not find anyone to repair the flat tire. Yes, there is a Labor irony joke there, he said good naturedly.
Day 2, Early Morning - Change of Plans: To be safe, now with no spare tire, we decided not to drive our vehicle off-road. We had already ridden the GDMB Route segments that were available to highway/hard-road access; we needed to access the interior sections - That meant no more Great Divide MB Route riding (until the motor vehicles flat tire was repaired). So, we decided to ride our tandem bike from our motel (in Encampment, WY), west on paved Hwy 70, across some grassland hills, toward the east side entrance of the Medicine Bow NF. It turned out to be a wonderful ride and we saw at least a hundred different antelope and a few deer. On our return leg, we hit 42 MPH/67 KPH while cycling downhill, while sitting upright on the tandem.
Day 2, Late Morning: We decided to take the risk and drive our vehicle home via Interstate Highways and have our flat tire repaired at our home town auto shop.
Overall, the bike tour was a wonderful experience to include our little frolic ride.

Day 1, Leg 1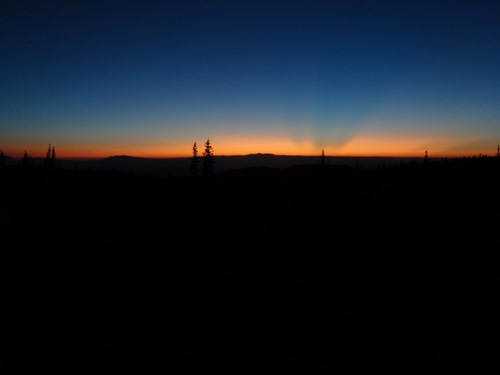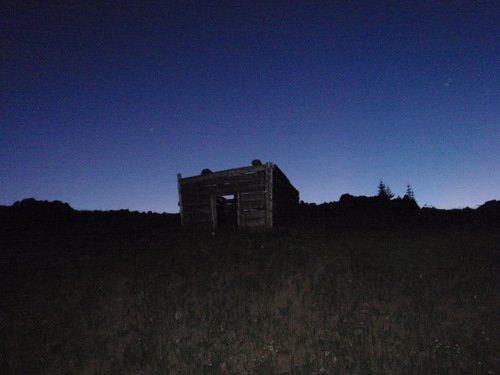 Above Left: On Hwy 70's Continental Divide crossing, facing dawn at 0600 hours.

Above Right: Same spot, this ridgeline is peppered with mining claims and little mining shacks (this one has survived vandalism).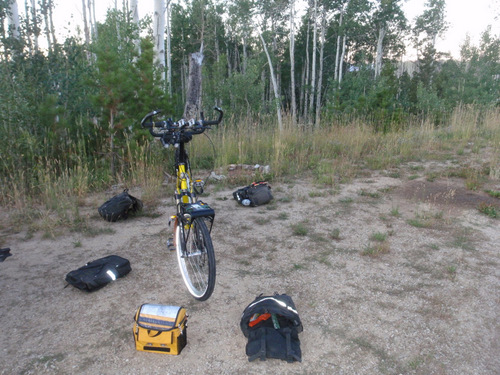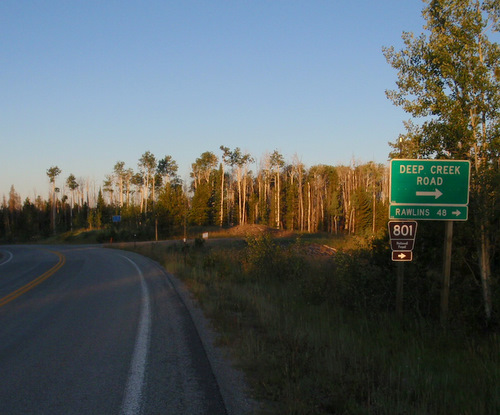 Above Left: Loading Panniers onto the Bee.

Above Right: Begin the tour, turn off Hwy 70 onto NF 801 and head Norte.

While unloading the bike, Dennis saw two sheep turn tail and run (from this very intersection), his first thought was Bighorn Sheep (versus domestic sheep); the behavior seemed like that of a wild animal and the color was right for Bighorn Sheep (off white with dirty tips), but we did not see the heads (just the butts) and we may never know for sure. This area also has wild Mountain Goats. We never saw any sheep or goats of any kind (wild or domestic) after that brief two second exposure.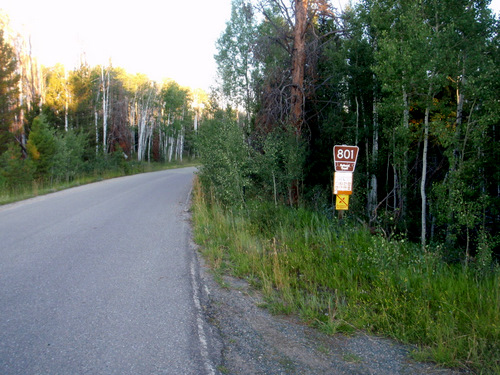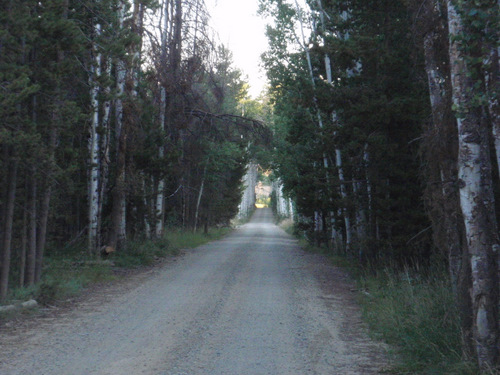 Above Left: NF 801 is paved for 100 feet/33 M.

Above Right: 100 yards/meters ahead is the beginning of the famous 'Aspen Alley'. Aspen trees normally live about 70 years. At around 50 years of age, they develop hard bark at the base of the trees. It is unknown why these Aspen trees lived longer, supposedly over 100 years old.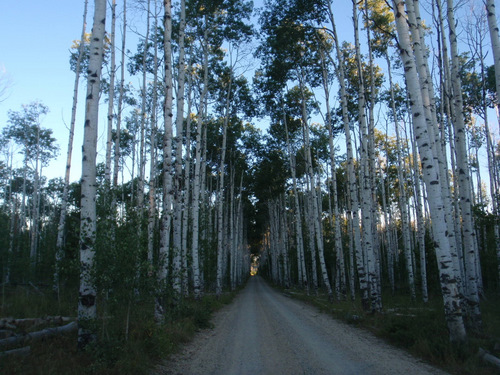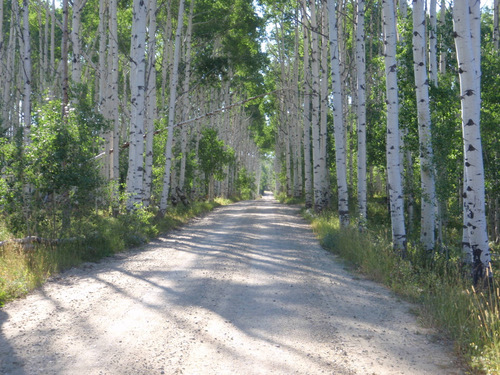 Above Left: This is Aspen Alley at 0700 Hours; the sun is just hitting the tree tops but the temperature is still dropping. This spot is about 1 mile north from the Hwy 70 / NF 801 turn off.

Above Right: This is Aspen Alley at 0915 Hrs (taken on our way back); it's brighter and cheerier (and warmer).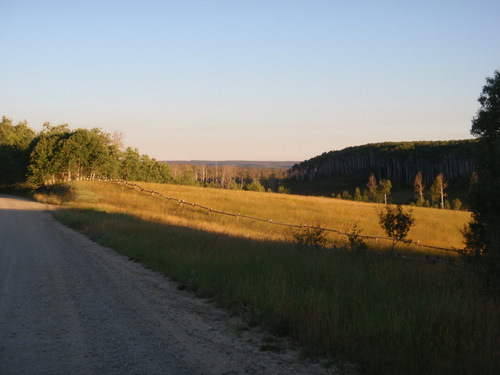 Above Left: The sun kisses the grazing land of Aspen Alley Ranch (looking northeast). We ride this ridgeline finger for a while and then drop into that far valley ahead, brrrr.

Above Right: Looking due west from the same spot. Usually, at this time of the day, we would be the only persons around to see wild animals grazing and we'd see deer or elk in a scene like this but there seems to be too much automobile traffic for this time of the day. Very soon, we will learn that this is the first day of Hunting Season (in Wyoming), thus explaining both the traffic and the scarcity of wild game, wild animals always seem to know.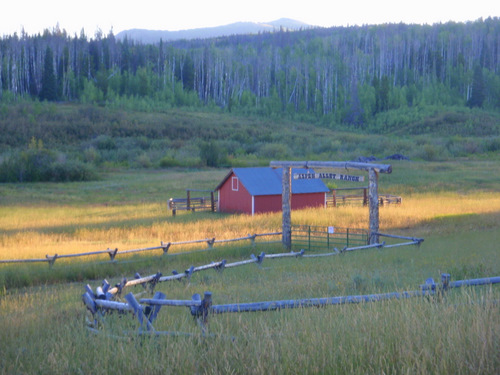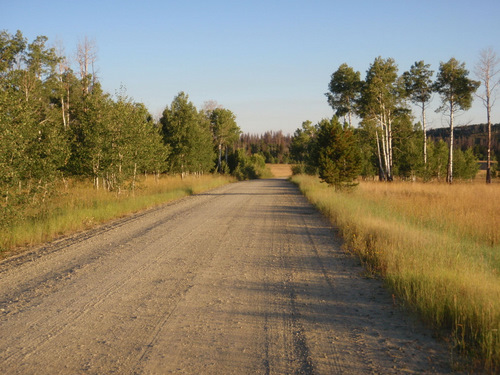 Above Left: Aspen Alley Ranch (looking southeast).

Above Right: Looking north on NF 801, about 3 cold miles into this travel leg.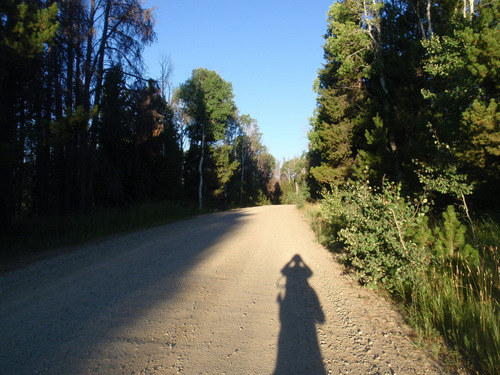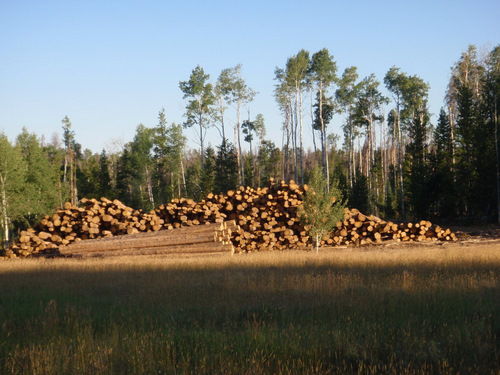 Above Left: Looking northwest, about five miles into the ride.

Above Right: A major logging operation. Surprise, there is a sign down the road that states that this road is closed to traffic Monday through Friday. How would you like to be biking along the GDMBR from Mexico or Canada and discover that the 'Road is Closed' during the middle of the week? It would take three days to bike around this area and that assumes that one has supplies. If that happened to me, I'd go through anyway; maybe I'd wait till dark. They should have road closed sign at the road's entrance and I don't think such sign or behavior would hold up in court.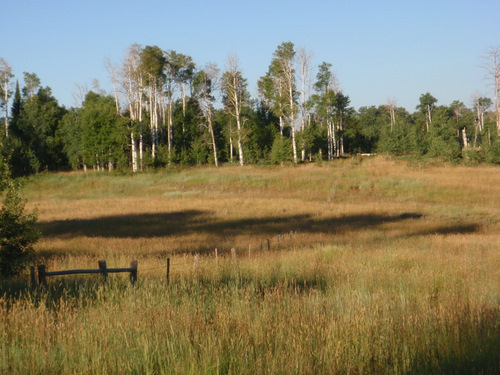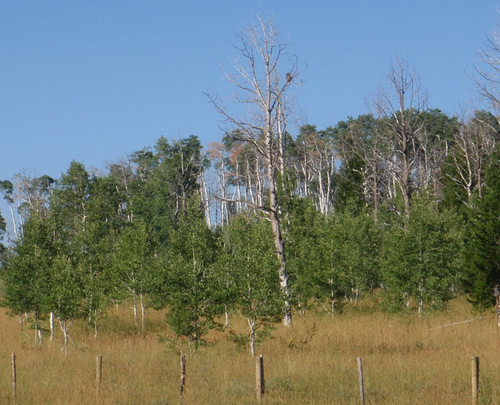 Above Left: Viewing west - From here, we descended part way down into a river valley and it got very cold, quickly. It was too cold to continue (for the way we were dressed - read Dennis). The only way that we could warm up would be to pedal uphill; so we did the right thing, we broke out the chemical handwarmers, warmed our hands [read Dennis], then turned around and started pedaling uphill.

We did not know it but our turn around point was only 200 yards/meters away from Big Sandstone Creek; it was just around the next bend. This meant that we were going to bike uphill no matter which direction that we went (but we did not know - we were in a tree filled valley). We had already traveled about 5 or 6 miles and most of it was easy level or slight descent pedaling (just a few gentle uphill climbs), so reversing course would allow us to bike slower (because we would be going uphill) and the very effort of pedaling would cause our bodies to heat up from the work. The plan worked.
Above Right: Big Ol' Great Horned Owl.

We were pedaling back, both of us looking at the same thing, wondering what we were seeing; we stopped cycling and stared; it was probably 150 yards/meters away (which suggests that it is big); the fence is on the back side of an fenced field (telephoto lens at 4x). Terry said What is that? I said, looking at Terry and suddenly realizing, That is an owl and judging by the size it is probably a Great Horned Owl (but it could be a big Great Grey Owl). When we looked back at the tree limb and it had flown off, unseen.



End of Leg 1: We loaded the bike onto the Vehicle and relocated to near Slater, CO.




Beginning of Leg 2: Near Slater, CO, Heading for Medicine Bow NF, WY.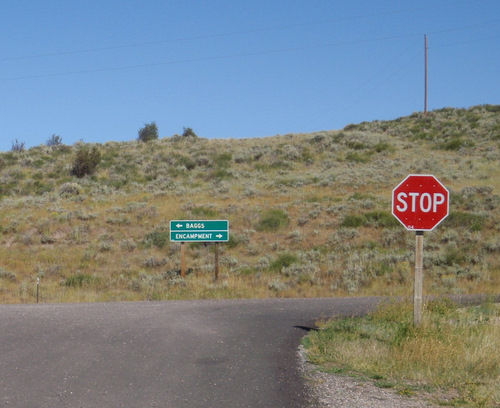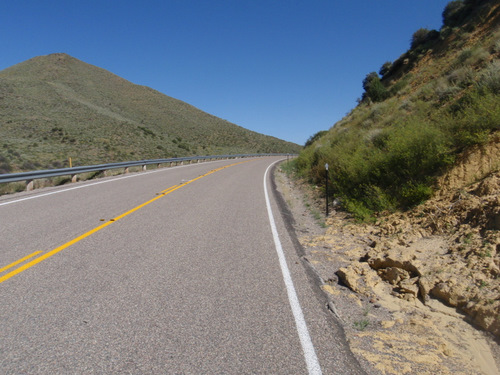 Above Left: Left for Baggs (Slater, Savory, and Dixon too) and Right for Encampment (and Battle) - This unglamorous location is a whole lot warmer, in fact, we will be sweating in about 15 minutes. This spot connects the Columbine Alternate Route with the Main Route of the GDMBR; both routes come from Steamboat Springs, CO and end near the Slater, CO (a border town next to Wyoming). This exact spot is where we looped around on a previous GDMBR Bike Tour Segment back in June of 2005. We are at the intersection of NF 710 and Wyoming State Hwy 70 (about 5 miles ENE from Slater, Colorado). From here, we will proceed north on Hwy 70 into the Medicine Bow NF to NF 801 (where we were, just previously). We prefer to ride uphill first and then coast downhill after reaching the destination - it is much more enjoyable than having to climb uphill at the end of a ride.

Above Right: Looking north, about 1 mile enroute. We are officially warm now.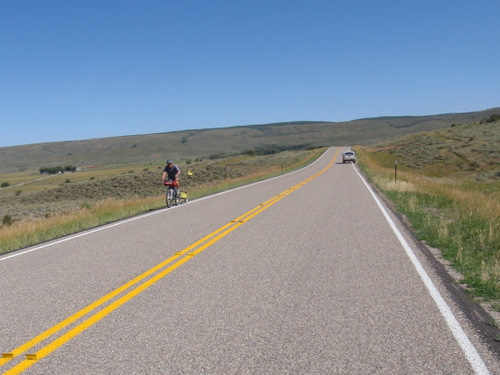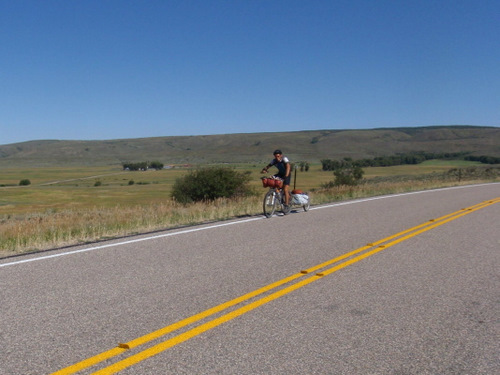 Above Left: Passing Cyclist, southbound on the GDMBR: The truck ahead had a guy talking on a cell phone. It was nice to see someone stopped on the roadside using a cell phone - there is a good probability that the cell range ends as one enters Medicine Bow NF.

Above Right: Another passing Cyclist, southbound on the GDMBR.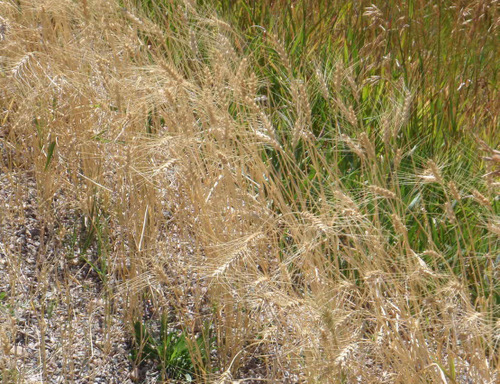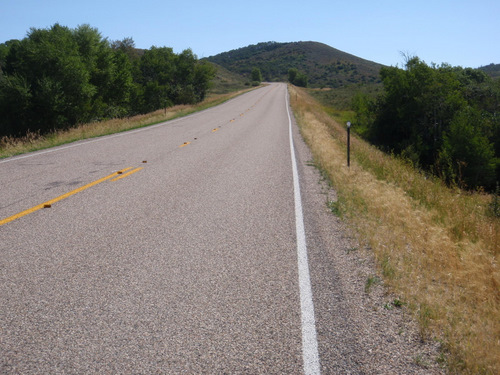 Above Left: The roadside grass looks like short Wheat.

Above Right: A look up the road with more short wheat on the roadside. These are the first tree like shrubs that we see.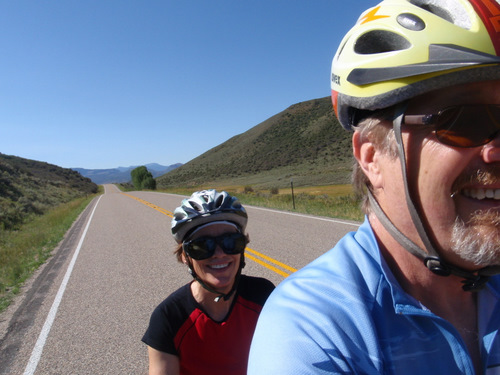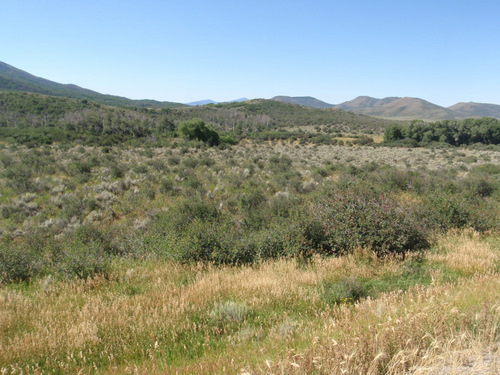 Above Left: Two Happy Bikers (Terry and Dennis on the Bee [da Vinci Tandem]) - Self portrait on a moving bike.

Above Right: Side view, looking southeast.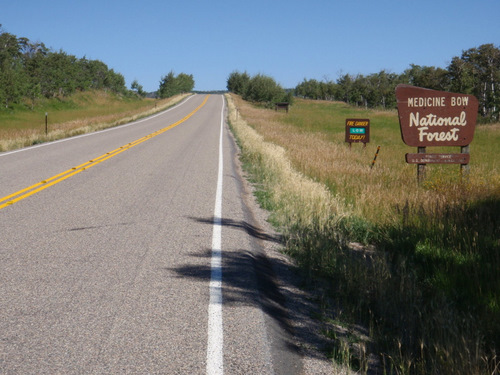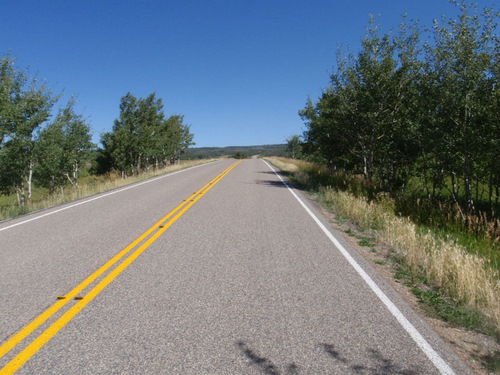 Above Left: Entering Medicine Bow National Forest - Starting to see some Aspen Trees.

The origin of Medicine Bow is legendary. The generally accepted version is that the Native American tribes which inhabited southeastern Wyoming found mountain mahogany in one of the mountain valleys from which bows of exceptional quality were made. It became the custom of friendly tribes to assemble there annually and construct their weapons. At these assemblies, there were ceremonial pow-wows for the cure of disease which, in the hybrid speech that developed between the Indians and the early settlers, was known as 'making medicine'. Eventually, the settlers associated the terms 'making-medicine' and 'making bow', and Medicine Bow resulted as the name for the locality. Later the name gained worldwide renown through Owen Wister's novel, The Virginian.

The Medicine Bow National Forest dates back to May 22, 1902, with the establishment of the Medicine Bow Forest Reserve by President Theodore Roosevelt.

Source: http://www.stateparks.com/medicine_bow.html
Above Right: At the hillcrest, one can see the contiguous forest on the far ridge.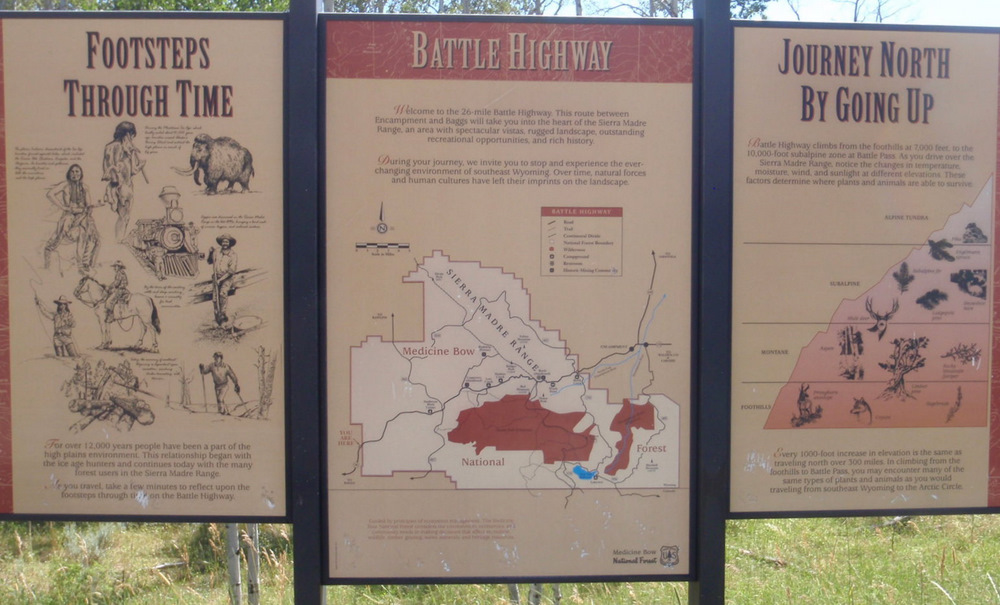 Above: A Rest Stop Road Sign.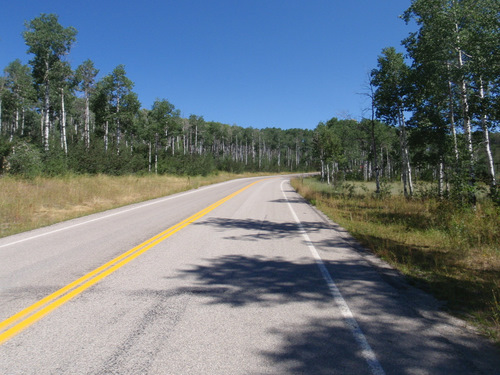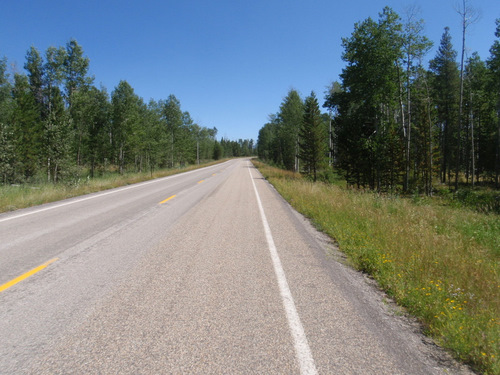 Above Left: Mostly Aspen Forest (about 8,000 Ft/2400 M): We are through the Foothills climbing stage and mostly riding in the Montane Zone and the Subalpine Zone.

Above Right: Mostly Pine Forest (Subalpine).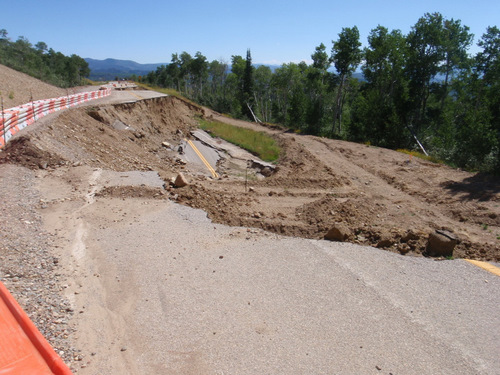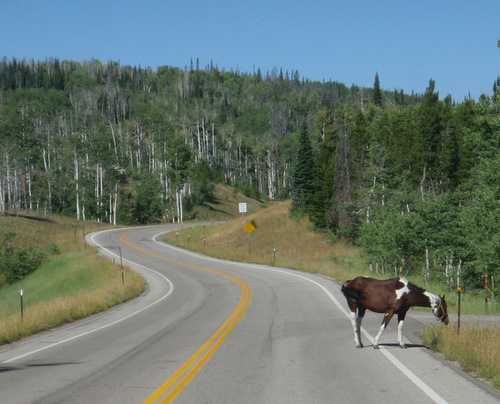 Above Left: Road Collapse.
[From Lucy SE: It gives Continental Divide a whole new meaning!]

Above Right: The yellow sign down the road states 'Open Range, Stock on Road'.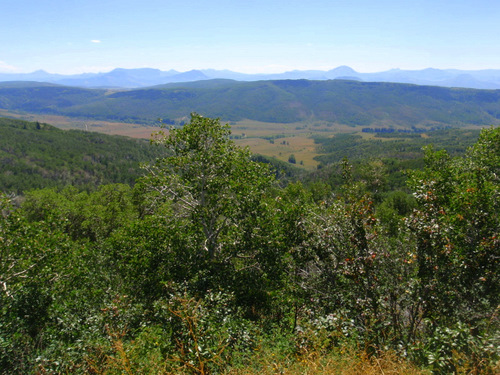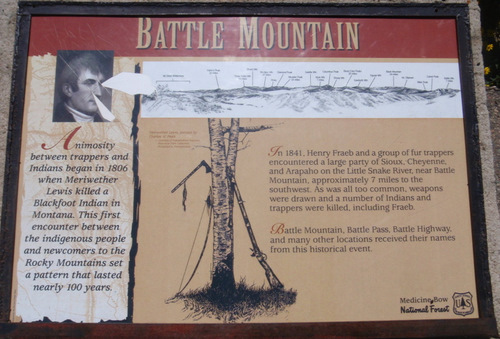 Above Left: Scenic Overlook of Battle Creek Valley from Battle Mountain (looking southeast).

Above Right: Battle? Starting with Meriwether Lewis (of Lewis and Clark), the White Man and the Red Man did not always get along. Here, animosity had maintained itself for quite a while.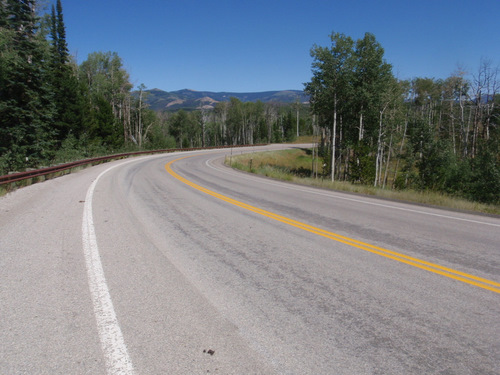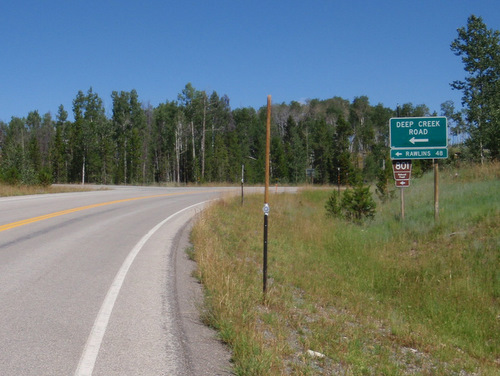 Above Left: Just a pleasant view with pleasant company.

Above Right: The end of the travel leg. Now we turn around and more or less coast all the way back to our vehicle (about 16 miles/25 K).



End of Leg 2: We loaded the bike onto the Vehicle and relocated back near Big Sandstone Creek on NF 801.




Beginning of Leg 3: Near Big Sandstone Creek on NF 801, in Medicine Bow NF.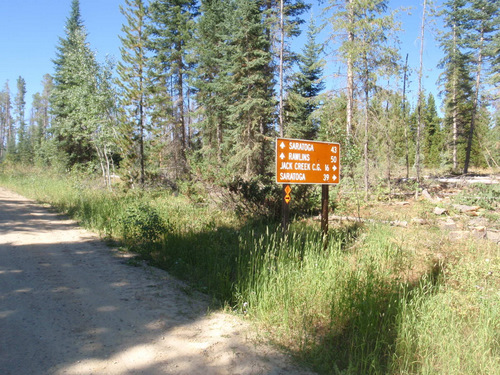 Above: We only took one picture, not realizing that circumstances would keep us from coming back immediately. We parked our vehicle where we last biked on the road and we cycled northward, across Big Sandstone Creek and then up a long tough gravely incline to the back road turn off for Saratoga, WY (whose road sign is pictured). We stopped often to catch our breath and to express our frustration at the rear wheel slipping a little too often - We are riding on Road Tires (versus Off-Road Tires); the trade-offs and risks were acceptable for this particular trek in that the route is 50/50 paved/non-paved (off-road tires are 4 MPH slower on pavement).



End of Leg 3, End of Day 1




Day 2: Encampment, WY to the East Entrance of Medicine Bow NF, WY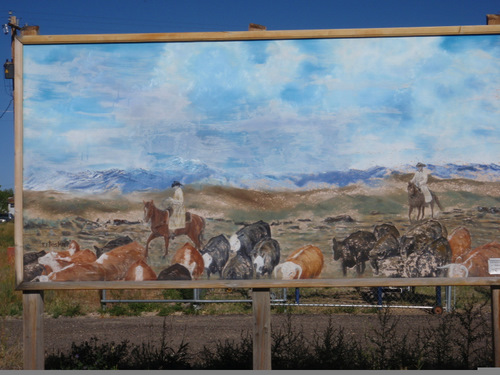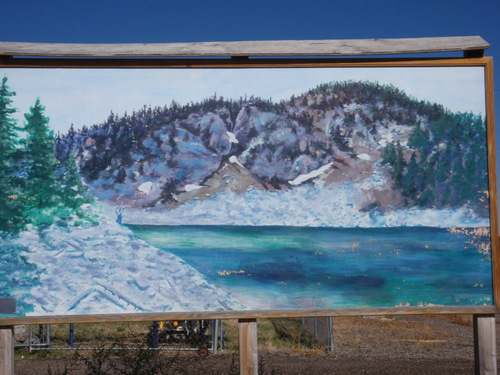 Above Left: Encampment, WY: Mural Sign Art 1.

Above Right: Encampment, WY: Mural Sign Art 2.






Above: Encampment: Antelope - West End of town (on Hwy 70).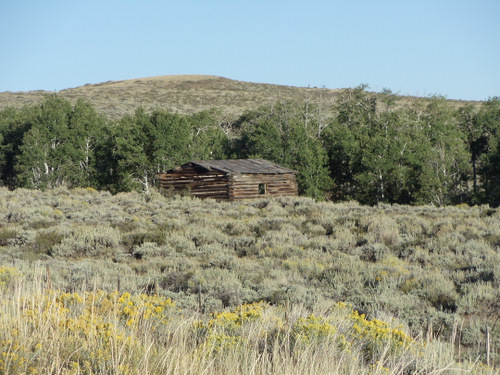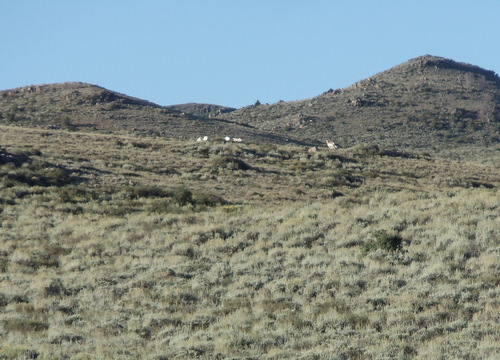 Above Left: Old Cabin.

Above Right: One Antelope on the ridge line and four white attention getting boulders to the left side. The white rocks get more and more common and they make wild animal spotting more and more difficult.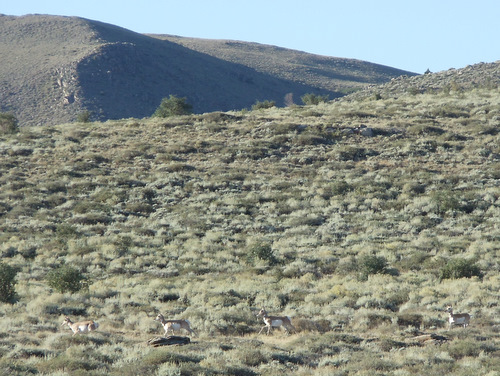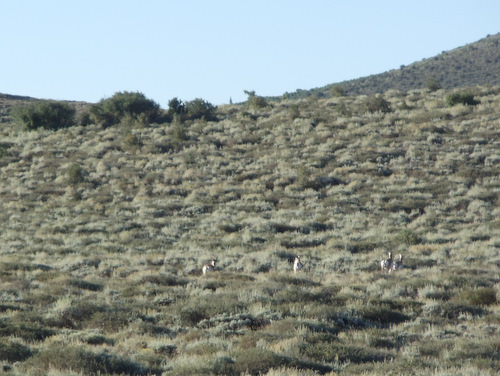 Above Left: Four Antelope running left/east.

Above Right: Four Antelope running right/west.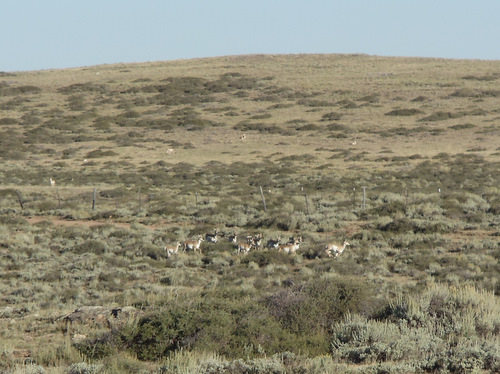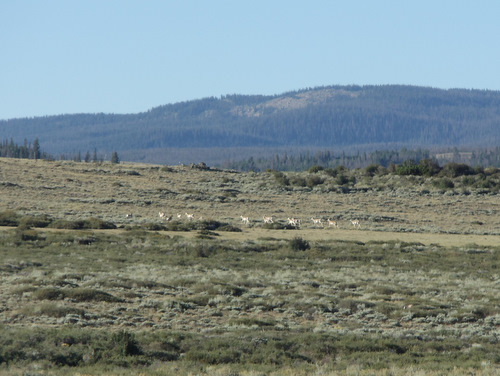 Above: About a dozen Antelope.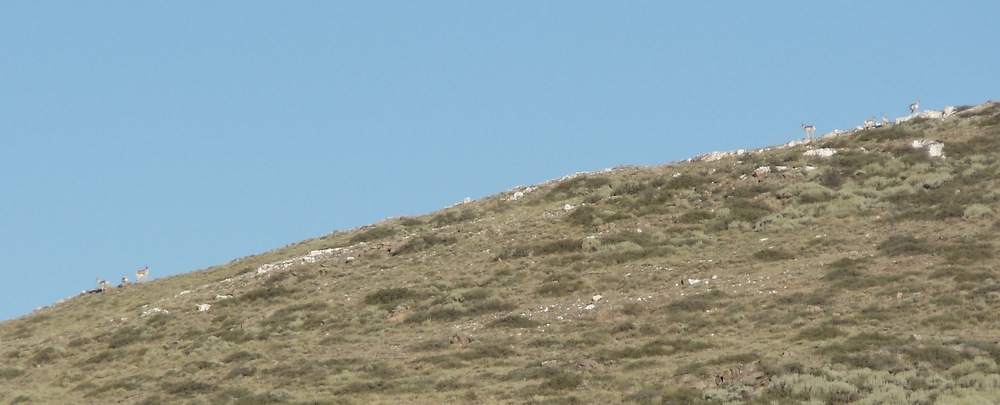 Above: At least three Antelope skylined.






Above: Medicine Bow National Forest, just before the entrance on Hwy 70, looking west. It is beautiful country and we had this to our selves. On our return ride, we attained 42 MPH/67 KPH while pedaling downhill sitting upright in the seats.



Click to see a Black and White copy of a GDMBR Road Map; (available online from Adventure Cycling dot com).

This tour was good medicine for our spirits!



Previous Adventure Top Next Adventure