| << | 30 | 31 |

| 33 | 34 | 35 | 36 | 37 | 38 |

| >> |

| Germany: 1 | 2 | 3 | 4 | 5 | 6 | 7 | 8 | 9 | 10 | 11 | South Tyrol: 12 | 13 | Germany: 14 | 15 | 16 | 17 | Trip Notes | Ray's Pics |
Bicycle Tour Adventure #39: Germany, Day 10

Naumburg (Saale), near Leipzig, former East Germany;
Thursday Morning, Bike Ride in the Local Area and Local River Trails;
Premium Wine Region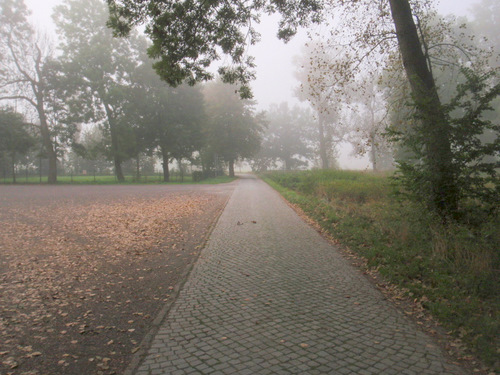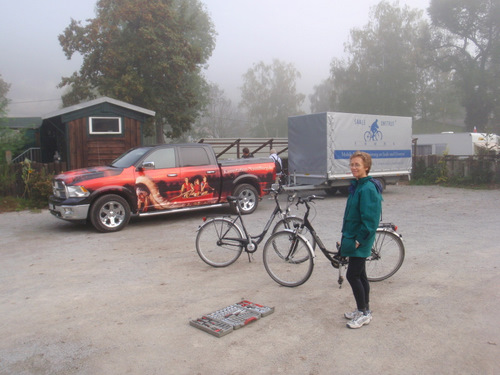 Above Left: There is a morning fog, it will burn off in about 30 minutes.

Above Right: We are at a bike and canoe rental facility next to a campground next to the intersection of the Saale and Unstrut Rivers (in what was formerly known as Communist East Germany). Our renter guy is temporarily helping another customer. We did a test ride and my seat angle kept changing, unfortunately the young man took the needed wrench with himself (the remaining wrenches are on the ground in the pictured case).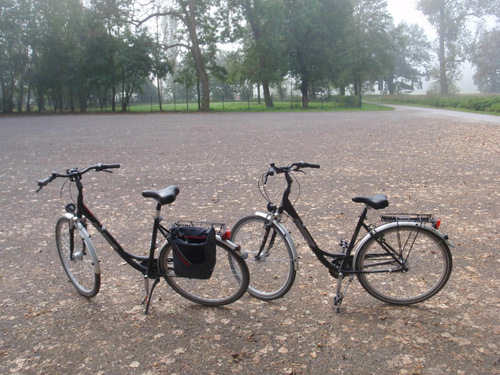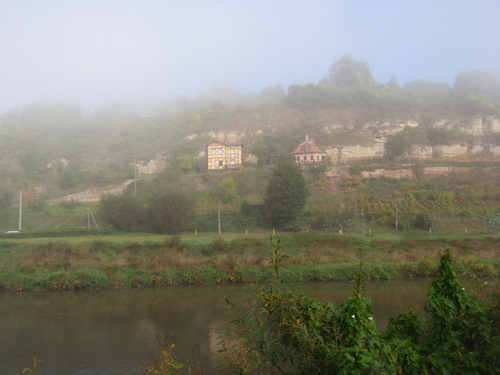 Above Left: Our faithful steeds for the day. When we go back again for a final seat adjustment, we'll pick up another pannier.

Above Right: We will be paralleling this river, riding downstream. This is the view across the river and if one looks carefully, one can see grape vine rows. These estates next to the river have the equivalent of French Grand Cru status (that is very good in wine circles); valuable properties.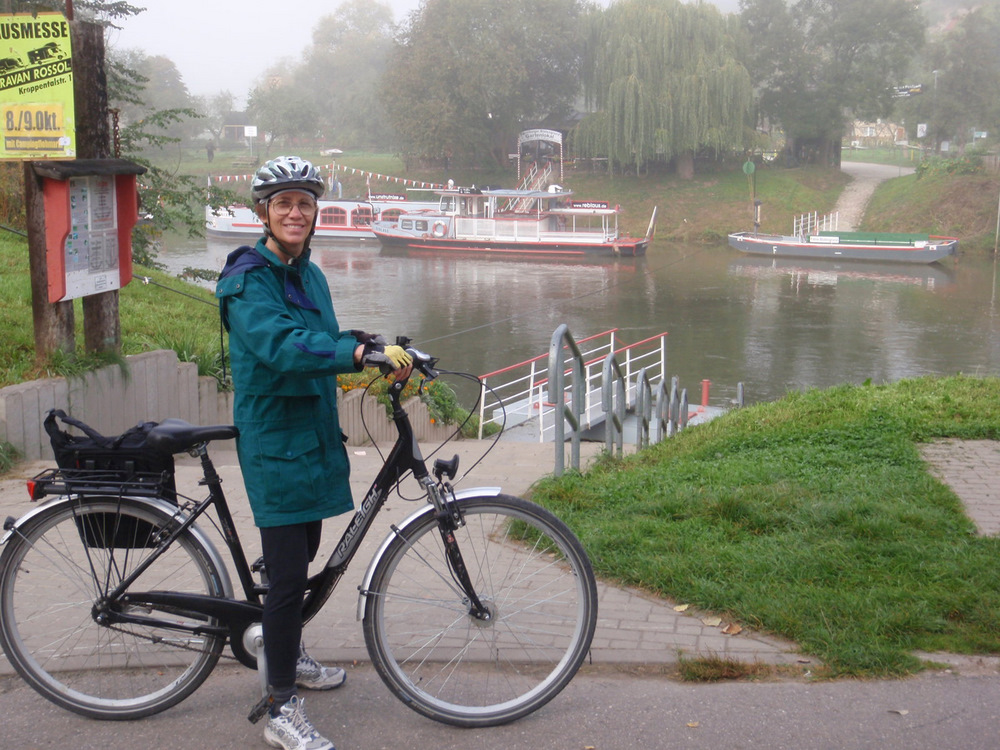 Above: Terry is standing in front of a Ferry Mooring. This river location is just downstream from the actual intersection of the Saale and Unstrut Rivers. This Ferry will carry a cyclist across the river for €10/person ($15USD/person). There is a public highway bridge about 2 kilometers downstream and that's where we're going. In fact the bridge is next to the place where we bought wine yesterday, how fortuitous.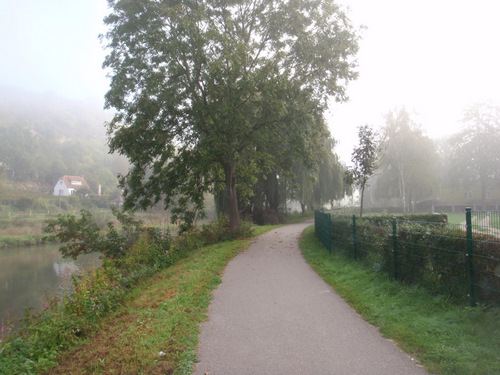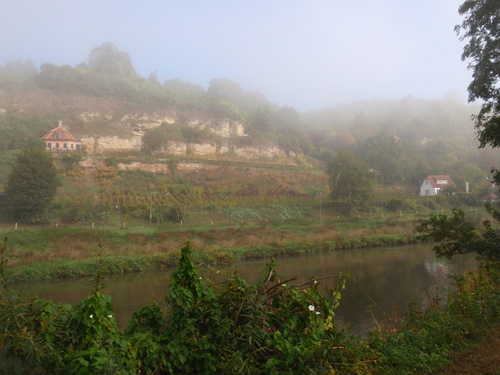 Above: We're generally heading east here. All of the grape growth is on the north side of the river where the slope faces south (ergo more sun time).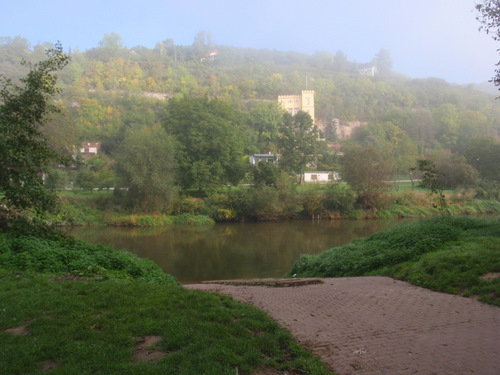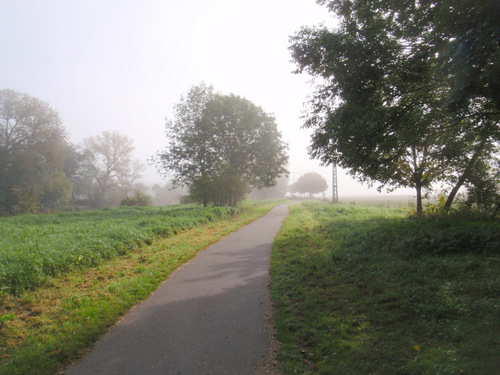 Above Left: Boat ramp on the Saale.

Above Right: We come to realize that this is an old bridle path.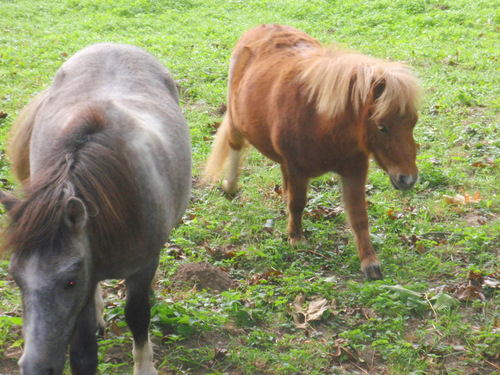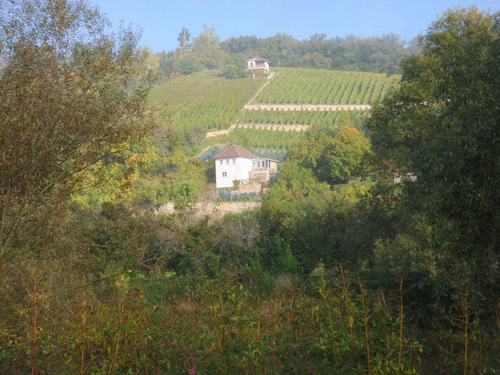 Above Left: A pair of mini-horses came to check us out.

Above Right: Grape Vines enjoying the sun.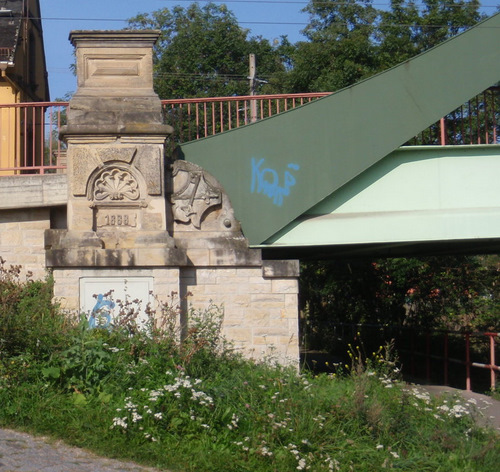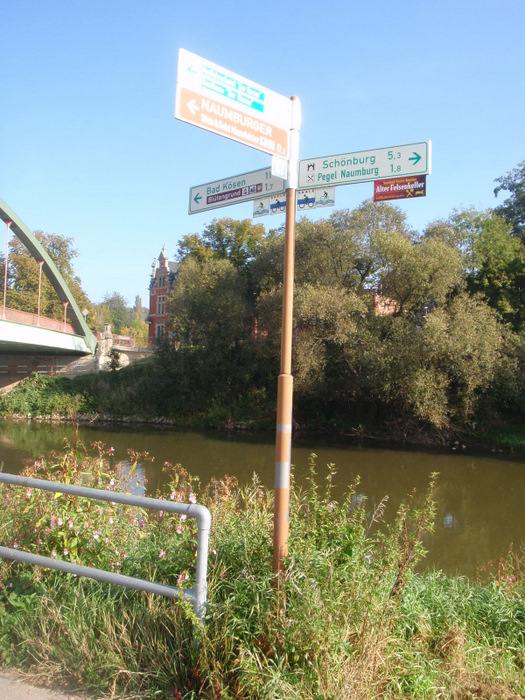 Above Left: 1888 Bridge Foundation - I assume that the original bridge has been replaced at least once but it appears that the foundation is of such good quality and condition that it can be reused.

Above Right: This [same] Bridge across the Saale River is where 1) A person crosses for free versus using the ferry, 2) A person crosses to the Naumburg Wine Seller's facility, and 3) A person accesses a more interesting bike path through orchards and vineyards on the north (sunny) side of this same river.



Wouldn't it have been smart of Dennis to take a picture of the entire bridge
and show the Wine Seller's facility between the bridge and the water - 20/20 Hindsight is great!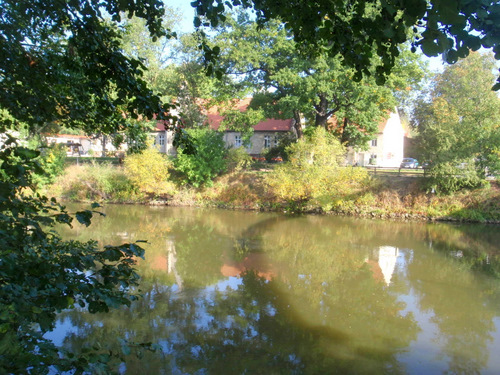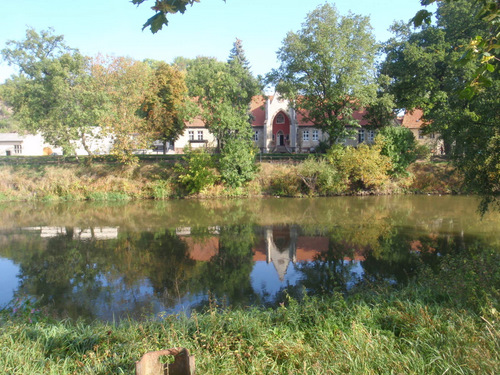 Above Left: That is the Naumburg Wine Seller from which we purchased our wine yesterday.

Above Right: Naumburg Wine Seller - It appears to have been an old church (kirche) or monastery and if it were a monastery its main source of income may not have changed for over a few hundred years.


Very often, places like this served as a co-op for making the wine of the entire town and that is the reason that most wines in Europe are named for the Town's Name; everything is mixed together in a huge collaborative production. Also, the production puts a lot of pressure on the Wine Maker, who had to make decisions about quality and mixes - sometimes a particular farm may have poor grape quality and the Wine Maker has to decide what to do with the grapes - Ergo, how the term 'Table Grapes' evolved (and Table Wine).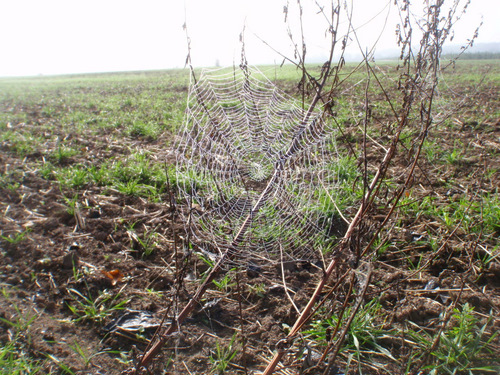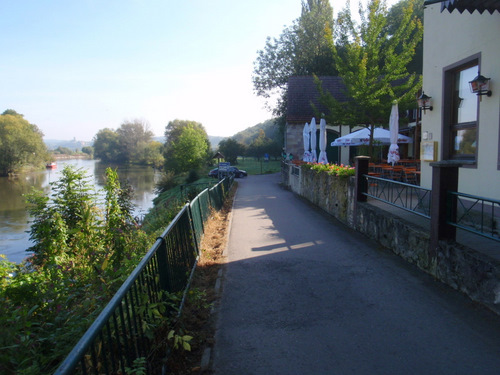 Above Left: The humidity in the air has highlighted a spider's web.

Above Right: We are passing by a river side restaurant. We have elected to keep following the Saale River but we will return to the bridge (just discussed) and then cross over to the north side of the river.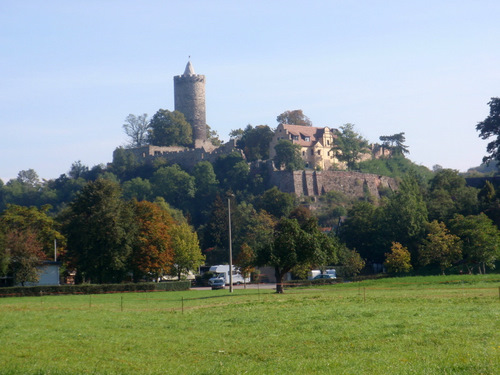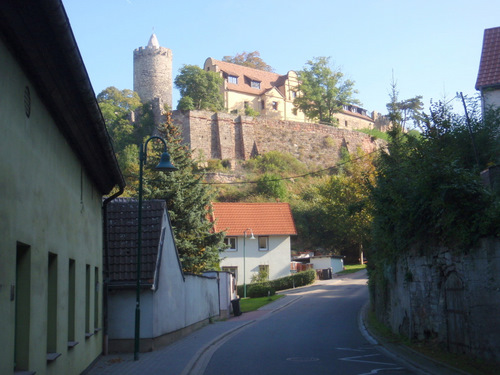 Above: We have reached the village of Schöneburg and have discovered Schloss Schöneburg which appears to still have residents. We attempted to climb the road to the fortress/castle but the gearing on the rental bikes would not allow steep climbing - So this became our turn around point (plus the river trail ends here).



Now Riding Upstream on the Saale River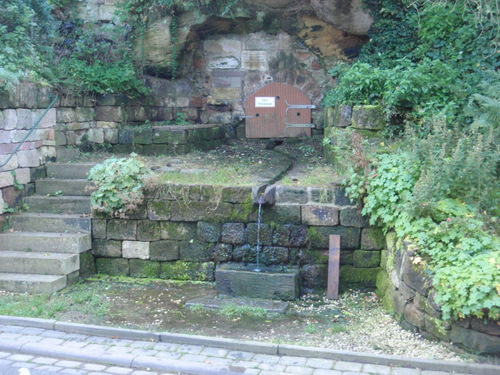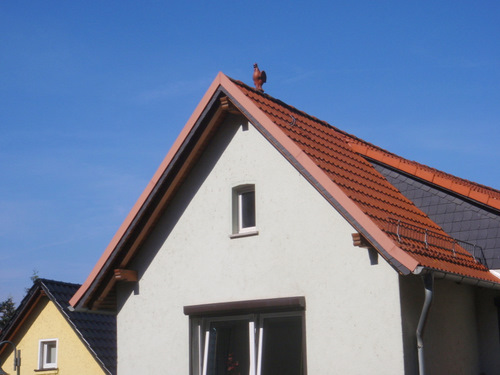 Above Left: The Town's water well (no longer potable).

Above Right: Rooster sculpture on roof line - There has to be an interesting story here.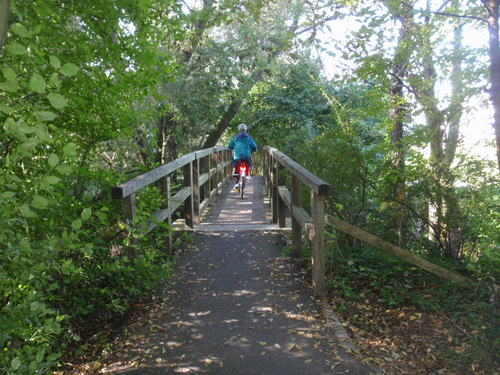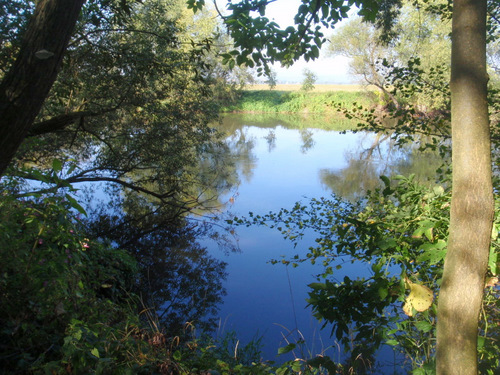 Above Left: Terry crossing a trail bridge.

Above Right: Saale River trail pathway.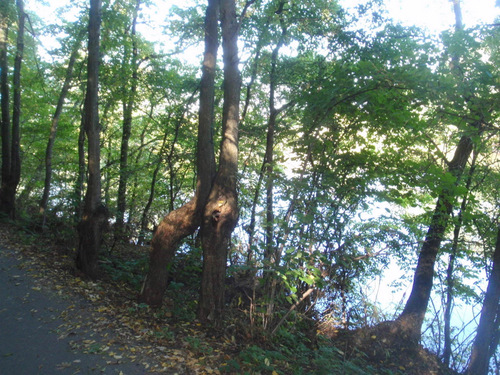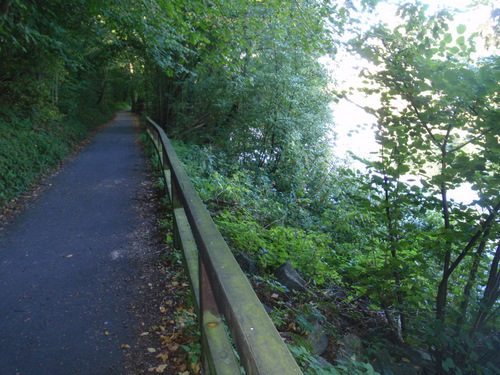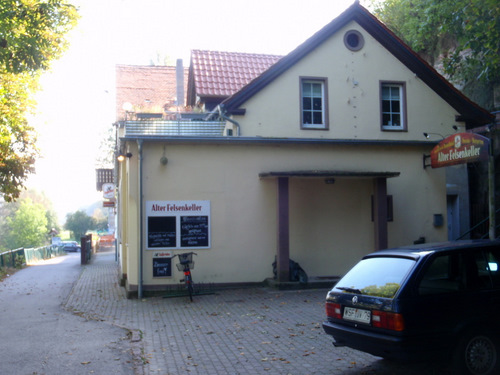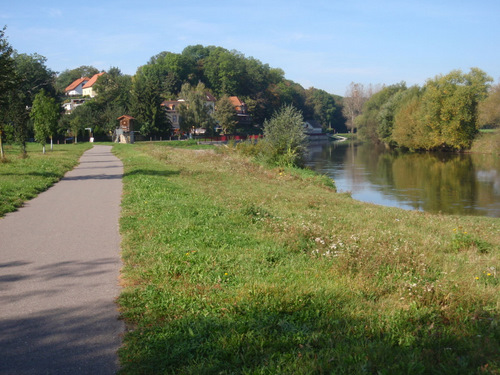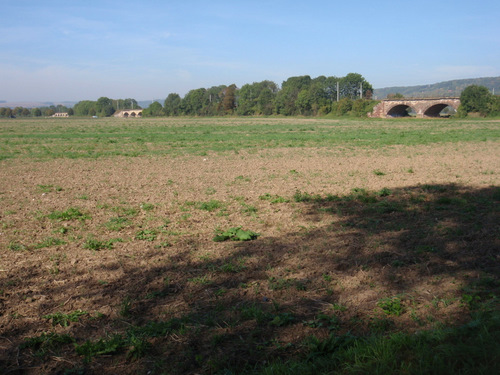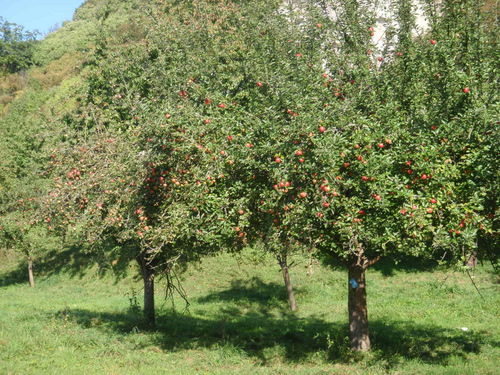 Above Left: Train tracks elevated over a flood plain by a set of bridges.

Above Right: Apple Orchard - The apples look delicious. Luckily we had brought some apples from a vendor last night or else the apples would be mighty tempting.

We have now crossed over the Saale River and are heading upstream on the north side of the river.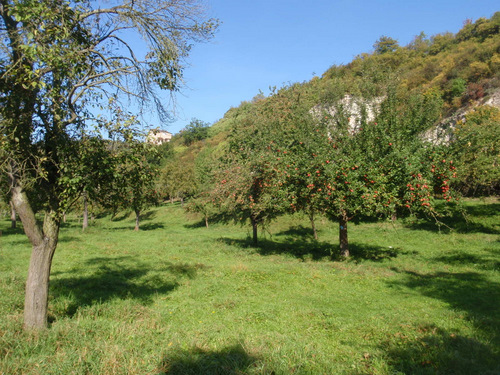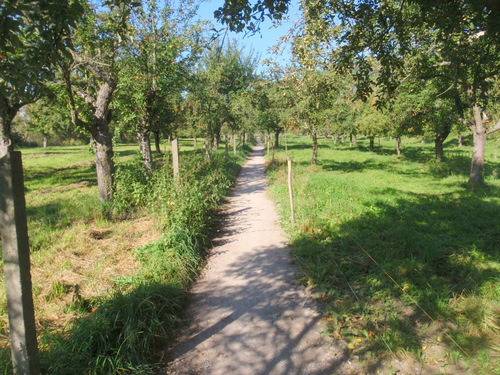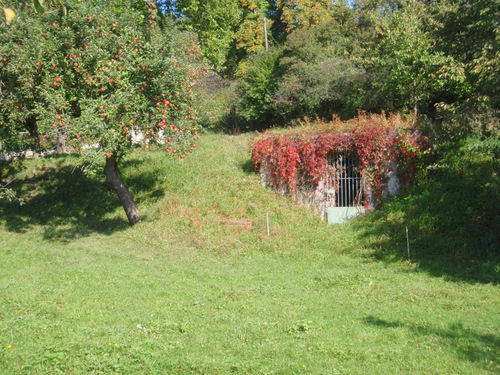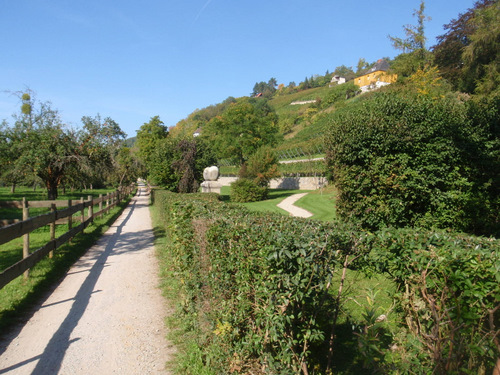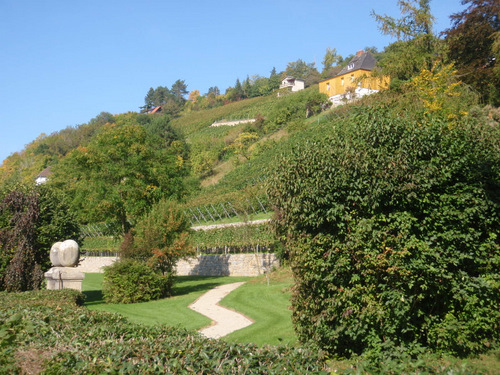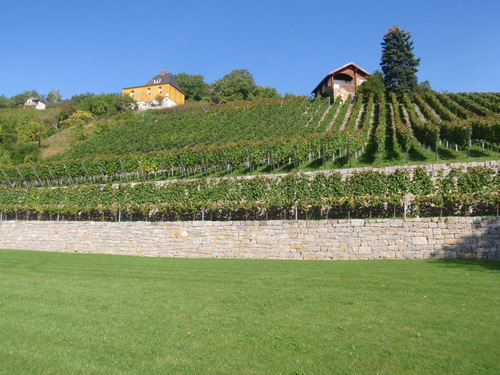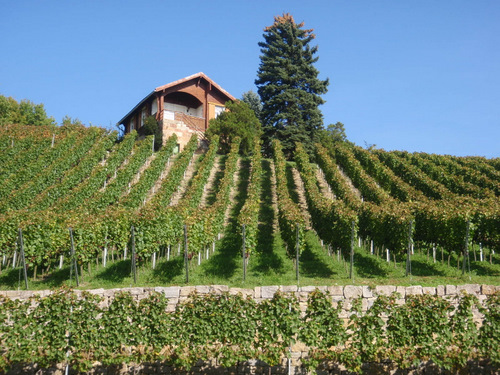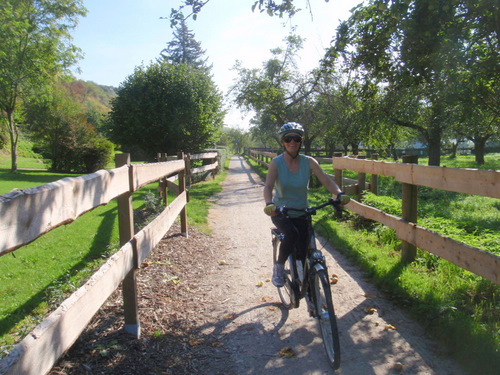 Above Left: Fruitful Vineyard.

Above Right: Terry Struck on a bridle/bike path on the north bank of the river Saale.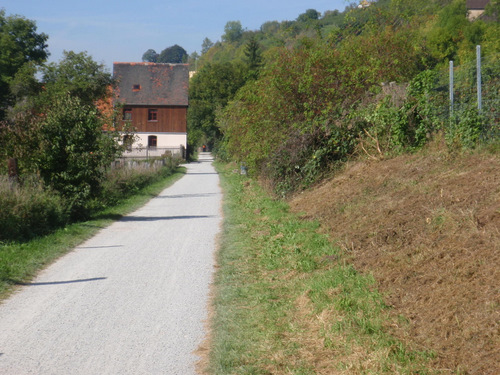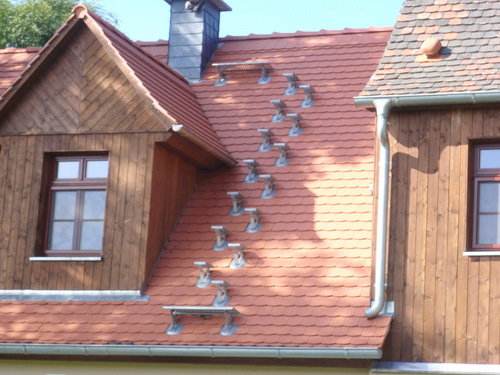 Above: Same house - Shear genius!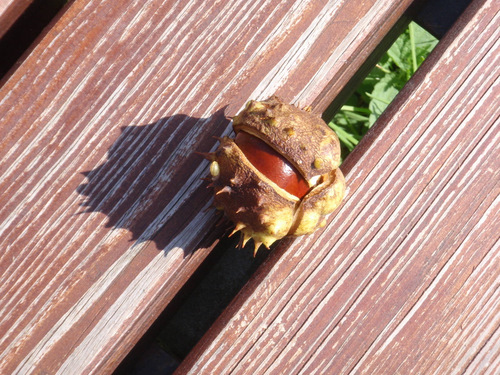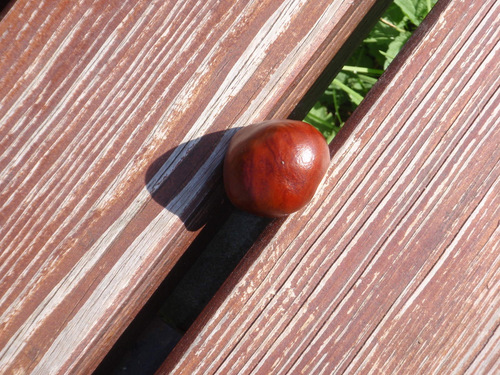 Above: I think this is called a Horse Nut.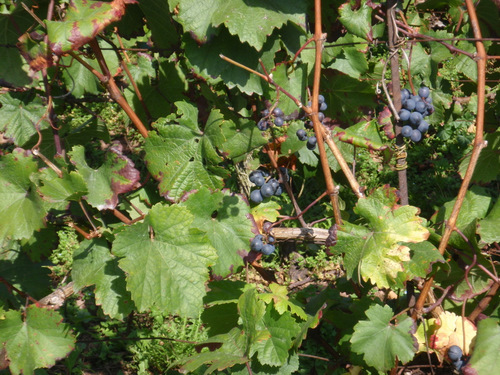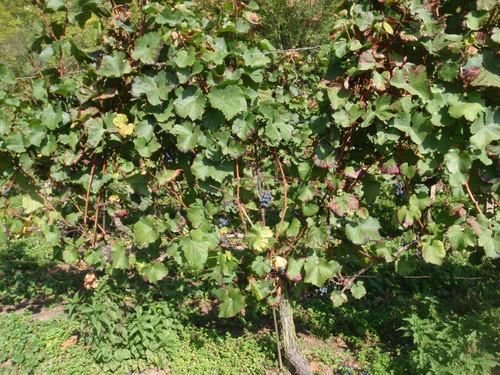 Above: Grapes: Probably Dornfelder.
Viticulture: The Dornfelder grape is dark but this [pictured] grape bunch is not a tight enough to be the Spätburgunder grape which is the German word for the French Grape known as Pinot Noir which means 'dark pinecone' - The term Pinot is used in France to mean 'tight bunch' of grapes. These grape bunches would not be considered tight.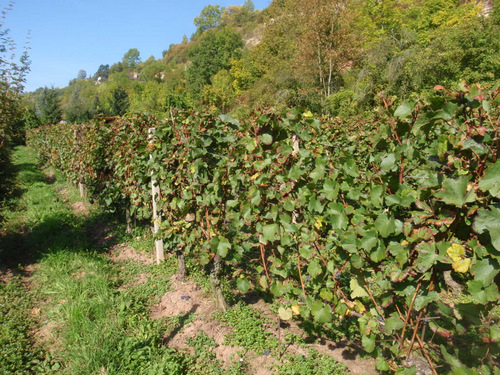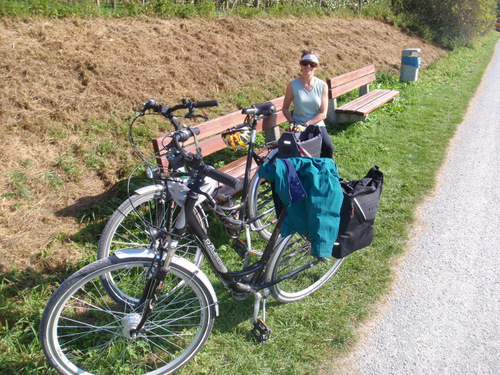 Above Left: Grape Vine Run.

Above Right: Terry and Dennis Struck are about to have a snack near the Saale River.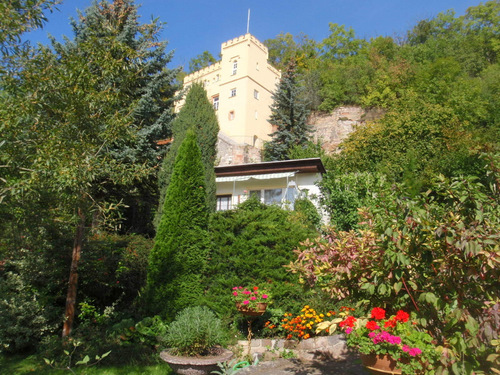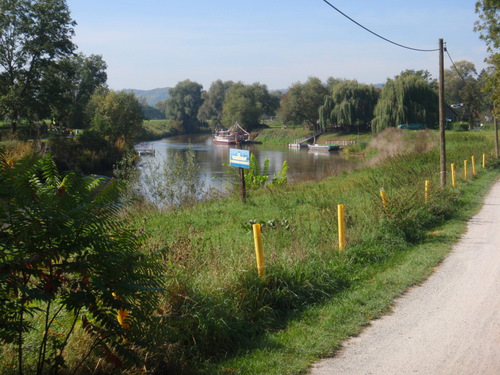 Above Left: Their home is a castle.

Above Right: The ferry crossing - North side of the Saale River.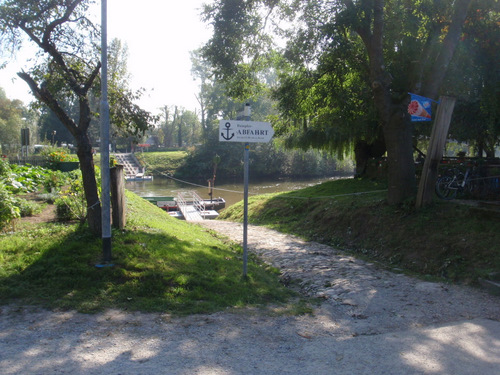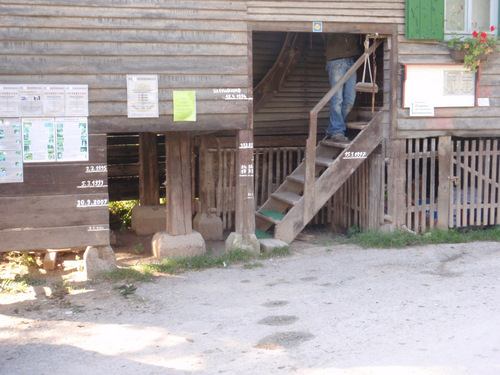 Above Left: Ferry Crossing.

Above Right: Ferry House, note the flood line markers for different years. All of the valuable house belongings are upstairs.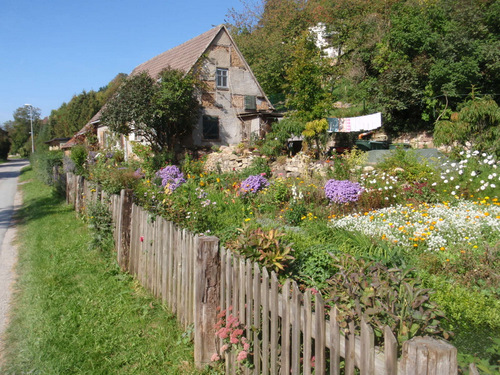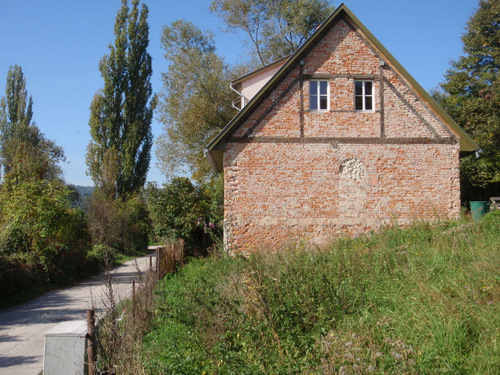 Above Left: Beautiful home. We have now departed the Saale River and are now following the Unstrut River north, we're on the east bank (which has grape vineyards).

Above Right: A brick home, with a bricked in window, along the trail.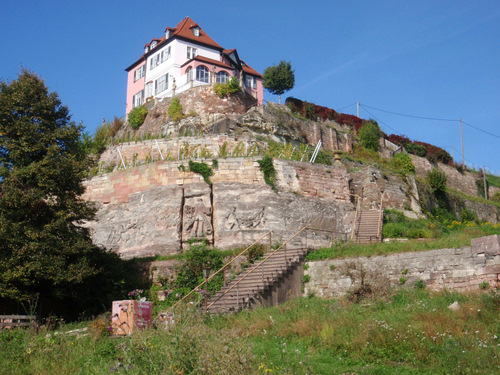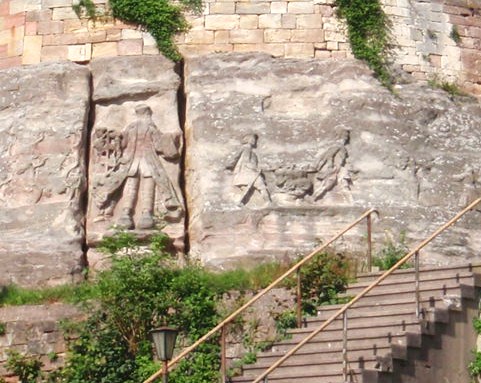 Above Left: Hillside View of House and Stone Carvings.

Above Right: Close-up of Stone Carvings.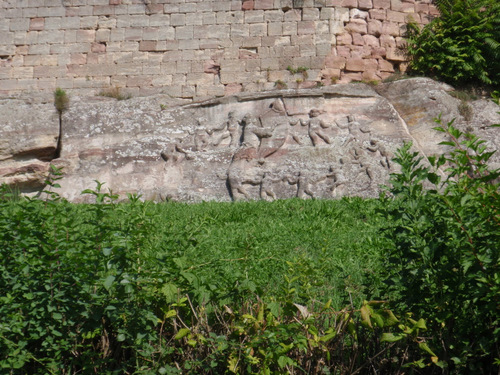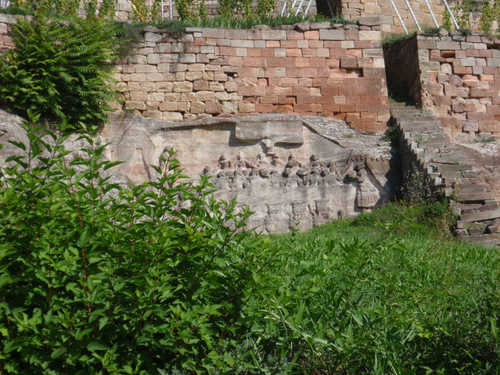 Above: More hillside stone carvings that appear to be dinner, feast, or festival oriented.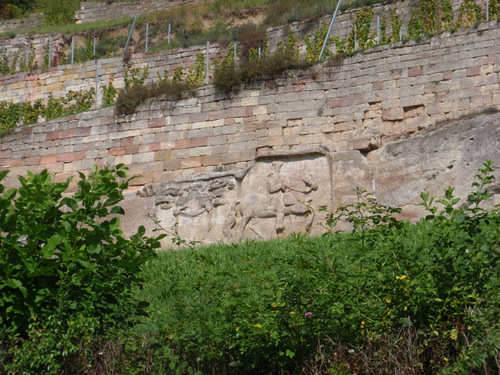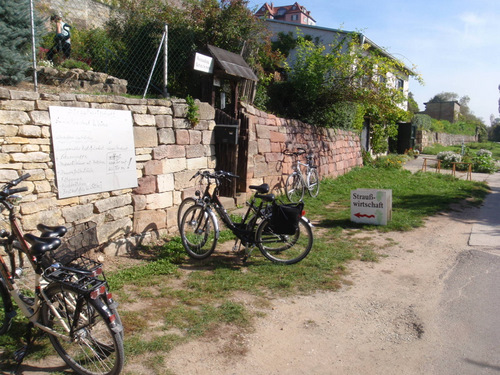 Above Left: Stone Carving (a man on a horse).

Above Right: An Economical Wine and Foods Restaurant. We visit, not knowing what to expect. We walk up steep steps.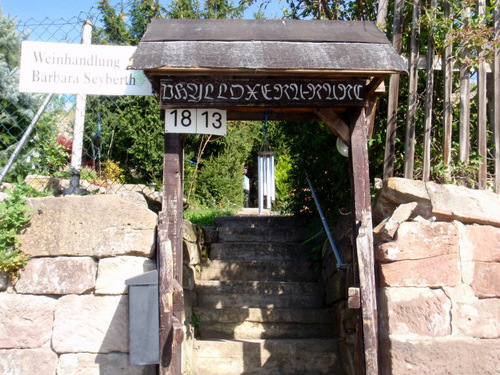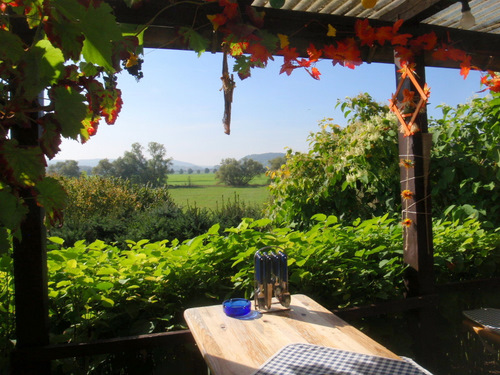 Above Left: Eingang (Entrance), Weinhandlung - Wine Action: this is where it's at. We cannot read the inscription above the doorway, yet it looks familiar (Teuton? Saxon? Celtic?). This area is rich in Saxon History (in fact the Federal State (called Bundesland, is named Saxony-Anhalt - Hint Hint, place of Saxon-Notion)

Above Right: Die Ansicht (the view).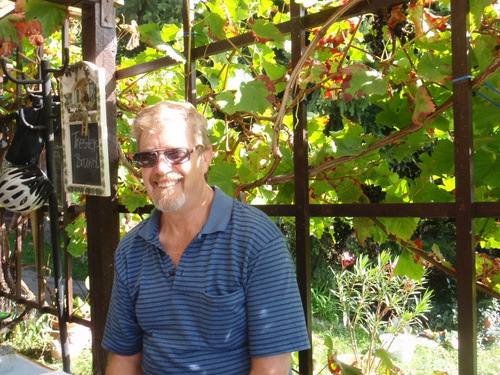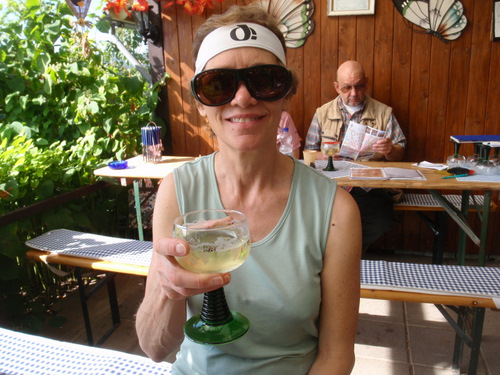 Above: Dennis and Terry Struck in Naumburg, Germany.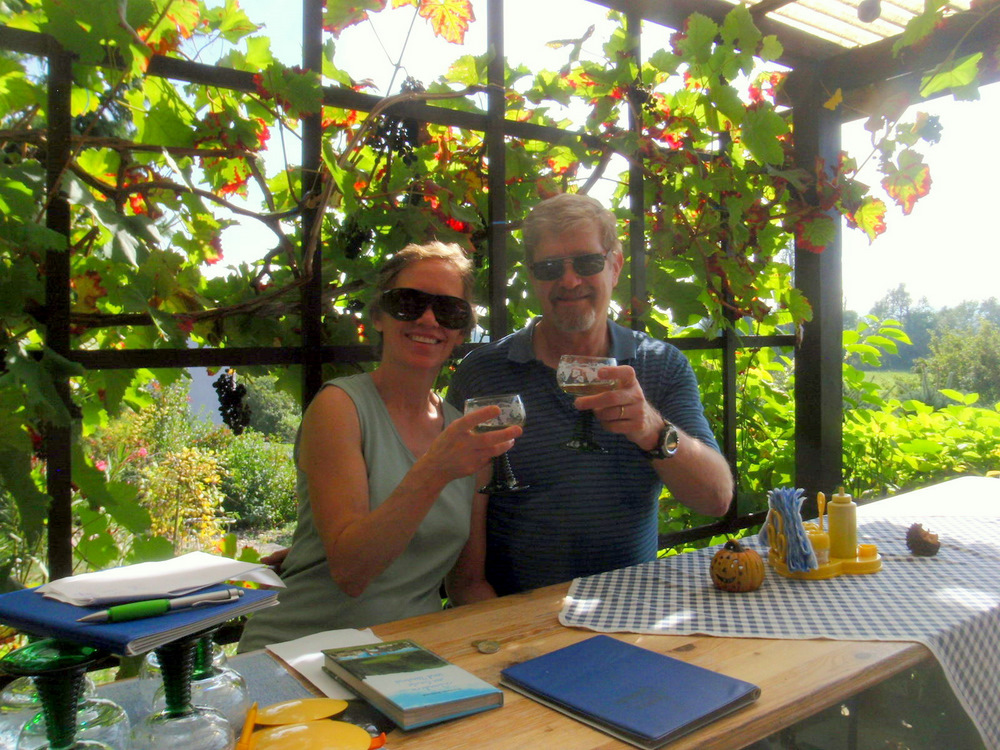 Above: Dennis and Terry Struck in Naumburg, Germany.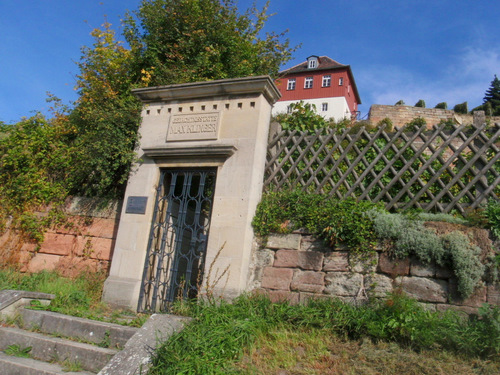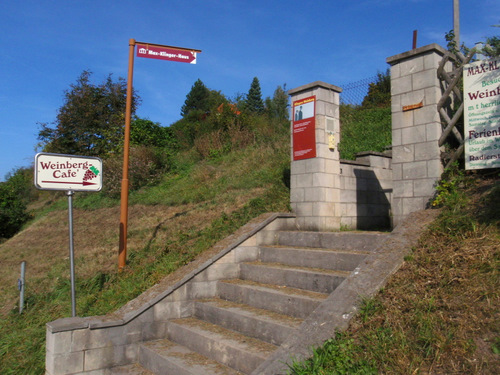 Above: Access to small Restaurants.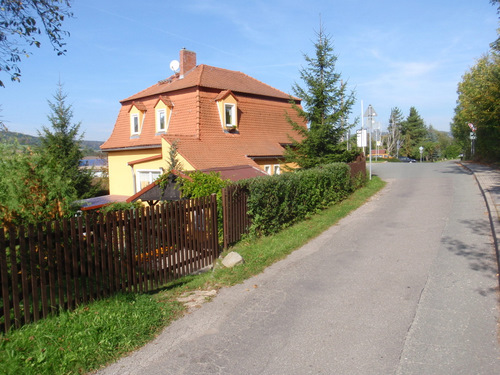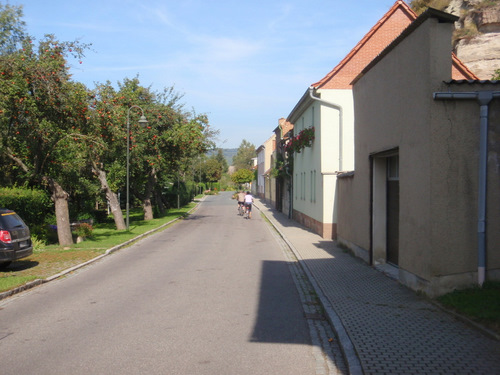 Above: Entering the town Großjena.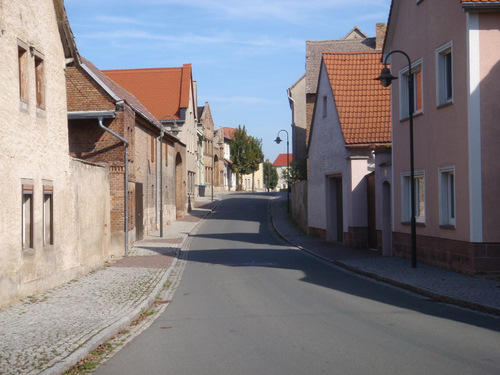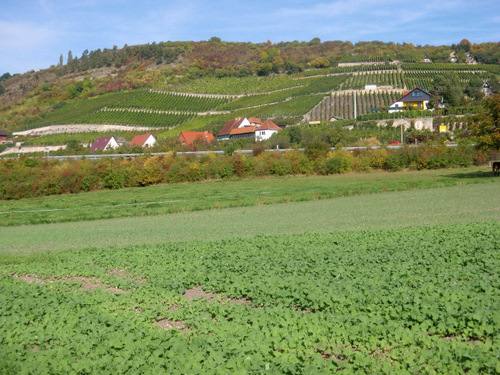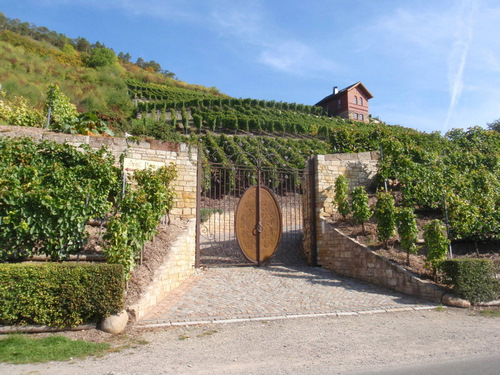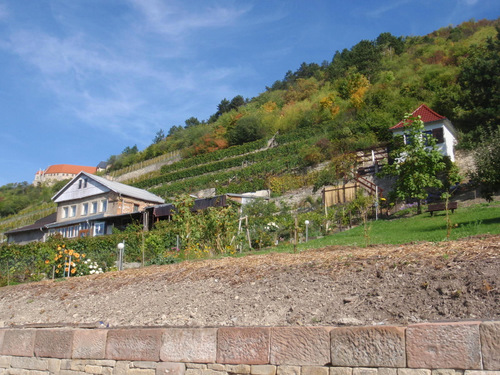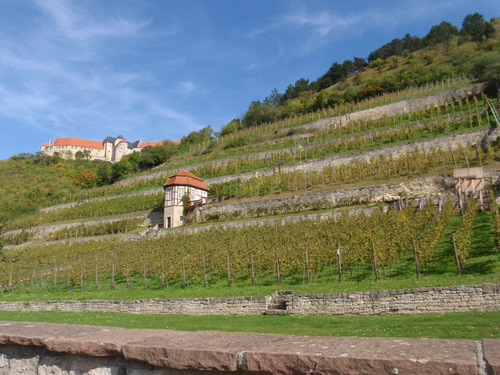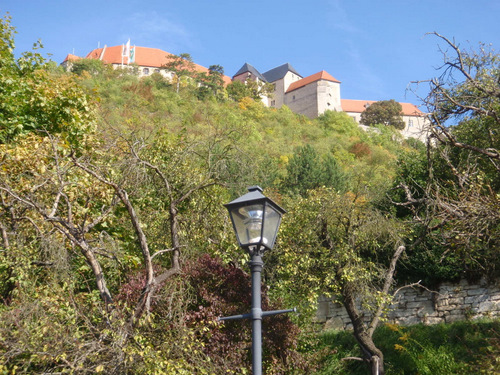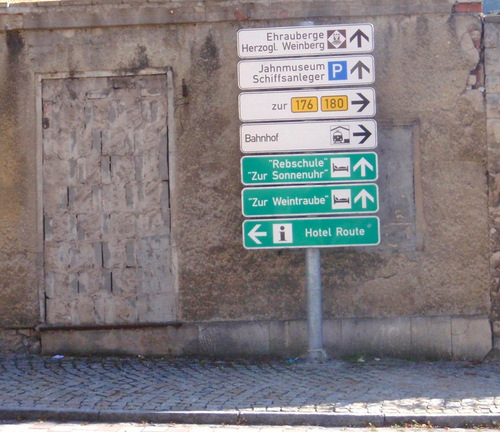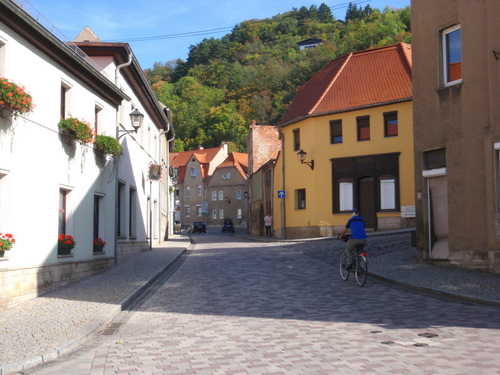 Above Left: Area signage; this is our turn-around point for the day.

Above Right: Heading back to Naumburg, but with a detour in and out of Freyburg.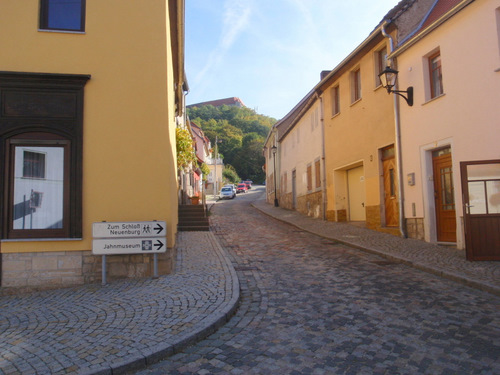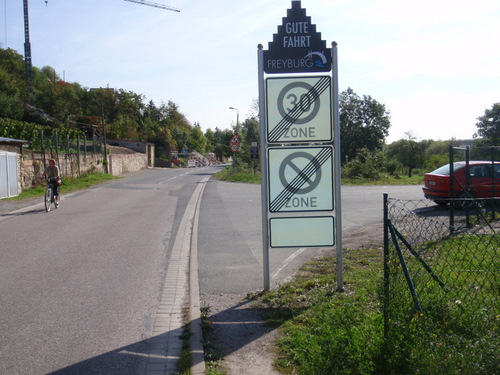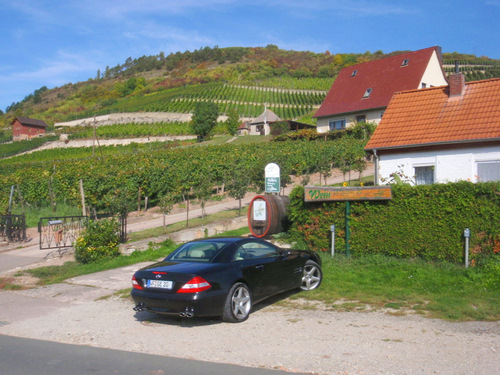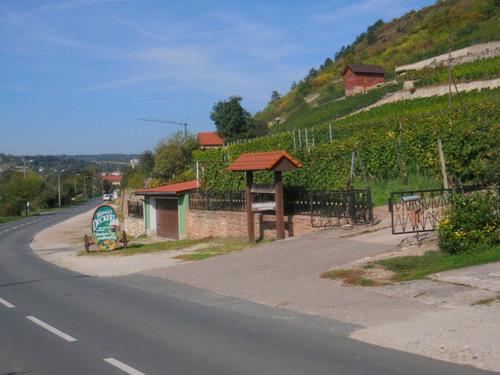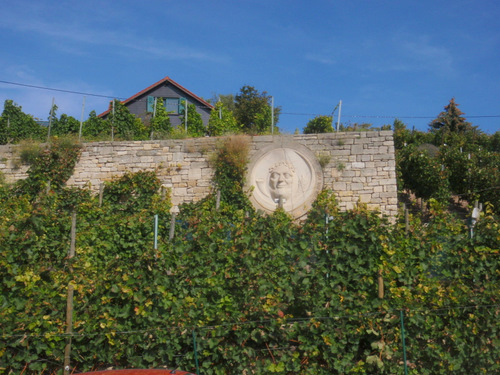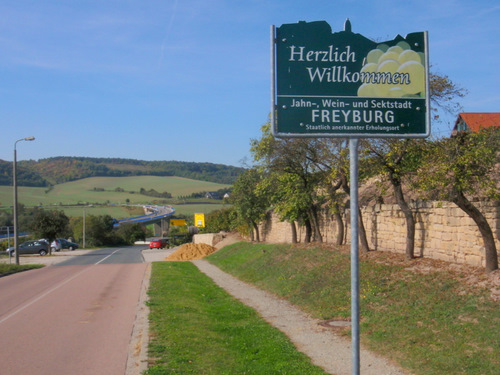 Above: Freyburg (Germany).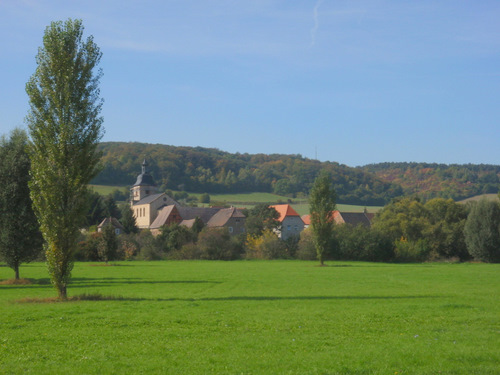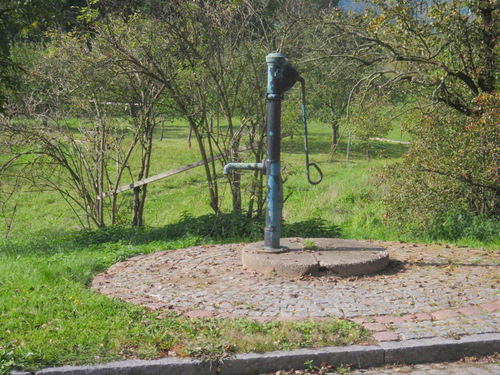 Above Left: We think this is the town of Rosßach.

Above Right: Former town water pump.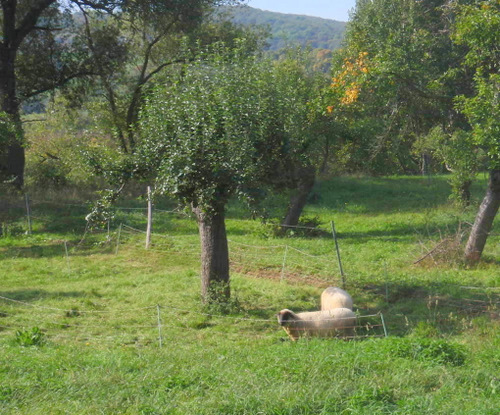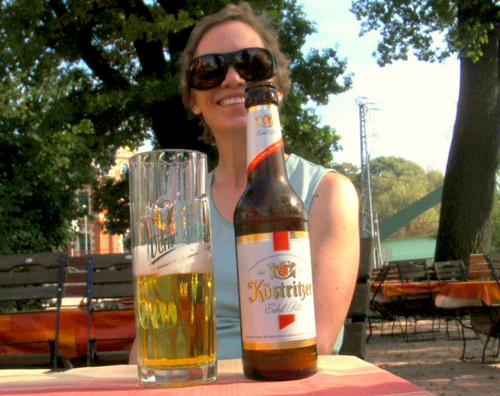 Above Left: Sheep.

Above Right: Late afternoon snack at the café tables of the Naumburg Wine Seller and because this is Germany and we are traveling with Dennis on a hot day, we're having Cold BIER!.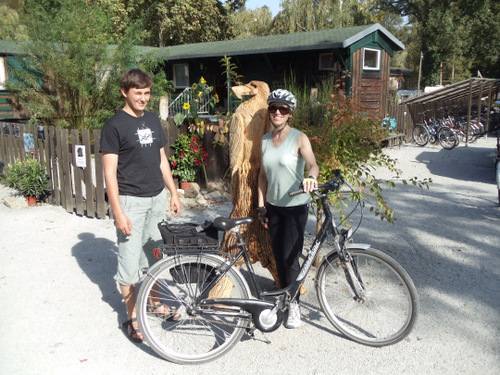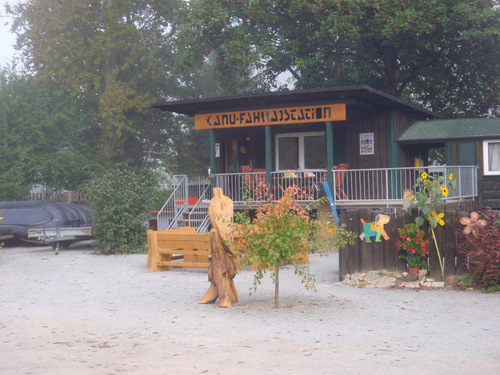 Above Left: Our Helper and Terry at the Naumburg Bike and Canoe Rental.

Above Right: Naumburg Bike and Canoe [Fahrrad und Canu] Rental's Front Office.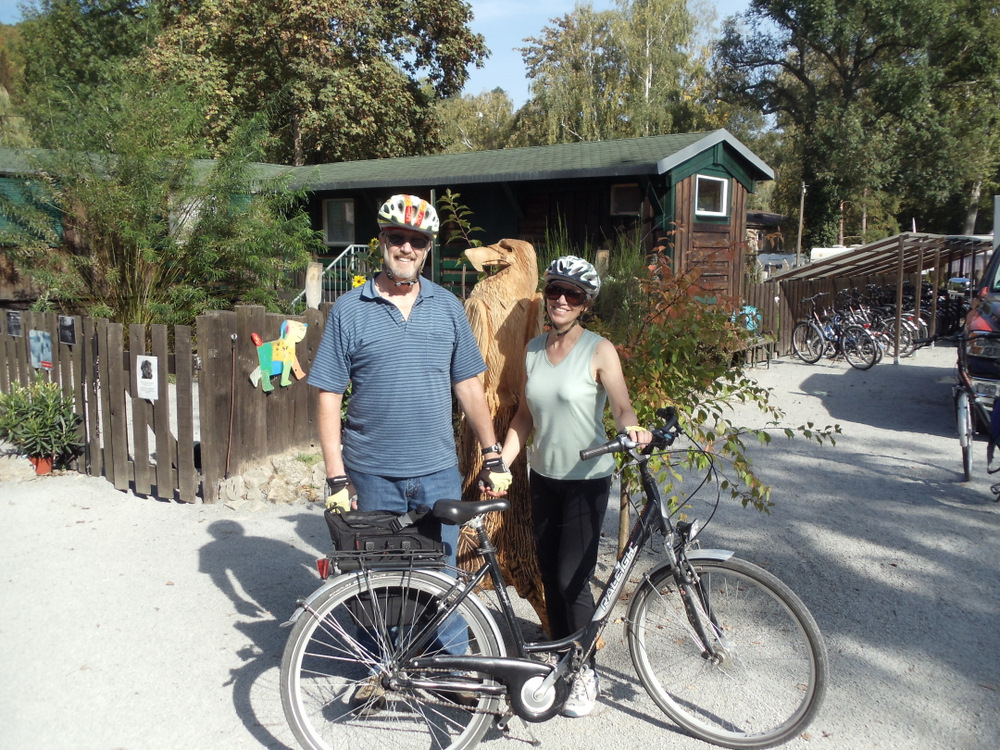 Above: Dennis and Terry Struck and the Hölzerner Adler at the Naumberg Fahrrad und Canu Rental Store.
We had a really good ride!



Naumburg (Saale): Evening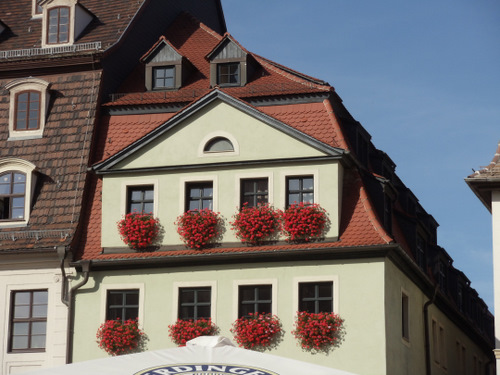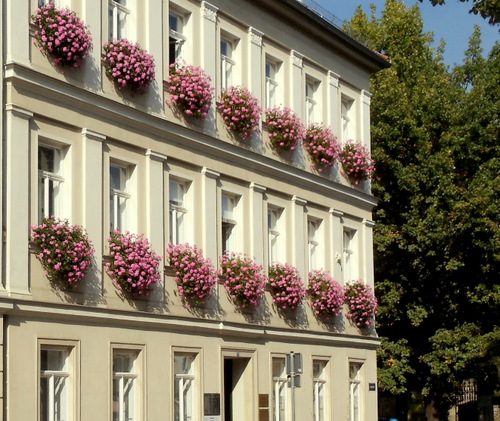 Above: We're on our way to have Supper on the Plaza. We've already photographed this area but the flowers just seem to be standing out today.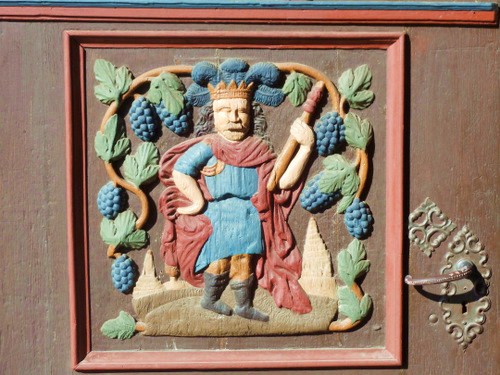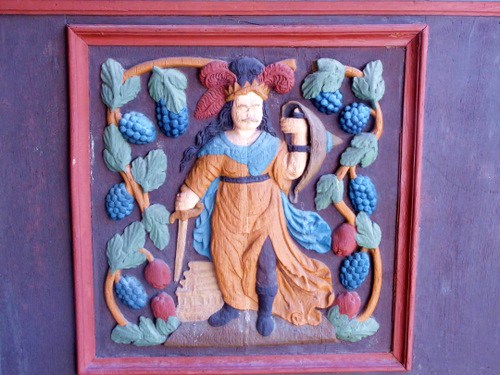 Above: Door panels, in town.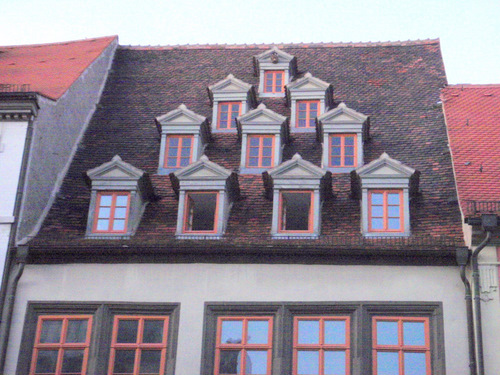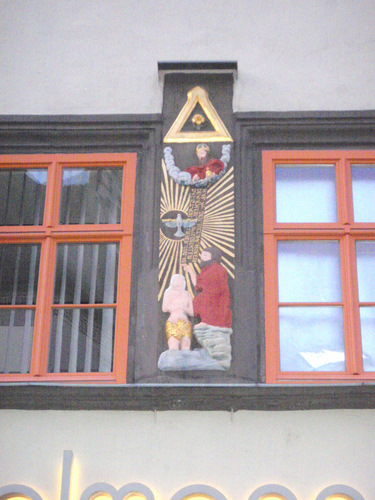 Above Left: A not so unusual German roofing feature.

Above Right: This sign is above a clothing boutique. We suspect that this is rental property of the church.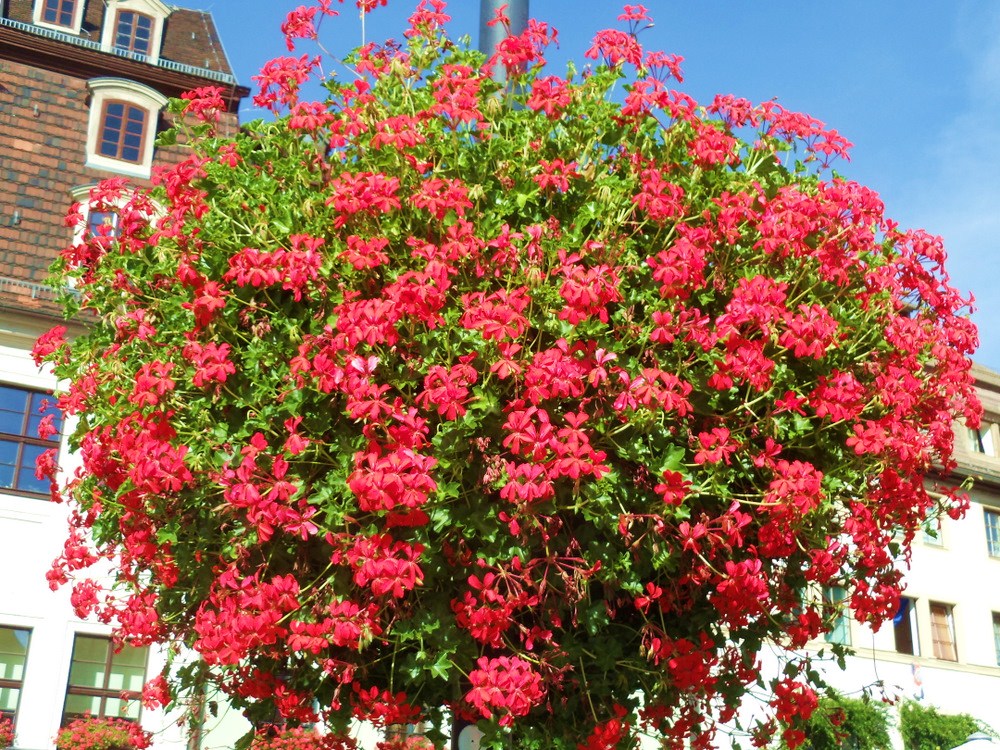 Above: Hanging basket along a Naumburg sidewalk.




Previous Day Top Next Day