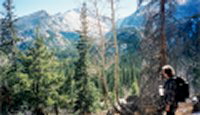 Hiking Checklists, v34
Hiking Checklist
Objectives: Pack for safety, back comfort, and noise elimination such that: nothing dangles or shifts position, nothing makes noise, nothing pokes in the back. Generally, pack heavy things low and light things high. Hands must be free except to carry a staff if walking.

Warning: Except for First Class Scouts, don't let anyone 14 years old
or younger carry a staff - because there is way too much mischief.
Warning: Remind all that to bears and lions Isolated or Small People Look like Easy FOOD.

Good Practices: Pack it In - Pack it Out.
Buddy System, ALWAYS, ALWAYS, ALWAYS!
A Threesome is better than a Lonesome.
Group integrity, Always in sight of leader.


[ ] Tote (bag, sack, backpack, duffle, ...):
[ ]   Tote Bag - Totes are great for traveling on day trips from the woods to the beach
[ ]   Pack (Day or As Appropriate)
[ ]   Hiking Staff (5 Ft Max, Chin Height Min OR Standardized
      for Tent / Fly Pole Height), Shock Absorbing Walking Stick(s) 
      WARNING: Because Boys and Sticks can be an accident
      waiting to happen, only First Class Scouts and above
      should be allowed to carry a Hiking Staff or No One at All
      (depending on individual necessity, group age / maturity,
      and outing type).
[ ]   Waist / Fanny Pack (ALWAYS with Two FULL Water
      Bottles & Holders)        
[ ] Food and Water:
[ ]   FULL Canteen(s) or Water Bottle(s) (1)
[ ]   Large Cup & Utensil(s), If Needed  
[ ]   Food (High Energy, Nutritional) (5),
      Seal so that food scent is trapped before & after use -  
      A Bear does NOT smell the difference between a candy bar
      and a candy wrapper.
[ ] Clothing:
[ ]   Waterproof Footwear (Waterproof Boots, Sneakers with
      Galoshes, Stream crossing Sandals, Booties) - 
      BROKE IN before hike, NEVER New!!!!
[ ]   Rain Gear (Backup Option: Large Trash Bags)
[ ]   Hat        
[ ]   Extra Clothing, As Appropriate for Weather and
      Layering (Add Layers If Cold, Remove Layers If Hot).   
[ ]   Extra Socks, Required (Avoid Cotton, Use Synthetic
      and / or Wool Socks)
[ ]   Shirt (Scout / loose with pockets)
[ ] Navigation:
[ ]   Compass, GPS, Altimeter (tested, batteries)
[ ]   Flashlight (tested & working, batteries)  
[ ]   Map, if for individual requirements
[ ] Safety:
[ ]   Pocket Knife (Always in Pocket, NOT Pack)
[ ]   First Aid Kit, Personal, (Always in Pocket, NOT Pack)
      Band-Aid Strips (2 Large, 2 Small)  
      Moleskin
      Large Cravat (Neckerchief)
      Personal Medications
[ ]   NOT for Scouting: Bear Spray / Protection Device       
[ ]   Whistle (Always in pocket, NEVER around neck)
[ ]   Matches and Striker in Waterproof Container -
      no good if striker gets wet; Or Weatherproof
      Lighter / Magnesium Striker
      WARNING Haven't seen a wind proof propane lighter yet  
      that would reliably light above 8,000 Feet in altitude.
[ ]   Emergency Phone Call Coins, Cards, Device
[ ]   "Cat Hole" Trowel (Gardening Sized Trowel For Waste
      Disposal.  HINT: Trowel for Dirt NOT Waste) (6)
[ ]   Toilet Paper, Tissues (carry in water proof plastic bag) (6)
[ ] Personal:
[ ]   Sun Glasses (especially for High Altitude & Snow),  Cases
[ ]   Watch, Inexpensive & Working, Alarm  
[ ]   Scout Handbook (especially to sign off achievements),
      Field Book, Nature Specialty Book(s)
[ ]   
[ ]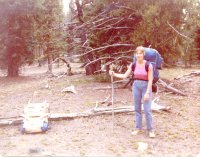 Hiking Checklist, Optional Items

[ ] Insect Repellent      
[ ] Sunscreen
[ ] Camera, Film, Battery, Memory, 
    Cable, & Transfer Device(s)    
[ ] Binoculars
[ ] Nature Book / Field Book    
[ ] Rope, String
[ ] Gloves          
[ ] Sun Glasses, Cases
[ ] Fanny Pack
[ ] Plastic Bags, various sizes 
[ ] Travel Brochure
[ ] 
[ ]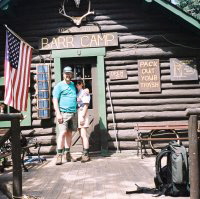 Hiking Checklist for Family/Group/Patrol Hikes

Leaders Manage Item Distribution:
[ ] Patrol First Aid Kit
[ ] Patrol Flag       
[ ] Map (Not for Individual rank requirement's)
[ ] Food (Arrange by Patrol or Individual)
[ ] Mini Gas Stove and Fuel
[ ] Liter Bag & Tie for Trash, Plastic - Pre-specified manner in
    which to carry it out
    
Optional:
[ ] Cell / SAT Phone, 2 Way Radio, working batteries      


(1) CAUTION: When about to bike, hike, or camp in Freezing environments, when you can, fill water containers with Hot Water. Sometimes the container needs to be warmed up before filling with Hot Water.
WARNING: When overnighting in freezing temperatures, pay careful attention to NOT let water freeze. It takes too much time and energy to thaw frozen water and it takes too many human calories to warm water in the body.
CAUTION: Water Always Freezes 32° F / 0° C, but at higher altitudes with dry humidity, it feels warmer!
WARNING: Water Boils at lower temperatures at higher altitudes, which is potentially both a sanitation and cooking issue (air pressure). At sea level water boils at 212° F or 100° C - As a rule of thumb, for every 500 Feet elevation (or 150 Meters), water boiling temperature drops 1° F (or .5° C).

(5) CAUTION: High Energy Bars: Food for Thought - During freezing or near freezing temperatures, some High Energy Bars are NOT chewable and therefore are NOT edible. Some options are: in cold weather keep bar(s) in pocket next to body, AND / OR select energy bars that do NOT harden (e.g., Peak Power Bar), OR carry loose trail mix.

(6) CAUTION: Some locations require that tissues and waste be packed out, especially for raft, canoe, and kayak type events.