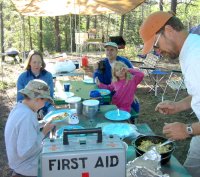 First Aid Kit Checklist
For Outdoor Activities,
(Family, Group, or Scout Troop) , v19
The Caveats:
- This List is Generalized for Remote Extended Outing Activities
- Specialize Further by Season, Location, and Activity Type
- Keep one in the house

These items represent a mix of typical treatment aids based upon camping experience as well as treatment practicality. If starting fresh, it is usually more economical to purchase a "comprehensive kit" and add to it rather than build from scratch. Some listed items may be availed via physician prescription only, if necessary discuss your plan and needs with your troop, group, family, or familiar physician.

FYI: See the Section on lessons about "How to Survive a Fall."

    Designate:
[ ]   Medical Treatment Person(s) (identify/designate most qualified
      if multiple people qualified, let them determine order)
[ ]   First Aid Kit Known & Identifiable to ALL
[ ]   First Aid Kit Location Known (in camp and on the move)
[ ]   Keep Inventory List (this page) in First Aid Kit(s)
    Medical Information Booklet:
[ ]   First Aid
[ ]   Emergency Wilderness Medicine
[ ]   Mental Status Test, Grading, & Procedures Sheet 
      (Sports / Head Injury Type)
    Medical Tools or Equipment:  
[ ]   Note: Scalpels Carried ONLY by Certified Professionals,
      Scalpels are NOT normally carried in First Aid Kits,
      especially NOT for Scouts!
[ ]   Medical Case to Hold All of Medical Care Contents, Soft
      Side Is More Flexible, Clear Sides May Locate Contents
      Faster, Water Proof Containers Can Be Hard or Soft Sided,
      User Judgment.
[ ]   Resuscitation Mask / CPR Shield (Good Advice: Get a good one,
      this item is not a place to go cheap)
[ ]   Splint Material (SAM, a soft padded aluminum
      splint material that can be trimmed with scissors,
      36"x4" Is Best, Read Instructions, Comes Folded Small - in
      a pinch: fire shield, duct tape, alum foil, sticks) 
[ ]   Lighter / Water Proof Matches & Striker
[ ]   Bite / Sting Suction, Extractor Device
[ ]   Tweezers, Pointed (removal of fine slivers, glass, dirt, ...)
[ ]   Tweezers / Pullers (ticks and larger items / shards)
[ ]   Thermometer (external)
[ ]   Medical Scissors & Good Medium Size Scissors
[ ]   Duct Tape (10 to 15 Feet, Either spool space is used for
      storage OR collapsed OR re-wrapped on small pencil sized spool)
[ ]   Gloves, Latex (Many / Box)
[ ]   Safety Pins and Straight Pins
[ ]   Paper, Note Pad / Book, Pen, Pencil & Eraser
[ ]   Infectious Waste Bag (Red, Marked or Sticker, Tie / Tape / Seal)
[ ]   Tiny or Mid Sized Flashlight, working with spare batteries
[ ]   Magnifying Glass
[ ]   Tongue Depressor (used as applicator / small splint stick)
[ ]   Curved / Straight Locking Jaw Forceps (scissor like clamp)
[ ]   Gallon Size Plastic Zip Lock Bags (universally useful)
    Wound Care:
[ ]   Irrigation Syringe or Plastic Squeeze Wash Bottle with
      Spray Tube / Top
[ ]   Medical Wash for Above Application System (Betadine)
[ ]   Scrub Brush
[ ]   Antibiotic Ointment
[ ]   Disposable Sanitary Wipes
[ ]   Moleskin & Molefoam
[ ]   Ace Wraps (4" & 3" with Clips)
[ ]   Dressing / Gauze, Non Stick, Non Scabbing
[ ]   Gauzes: Assorted Pads and Sizes (Self Stick and Non
      Scabbing, 1.5"x2" to 4"x4" (mix as desired / available) 
[ ]   Bandage Strips (small, medium, large) 
[ ]   Bandage Squares (small, medium, large) & Some Round
[ ]   2" Sterile Dressings
[ ]   2"x4" to 4"x4" Dressing Sponges
[ ]   4" Compress Bandage
[ ]   Trauma Pads, approximately 10"x10" and 10"x5"
      (Tampax Pads are great trauma blood sokers/covers)
[ ]   Celox, Blood Coagulant Powder (latest military use product from Iraq
      read the instructions - pkt(s) of 15g powder, more or less)
[ ]   Cravats, Large
[ ]   Eye Pad / Patch
[ ]   Adhesive Tape, Reel, 1" wide, Plastic
[ ]   Adhesive Tape, Reel, 1" wide, Surgical *
      * In a pinch, Duct Tape may be used in lieu of Surgical Tape
      but Duct Tape can damage/tear skin when removed.
[ ]   Butterfly Bandages
[ ]   Knuckle Bandages
[ ]   Cotton Applicators / Swabs (Regular & Long)
[ ]   Cold Packs     
    Medication & Treatments:
[ ]   Aspirin 
[ ]   Tylenol (Acetaminophen)
[ ]   Motrin or Advil (Ibuprofen)
[ ]   Liquid Soap (Still the #1 Bacteria Killer)
[ ]   Solarcaine (Gel or Lotion)
[ ]   Phenergan (Suppository)
[ ]   Lopermide (Anti-Diarrheal)
[ ]   Hydrocortisone Cream
[ ]   Vaseline (Petroleum Jelly)
[ ]   Visine
[ ]   Moisturizing Lotion (Eucerine, really good stuff)
[ ]   Antihistamine
[ ]   Mylanta / Maalox (Anti-Acid)
[ ]   Lotromin AF / Tinactin (Anti Fungus Cream)
[ ]   Sun Screen, Heavy Duty  (Note: Waxy exterior of Aspen tree
      equals about SPF-8, hand rub tree then exposed skin)
[ ]   Chap Stick with Sun Block
[ ]   Sting / Itch Relief, Calamine
[ ]   Feminine Hygiene: Pads, Tampons
[ ]   Benadryl
[ ]   H2O2 / Hydrogen Peroxide
[ ]
[ ]
    OPTIONS, Created or Purchased (user judgment/location/season): 
[ ]   Dental Emergency Kit
[ ]   Bicycling "Road Rash" First Aid Kit 
[ ]   Boating First Aid Kit 
[ ]   Tick Removal Kit
[ ]   Bee Sting Kit
[ ]   Allergy Response Kit, Atropine Injector
[ ]   Snake Bite Kit (Note: Most Specialists think it improper to X-
      cut in the U.S. IF within 24 hours of medical treatment)
[ ]   Communication Device 
[ ]   Gatorade Powder (electrolyte replenishment and re-hydration)
[ ]
[ ]