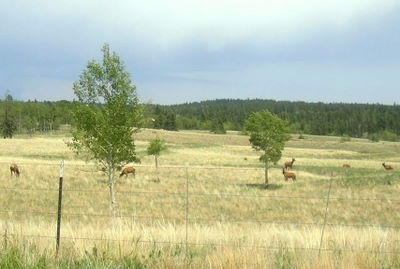 Hunting Checklist: Big Game
(Black Powder Rifle, Cardridge Rifle), v19
Weapon Type: Rifle & Muzzel Loading Hunting Checklists
Game Types: Elk, Deer, & Antelope


    Before / Preparation:
[ ]   Reservation Fees, Receipts, Regulations
[ ]   Sight & Practice with Ammo and Weapons
[ ]   Rehearse Loads
[ ]   Access Keys, Codes
[ ]   Landowner Permission
[ ]   Pre Season Scouting 
[ ]   Pre Season Conditioning
    Carry on Person, See Hiking
[ ]   License(s), Permission Slips, Area Maps as appropriate    
[ ]   Orange Safety Vest / Camouflage, Hat / Cap, 
      often as required by law
      (Use Cloth as Cheaper Vinyl is Noisy)
[ ]   Knap-Sack / Pack
[ ]   First Aid, always on person (Bandages, Cravat, Moleskin)
[ ]   Antihistamine, Allergy Meds, Prescription Meds
[ ]   Knife:
[ ]     Pocket (Swiss Army Type)
[ ]     Game
[ ]     Mini Light
[ ]   Water Proof  Strike Anywhere Matches / Lighter,
      Magnesium Striker
      Note: Windproof lighter don't work well at or
      above 7,500 Feet elevation
[ ]   Marking Tape / Streamers
[ ]   Optional: Hunters Cushion/Seat 
[ ]   Saw:
[ ]     Wood              
[ ]     Bone (A hacksaw works but takes a while)
[ ]   Compass, Maps, Whistle, GPS, Altimeter
[ ]   Weapons, Ammo 
[ ]   Satchel Bag:
[ ]     Short Starter
[ ]     Lube
[ ]     Bullets
[ ]     Speed Loaders (right cal)
[ ]     Powder, Horn
[ ]   Calling Devices
[ ]   Scent Attractants / Covers
[ ]   Flashlight (Tested, Batteries)
[ ]   TP!!!!! / Kleenex
[ ]   Cat Hole Digging Trowel 
[ ]   Full Canteens (1)
[ ]   Food, 24Hr (Trail Mix, Sandwiches, Jerky, Energy Bars(5))  
[ ]   Duct Tape, Camo or Regular    
[ ]   Rifle(s), Cases, Cleaning Equipment, Slings, 
[ ]   Water Purifying Tool 
[ ]   Wet and/or Cold Weather Gear (see clothing)
[ ] Clothing: See Clothing
    Camp: See Camping:
[ ]   Keys to Transportation Known, Extra Keys 
[ ]   Legal Communication, Radio, Phone (cell, satalite)  
[ ]     Sleeping Gear:
[ ]     Foam Rubber Pad, Avoid Air Mattresses
[ ]     Bags, Sheets, Blankets
[ ]     Pillow, Case
[ ]   Tent, See Camping
[ ]     First Aid Kit whose location is visible and known to all
[ ]     HD Heater & Fuel
[ ]     Water Proof Ground Cloth / Plastic / Nylon
      Kitchen:
[ ]     Station / System
[ ]     Stove System, See Cooking Equipment
[ ]     Metal Grill / Grate Cook System
[ ]     Broom
[ ]     Chair(s) / Stool(s), Table(s)
[ ]     Lantern and Equip
[ ]     Water Jug / Can / Container (1)
[ ]     Coffee and Pot
[ ]     Paper Towels, Cleaning Equip 
        See Cooking Equipment
[ ]     Large Dining Fly        
[ ]   Food, See Basic Foods and Spices
[ ]     Chuck Box (Assembly Validate):
[ ]     Box and Legs, Shelves
[ ]     Bolts, Washers, Nuts
[ ]     Hanging Pockets, Towel Rack, String / Hang Material
[ ]     Kitchen Stand(s), Trash Stand(s)
[ ]   Camp Tools (see Extended Camp Supplies Checklist): 
[ ]     Hammer and Axe
[ ]     Shovel (Reg & Snow)
[ ]     Branch Cutting Shears / Saw 
        REMEMBER: To prevent branch bark strip rips, cut a
        notch on the bottom of the branch first.
[ ] Game Cleaning and Care:
[ ]   Tagging Material (often by law: string, tag, 
      sometimes duct tape, pen/pencil)
[ ]   Rope & Pulleys,  Winch
[ ]   Game Wheelbarrow / hauler:
[ ]     Nuts & Bolts
[ ]     Check Tire Air Pressure
[ ]     Serviceability
[ ]   Game Bag
[ ]   Disposable Latex Gloves / Gauntlets
[ ]   Plastic Protection from blood for 
      Vehicle & (Optional Plastic Gloves for Hands)
[ ]   Black Pepper (Repels Flies from Meat)
    Optional:
[ ]   Chain Saw, See Chain Saw
[ ]   Tree Stand and Supplies
[ ]   Blind Repairs
[ ]   Transportation in Good Repair (Auto, Trailer, and/or ATV)
[ ]   

(1) CAUTION: When about to bike, hike, or camp in Freezing environments, when you can, fill water containers with Hot Water. Sometimes the container needs to be warmed up before filling with Hot Water.
WARNING: When overnighting in freezing temperatures, pay careful attention to NOT let water freeze. It takes too much time and energy to thaw frozen water and it takes too many human calories to warm water in the body.
CAUTION: Water Always Freezes 32° F / 0° C, but at higher altitudes with dry humidity, it feels warmer!
WARNING: Water Boils at lower temperatures at higher altitudes, which is potentially both a sanitation and cooking issue (air pressure). At sea level water boils at 212° F or 100° C - As a rule of thumb, for every 500 Feet elevation (or 150 Meters), water boiling temperature drops 1° F (or .5° C).

(5) CAUTION: High Energy Bars: Food for Thought - During freezing or near freezing temperatures, some High Energy Bars are NOT chewable and therefore are NOT edible. Some options are: in cold weather keep bar(s) in pocket next to body, AND / OR select energy bars that do NOT harden (e.g., Peak Power Bar), OR carry loose trail mix.