| << | 11 |

| 13 | 14 |

|

|

|

|

| >> |
- Hover Mouse Over Images -

Bicycle Tour Adventure #16

Pictures and Stories About Bicycle Tour Adventures



Fernie, British Columbia, Canada,
Trans Canada Trail (Segment)
By Bicycle, June, 2006


We have Brand New Bike Fridays to Tour and Trail Trial!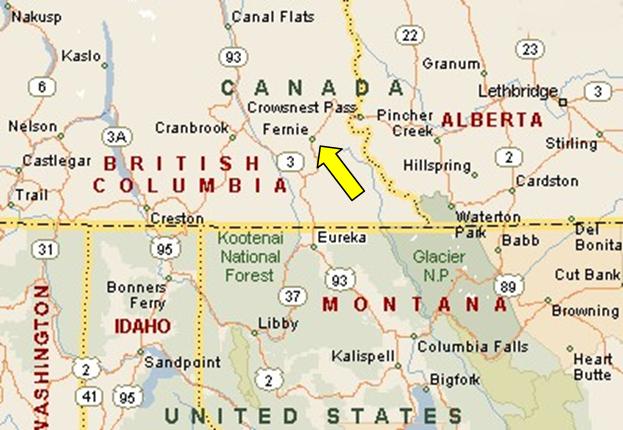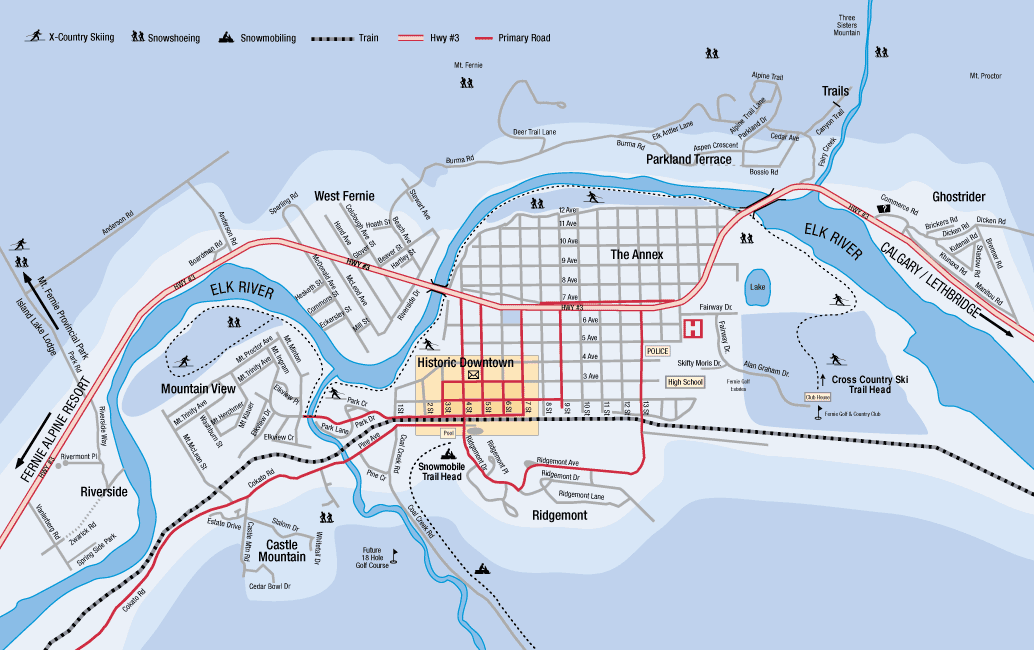 Enroute Photographs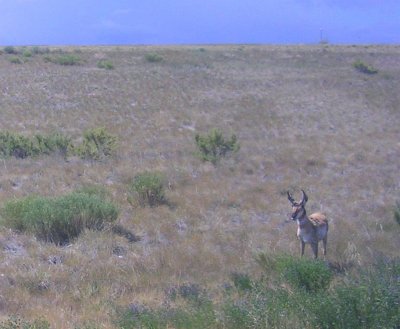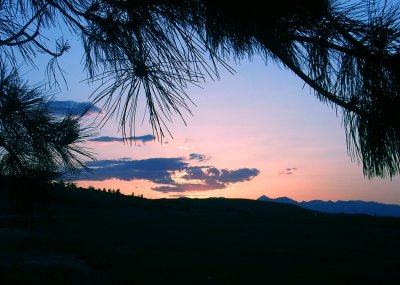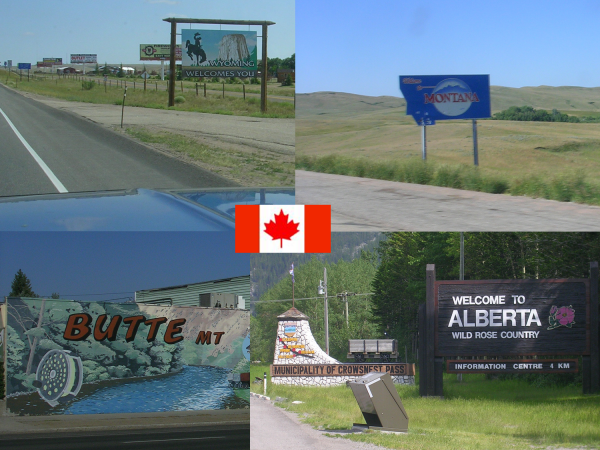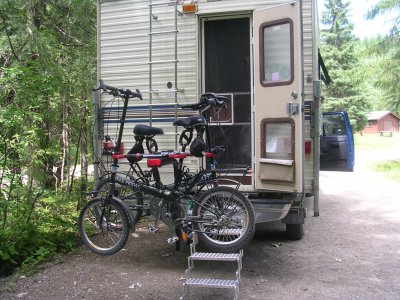 We are on a Bike Touring Shakedown.
Above Near Left: We have two new bikes and need to quickly learn the Touring Characteristics, positive or negative. We took two full days to drive to Fernie, Canada, from Colorado Springs. We spent the "on the road night" in a rest area for trucks in Bozeman, MT, and arrived in Canada at about 2 PM or so the next day. We arrived at our Fisherman's Office at about 4:30 PM - They close at 5 PM. Travel was nice accept for just north of Missoula, MT. There the road was completely torn up for new slab, so we got to drive about 20 stop and go road construction miles in three hours. Overall, we saw lots of deer and antelope along side the road - It was a fun drive.

Above Near Right: This picture demonstrates how we carried the bikes (picture taken at Provincial Park just outside of Fernie). We carried the bikes on a hitch rack (as we have an interior space shortage). The Bike Fridays have a monotube (rather than an up tube and a down tube) so we had to find and use a Top Tube product to be able to mount out bikes. While the bikes do fold up and pack in a suit case, the setup time isn't justified for the time that it takes us to remove and to reassemble all the touring components. Granted that we are still learning the INs and OUTs of foldup bike management for touring. The bikes themselves are wonderful (300 miles on hers, 500 miles on his).

We learned that our Top Tube adapters for the bicycle hitch mount could not handle the bikes and the road jarring. We are going to need a new bike carry system as a result of the monotube (versus having an up and down tube). Our current hitch mount bike rack system worked well for our previous bikes which had top tubes.

HUMOR: Terry still chuckles at Dennis because he mounts his bike, out of habit, by swinging his legs around the seat. Terry just steps over the low positioned mono tube.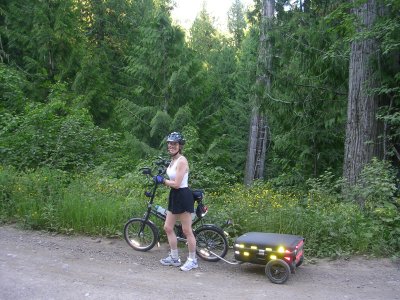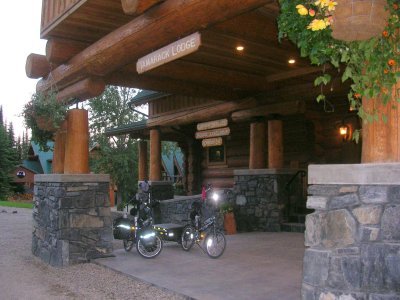 Above Left: As soon as we setup our fishing gig and settled into our British Columbia (BC) Provincial Park camp site, we off loaded the bikes and headed uphill on the eight kilometer road to the Lake Island Resort. This is Terry and her rig.

Above Right: Proof that we made it to Lake Island Resort, Tamarack Lodge. We started with no intention of entering the resort. The resort was by reservation and it was for well dressed clean people. By the time that we completed our 100% uphill ride to get there, we were hot and sweaty. We asked if it would be OK to have a beer at the bar. We were invited in and quickly found ourselves around other people, all from other countries. We drank Fernie Dark (BTW, very good!) and found ourselves in a lively discussion about Scotland from a Scotsman, Kyle, as we are going to Scotland in a few months with these same bikes.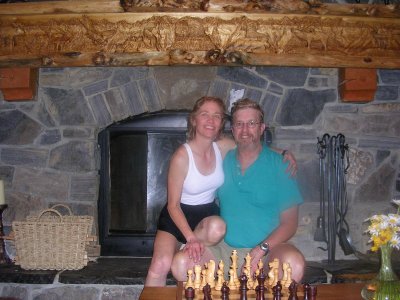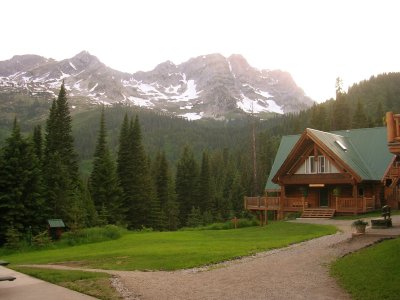 Above Left: Terry and Dennis pose at the Fireplace (next to the Entryway and Bar).

Above Right: Typical Lake Island Resort View. According to Kyle, the resort owns the mountains in this view and uses Snow Cats to carry skiers in the winter.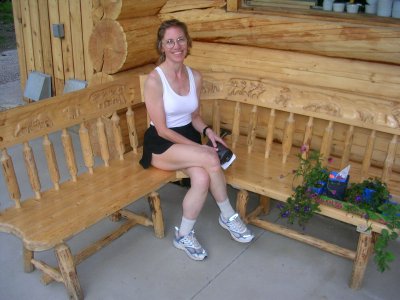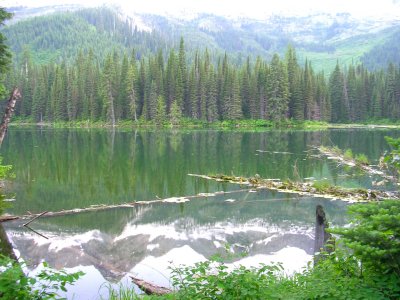 Above Left: Terry poses on bench with hand carved figures.

Above Right: A view of the Lake and Mountain Reflection. The Island is just to the left - there has been a moose feeding there in the evenings for the past week - we missed him today.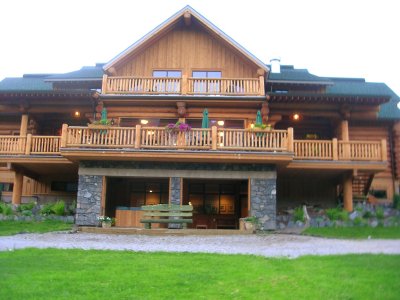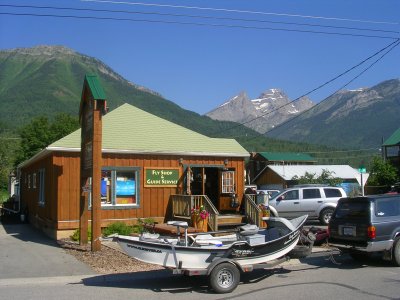 Above Left: The backside of Tamarack Lodge.

Above Right: Our hired fly fishing guide service.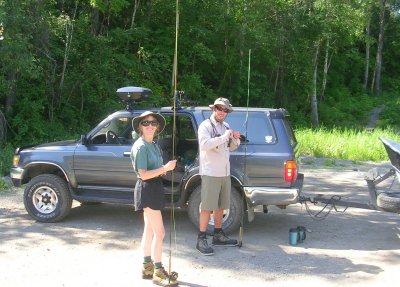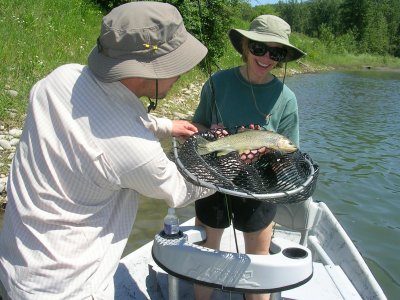 Above Left: Our Guide, Kevin, and Terry.

Above Right: Terry and her native Cutthroat Trout. There was a significant stone fly hatch and one of us was landing a Trout about every ten minutes (for eight hours)! Nope, Dennis' arm never got tired.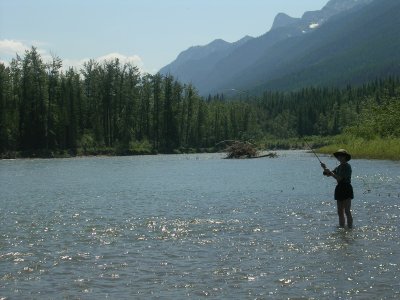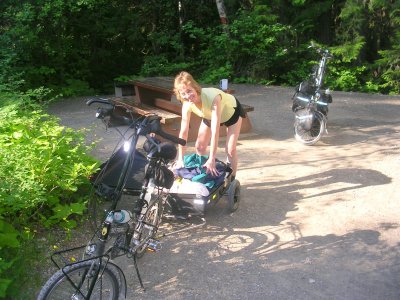 Above Left: We fished key rifles and chutes. This is Terry with a Cutthroat On! I think that we got back to our camp site around 8 PM. Because we are far north, the sun sets around 10 PM. We had had a full day of fishing. Tomorrow We Bike!


Bike Day 1
Above Right: The shadows and rich light color reveal that its morning. Terry is throwing in her rain jacket and about to close her Bike Friday [Suitcase] Trailer. Dennis' bike, further back, is rigged with full panniers. We each carry six to eight water bottles. Water is heavy. Note Dennis' coffee cup on the picnic table. We're off with no agenda. We're going north through Sparwood, a coal mining town with the largest truck in the world, and maybe as far as Elkford.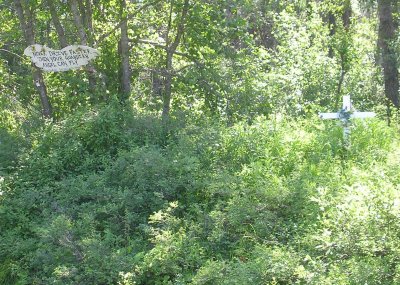 Above Left: We're on the road. Here is a field of long stem Buttercup Flowers.

Above Right: "NEVER Drive Faster Than Your Guardian Angel Can Fly" - An interesting roadside marker.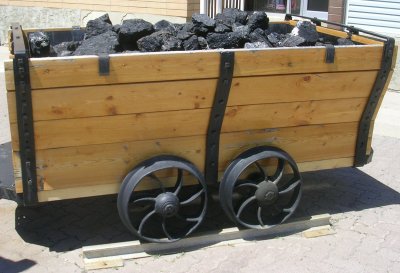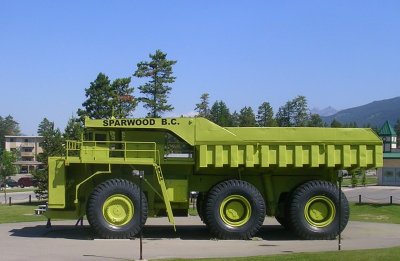 Above Left: That's real coal, just sitting in the hopper. We're in Sparwood, a small and clean coal mining town. Everyone is friendly. The town had about twenty large barn sized murals (one pictured below).

Above Right: Its billed as the world's Largest Truck. Note the legs of the adult in front of the truck's front tire. The rims are about six feet tall. Note the full sized door on the driver's cab.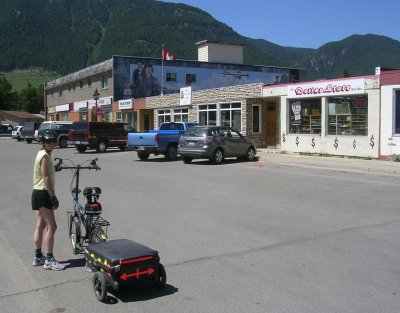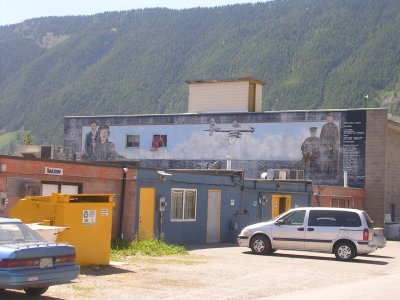 Above Left: Terry, on one of the main streets in Sparwood. Note the Mural dedicated to Canadian Allied Forces contributions to WWII. The next image is taken from the back alley and shows the mural better. Dennis knows a B-29 SuperFortress when he sees one - these came at the end of WWII, slowly replacing the B-17 and B-25. They also saw service in Korea.

Above Right: The same Mural, back street view, dedicated to the Canadian Armed Force's contributions to the resolution of WWII.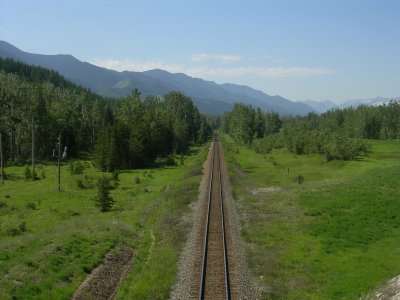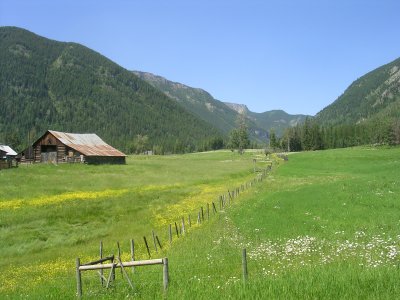 Above Left: Dennis' Grandfather was a retired trainman and former Canadian. There is a chance that he has shared this same view. We are looking South from the Highway Crossover Bridge, between Fernie and Sparwood.

Above Right: View West (North of Sparwood, Canada).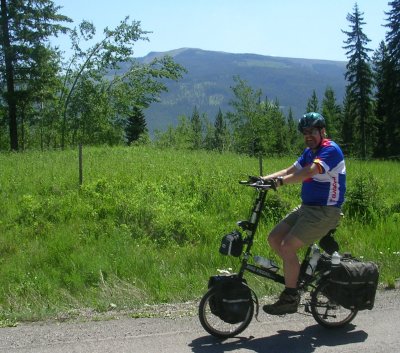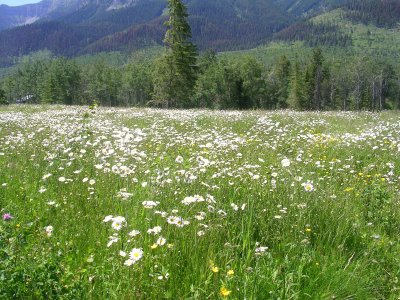 Above Left: It is Easy Rider on his new Bike Friday. Note the 20 inch wheels, high rise handlebar, and the tire pump is mounted on the front of the handlebar steering tube. The pump is too long for the seat post and the pump fitting will not fit onto the monotube. This is pretty much the touring setup for when no trailer is used (sans tent and sleeping bag).

Note: Both Terry and Dennis have ergonomic positioned handlebars with long steering tube. The long term riding/touring comfort overrides the mountain bike steep climb convenience. We still can and do ride steep hills, but every now and then we do have to push our bikes where before we may be climbing in granny gear. However, at the end of a long trail day, we don't have sore backs from being bent over all day.

Above Right: A field of Daisies.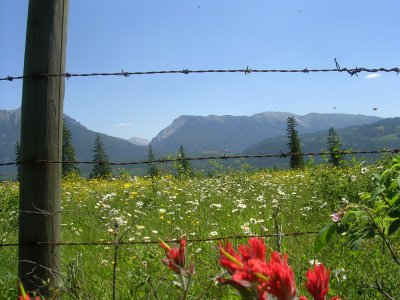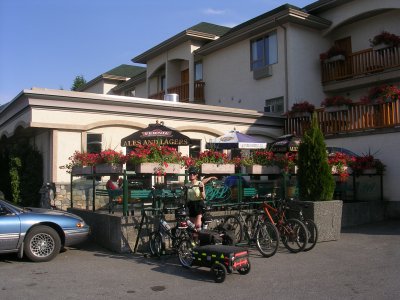 Above Left: This picture was taken from near where we ate lunch. The mountain pictured in the near background contains a lot of coal. The red plant is Indian Paintbrush, the white flower is the common Daisy, and the yellow flower is a variety of Tall Buttercup. We are actually heading back to the south at this picture taking time. We were torn between a decision to continue on to Elkford, or turnaround (based on experience and the time of the day).


GOOD RULE OF THUMB:
When conducting a round trip ride,
no matter where you are halfway through the biking day,
turn around!
We had been riding up hill, up river, and up valley for half of the day. We had considered riding a little longer, trying to get to Elkford. It was probably only three or four kilometers away. We decided to eat our picnic lunch at 1230 Hrs and by 1300 we turned around, following our own "travel rule of thumb." We expected to have a quick short ride of about three hours. Its a good thing that we did turn around at that time as we turned back into a ferocious head wind. NORMALLY a downhill run of about 35 kilometers would take us about three easy hours, HOWEVER, today it was going to be a six hour return ride!

Above Right: Pictured is a Fernie Bar and Grill that we rolled into at about 1900 Hrs (7 PM). Terry is standing next to her bike. We stopped here because Kevin's girl friend works here. We missed her but the food and beer was great. We still have to ride another three kilometers to get back to our camp site, so we have to budget our time and alcohol wisely.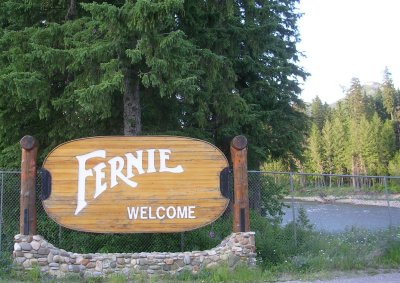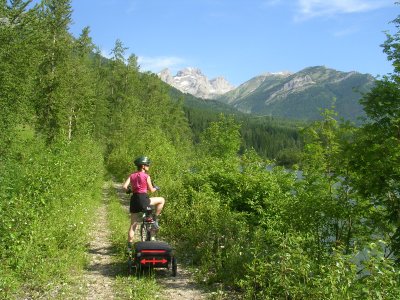 Bike Day 2
Above Right: Today we are going trail riding. We have to ride into Fernie to access the trail. We don't actually know it yet, but we about to travel a segment of the Trans Canada Trail (for Bicycles and for Hikers). We are arriving into Fernie via the south end of the main road. We expect some mountain biking single track and all varieties of dirt road and conditions. While the temperature is cool at the moment, it will quickly become 85° F (sort of hot for biking).

Above Right: Terry on a creek path.





Above: We discovered the Trans Canada Trail sign and read the information. Its setup for hiking and biking. Once again, setting up the camera timer and running into the picture proves to be a challenge and keeps Terry laughing at Dennis. Check out the cool bikes!

Above Right: A close-up image of the actual Trans Canada Trail sign information. The route covers really old established trails that, both, go back to established Native American and wild game trails as well as back to first man at the end of the ice age.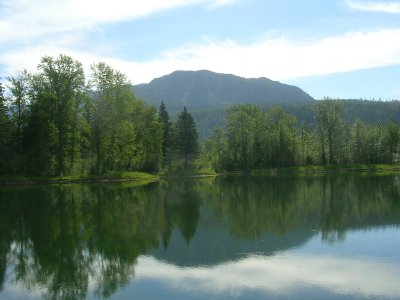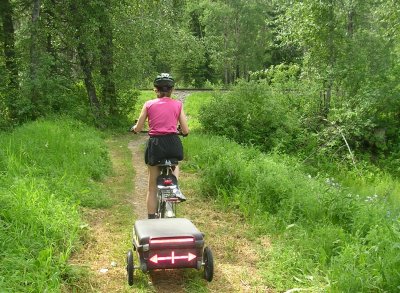 Above Left: View across a pond, looking East of Fernie.

Above Right: Terry on the trail, rail tracks ahead.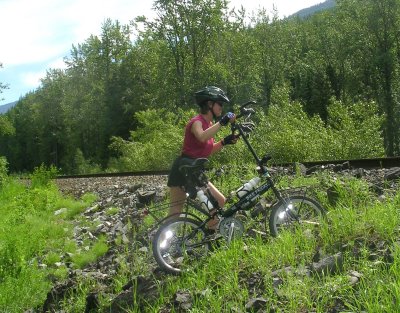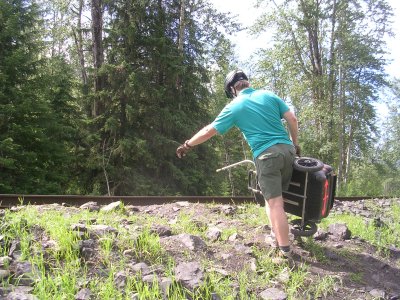 Above Left: Terry, negotiating the tracks. One thing that we discovered is that the raised handle bars give too much leverage when it comes to pushing a bike uphill.

Above Right: Dennis is carrying the Suitcase Trailer over the tracks.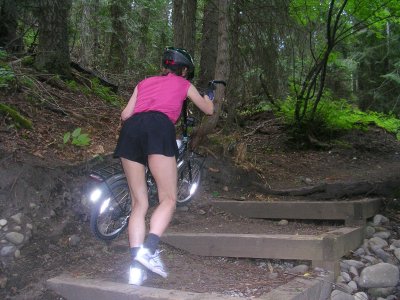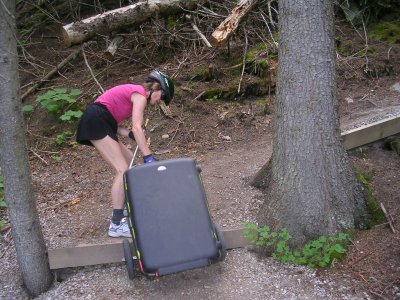 Above Left: Terry, pushing bike up trail stairs.

Above Right: Terry, pulling trailer up trail stairs.

Note: All of the gear from Bike Friday works fine and proves to be trail durable.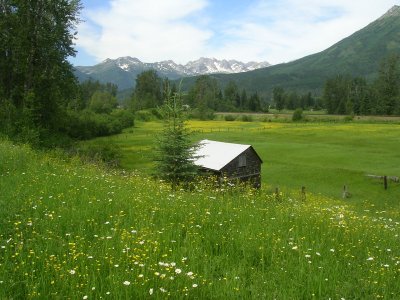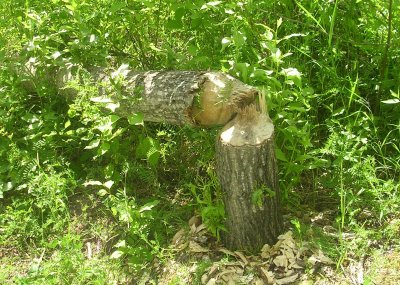 Above Left: Fernie Valley View.

Above Right: Elk River Beaver Sign.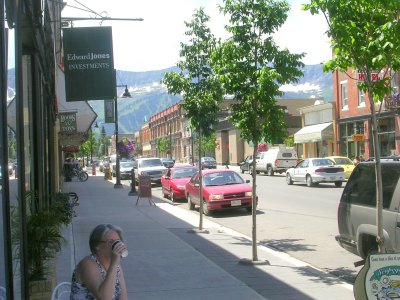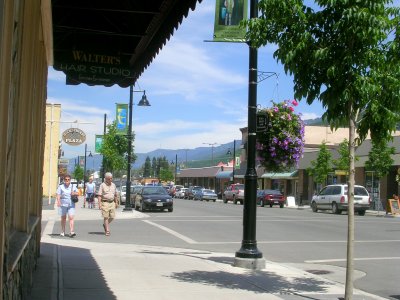 Above Left: End of a long hot day. We reward ourselves with a soda and a visit to downtown Fernie to conduct a taste test at the Rocky Mountain Chocolate Factory. Here's a view of Fernie's main street, 2nd Avenue, looking West.

Above Right: 2nd Avenue, looking East. ... Good Day, eh?



Bike Operations Summary
-- The Bike Fridays operated well! --

We had one flat, nail in rear tire, easy to fix.
NOTE: We had a brand new tire pump,
a ToPeak Mountain Morph with Inline Guage.
Terry did the pumping. It was the First Time ever with any pump
that Terry could successfully bring the tire pressure
to the correct road touring pressure.

Bike Carrier: Our older model top tube bike carrying rack cannot
carry monotubes because the monotube is oval shaped
and therefore will not safely stay clamped.
So, we bought a Toptube-Crosstube-Adapter.
The supplemental Toptube-Adapter could not handle much road stress.
Consequently, we almost lost a bike while traveling home.

Therefore we decided to purchase an entirely new bike carrying system.
A System Style similar as those seen on some RVs that support the wheels from
the bottom and supports/holds the frame in place from the top hook.

It was a fun trip that allowed us to learn a few touring
ideas and lessons while not costing in terms of a big mistake.

Previous Adventure
Top
Next Adventure