| << | 11 |

| 13 | 14 |

|

|

|

|

| >> |

Be sure to hover the mouse over the images.
| | | |
| --- | --- | --- |
| | Bicycle Tour Adventure #14 | |
Pictures and Stories About Bicycle Tour Adventures

Great Divide Mountain Bike Route (GDMBR - Segment Plus)
Salida to Poncha Springs; plus climb to Monarch Pass, Colorado, USA
Roundtrip by Bicycle Tour, August, 2005

Tomorrow, we bike. Today, we catch fish.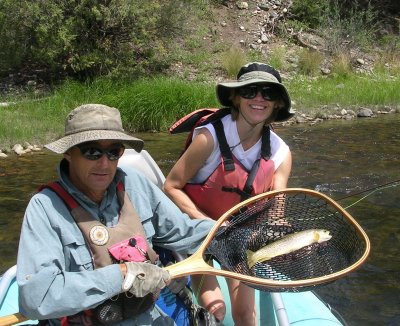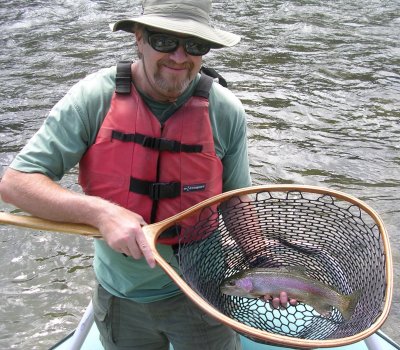 Above Left: Its a Saturday morning. We arrived at our campsite at about midnight. We are staying at a RV Park two miles south of Salida, Colorado. The RV park's name is not worth mentioning. We had to be on the water at 8 am, so that meant getting up early after not to much sleep. Terry caught the bigger portion of the fish before lunch. Pictured is a Brown Trout that has some Gold or Cutthroat Trout features.

Above Right: We're on a full day guided Raft fishing trip, floating down the Arkansas River east toward Canon City. Dennis is displaying a nice plump Rainbow Trout. Fishing was good all day.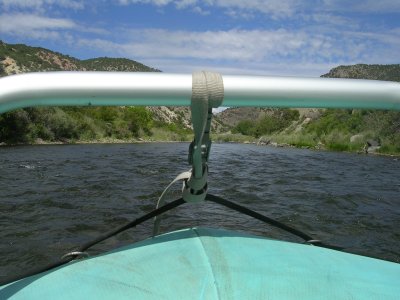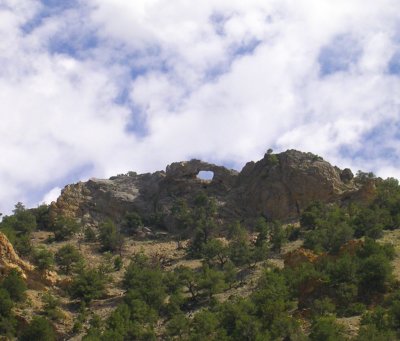 Above Left: Sometimes a person just has to enjoy the moment. This view is from the position of Dennis' knee. It was a beautiful day to be enjoying nature.

Above Right: The guide was dressing a fly and indicated the rock arch abeam our raft. It had occurred to us that we've been on this river and driven on the adjacent road many many times and never noticed the arch before. One must always be willing to learn new things.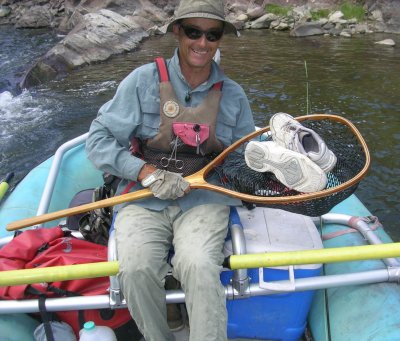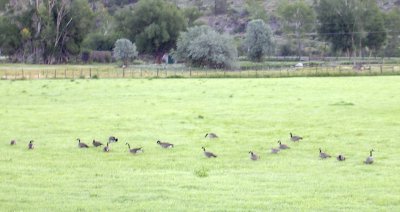 Above Left: A while earlier, a group of really happy Texans floated by us. They were in their own boat and were enjoying their drinks and their company more than they were trying to fish. That's OK, they were having fun and not being obnoxious. They mentioned, in passing, that they had lost a pair of shoes. Well, our guide found the shoes floating in the water and he is displaying a netted pair of size 12 's. We found the owners, later, beached - one guy was very appreciative to have some shoes to wear!

Above Right: Canadian Geese (Arkansas river in the background).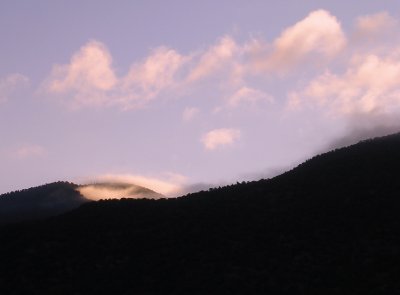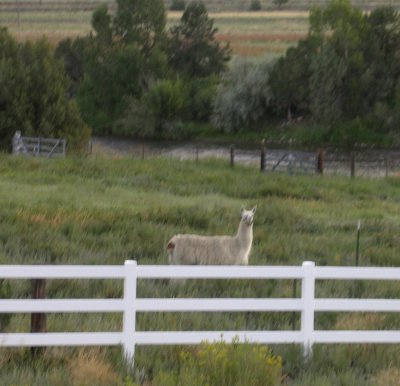 Ah, the Bike Trip Begins. We're starting about two miles south of the town of Salida. We will ride 2 miles into and through town and then turn west along hard paved road (US 50) for about 15 more miles to Monarch Pass. The Monarch Pass elevation is 11,312 feet. It is pretty much uphill starting from our campsite next to the river (which is the lowest point). After summiting we will ride our bikes back to camp. What we did not realize then was that for the first time in our lives, we would be able to coast downhill without having to brake for speed, turns, nor for any reason - more later.

Above Left: 'Twas very early in the morning and the red phosphorescent sun was glowing through the mountain crest clouds. If you know the saying "Red sky in morning, Sailor take warning. ..." then you know how the day is going to end. But at the moment the only clouds in the sky just happen to be between us and the rising sun. Its a nice crisp early morning start.

Above Right: We rode our bikes through the town of Salida without taking pictures but making mental notes for interesting snap shots. It is cool and we want to make some distance and be in the mountains when the August air heats up. On the outskirts of town we met up with this curious llama. Usually these animals are in pairs, in fact a llama is such a social creature that it will die without the company of another llama. Anyway, we only saw this one llama but there could have been another hidden near the creek.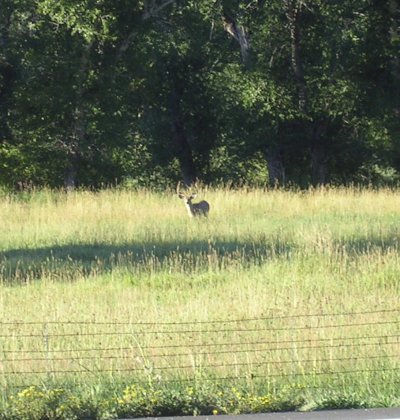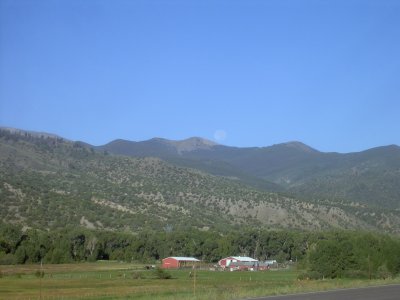 Above Left: Just a little further along the road, we saw this big six point "muely" (Mule Deer) munching on some grass. Remember, in the west, we only count one side of the rack. He let us take three pictures before taking off. Of course this is the only picture that turned out half decent.

Above Right: We had more or less traveled 10 miles and traveled through the next town, as it were, of Poncha Springs. We were just leaving the flatter valley and starting our ascent when we noticed the full moon setting in the west. Our 3x telephoto does not do the picture justice, it was a very serene and pleasant moment.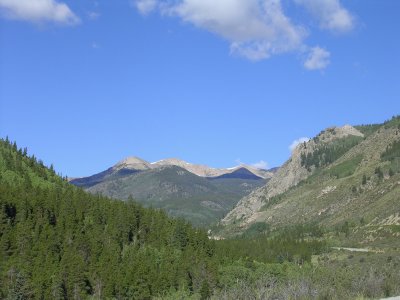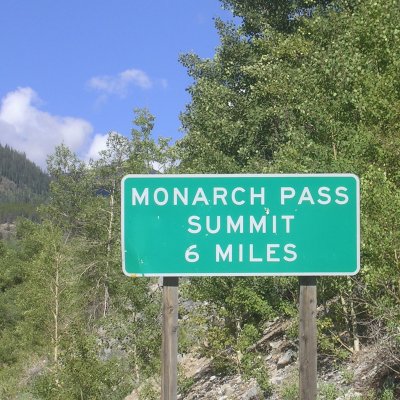 Above Left: Now we're doing some serious climbing. The slope angle isn't too bad, but the sun is up and our rest breaks are occurring at each mile marker. Guessing, we are probably at about 8,500 foot elevation. We won't start having serious oxygen breathing problems until about 10,000 feet.

Above Right: Finally, we see the first road sign that mentions that Monarch Pass actually exists.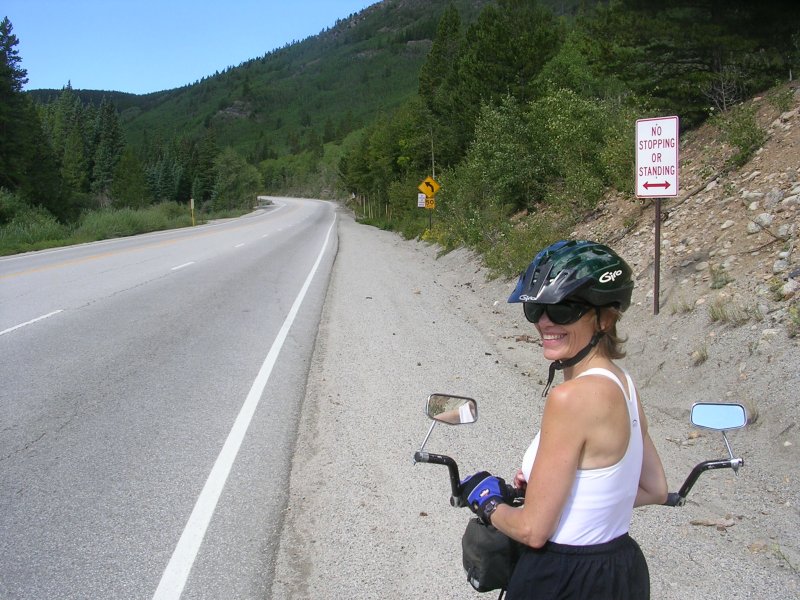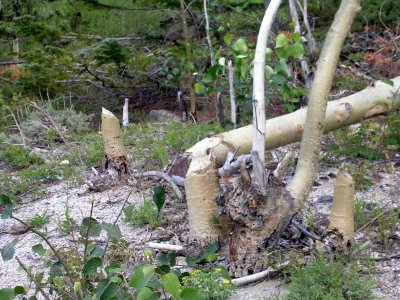 Above Left: We are about a half mile up hill of the Monarch Pass Hotel. The paved road is beginning to have varying shoulder widths, meaning that it is safer to pull our bikes off the road and rest in some areas more so than in other areas. Traffic is being nice to us but we are sharing the road with tractor trailer rigs that can't always give us a wide birth when a vehicle is in the other, oncoming, lane. After we stopped and caught our breath, we noticed a sign telling motorists not to stop here. We don't know why such a sign would exist, unless its to keep skiers from parking off the roadway in the winter. There is a Ski Area, called Monarch, within a mile or so, ahead.

Above Right: We stop for another rest and notice some fresh Beaver cut Aspen trees. This is a fairly recent cutting, at least within a couple weeks. There is a creek within fifty feet on the opposite side of the road. The road and traffic means nothing to the beaver, but most of this kind of work is done at night when there is noticeably less traffic in the area. We have witnessed signs that a beaver will travel two miles to go after timber. We have heard of greater distances. Around our neck of the woods, beaver seem to prefer the ever plentiful Willow Shrub over bigger trees.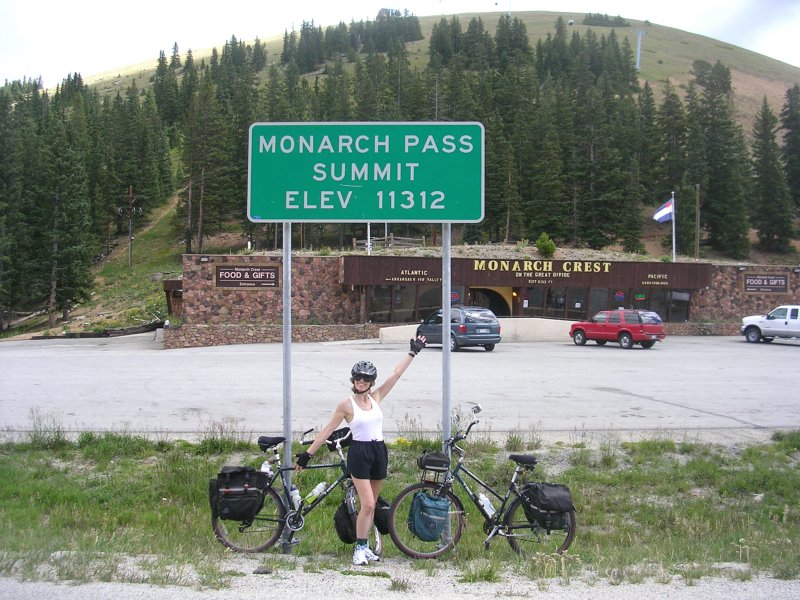 Above: Here's Terry, doing her Vanna White impression (Vanna is the gal who points to the letters on TV's Wheel of Fortune). We made it! Our personal reward was to go into the restaurant (pictured in the background) and have a Hot Coffee and Hot Chocolate (and refill our water bottles). We drank five bottles of water each on this climb. Once we cooled down from our endeavors, we found it to be chilly. At the higher altitude, the temperature was perfect for our climbing effort but we had to put on flannel shirts for the ride down, but after the descent was initiated, at about 8,000 feet elevation it got too hot to have our flannel shirts on.

A dream come true. Dennis has always wanted to ride down a mountain without having to use the brakes. We rode down from Monarch Pass and did NOT need to use our brakes! Dennis' other secret desire is to get a speeding ticket while riding a bicycle. Hmmm, probably a male biker's fantasy.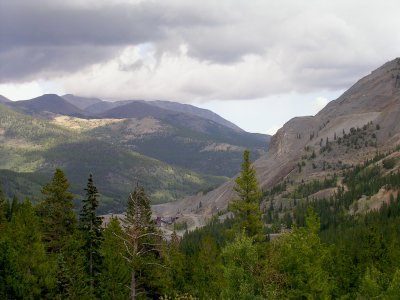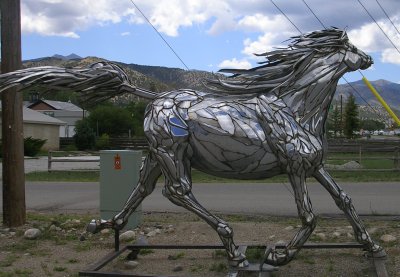 Above Left: Its hard to tell from the picture, but the entire near mountain has be scraped down from mining. This is a huge mining operation, located on the Salida side of Monarch Pass.

Above Right: This mirror like Horse Sculpture is located on the north side of the town of Poncha Springs. It is actually a very good sculpture.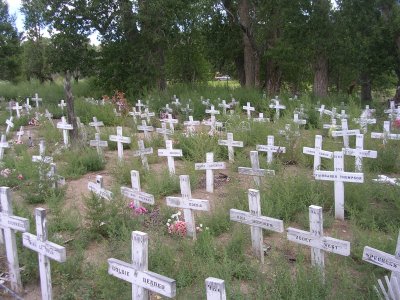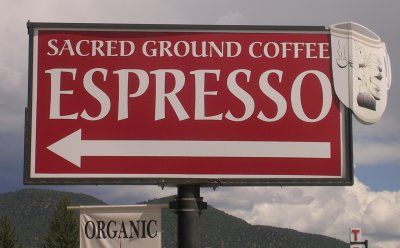 Above Left: It's a Pet Cemetery. You can feel the care that went into its creation as well as the love that the kids had for their pets.

Above Right: It is no coincidence that the above pictures are arranged in this order. The coffee shop is in the town of Salida, along Highway 50. We had more or less completed an outstanding biking adventure. All we had to do was pack and drive home.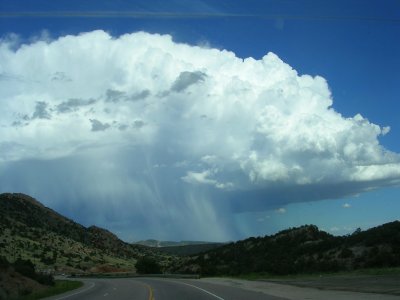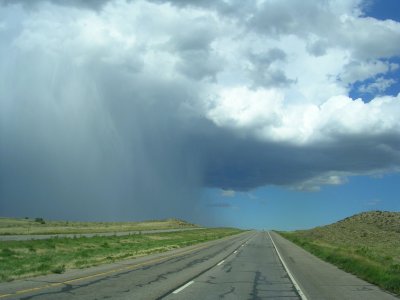 Above Left: We were driving our truck home and located just west of Canon City, Colorado, when we took this picture of a storm over the town of Penrose (which is north of Pueblo and south of Colorado Springs). We are looking to the Northeast.

Above Right: We are looking due East and by the time we caught up with the storm, it had moved south and we were going to just barely get by it without getting too wet. We had another great bike adventure.







Previous Adventure Top Next Adventure