| << | 11 |

| 13 | 14 |

|

|

|

|

| >> |
- Hover Mouse Over Images -

Bicycle Tour Adventure #17

Pictures and Stories About Bicycle Tour Adventures

Colorado Springs, Colorado, USA,
Garden of the Gods
By Bicycle, June, 2006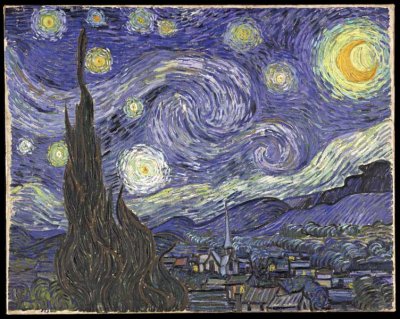 Its a NIGHT RIDE !!!


Starts at 11:59 PM and Finishes at 4:00 AM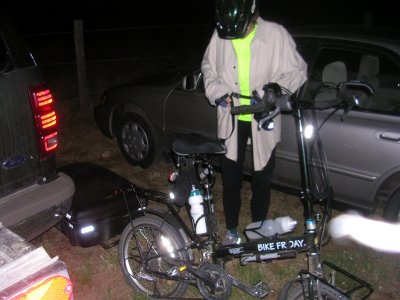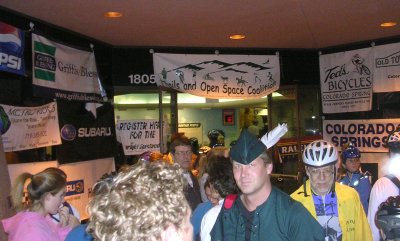 Above Left: Its about 11 PM on Saturday Night. We've just arrived to the vehicle parking area and are setting up our bikes for a night ride. This will be Terry's first ever bike ride at night and it is our first ever massive event participation and its our first Bike Friday night ride test. We're anxious.

Above Right: There are hundreds of people (maybe a thousand). We're trying to get to registration. The ride is a benefit for our local Trails and Open Space Coalition and the event is actually called the Starlight Spectacular. There are lots of couples and lots of families.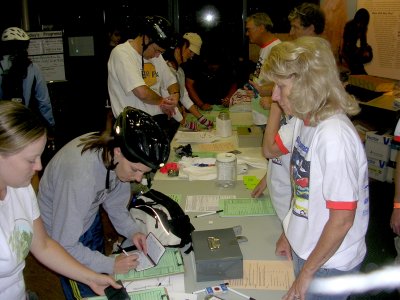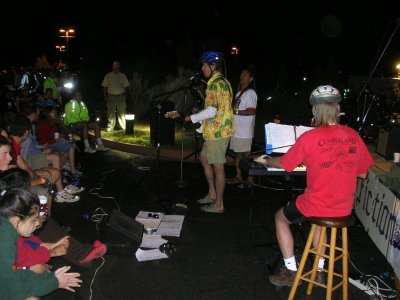 Above Left: Registration is swift and painless. Dennis is impressed now.

Above Right: Live Music, Beach Style. Good too!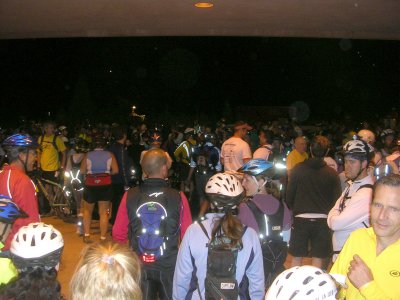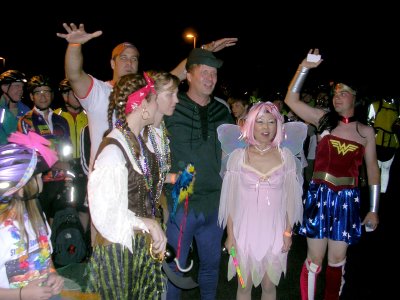 Above Left: Hundreds of people.

Above Right: There are some dress and group size awards. These are the costume winners. Wonder Woman is a Dude. Peter Pan and Tinkerbell take the grand prize.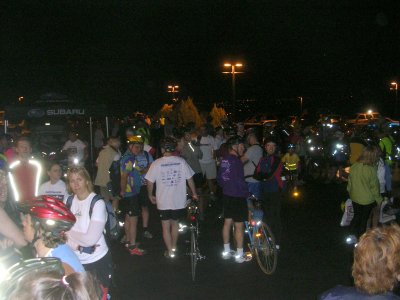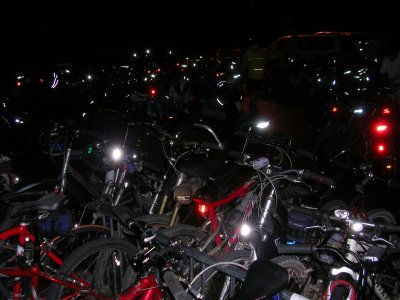 Above Left: Hundreds of people.

Above Right: Hundreds of bikes.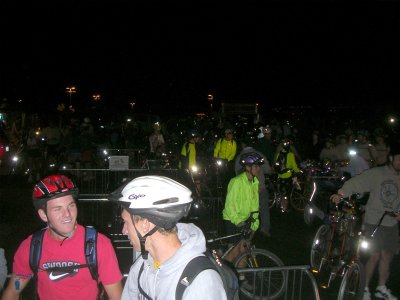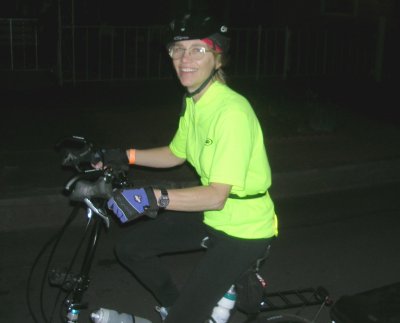 Above Left: Gather up the steeds, its nearly 11:50 PM. We are sent off in Flights, we're near the rear - first time, did not know where to go.

Above Right: The first part of the ride is crowded and heads around the Garden of the Gods. Plenty of fairly steep climbing. Good swift riders to the left, slow riders and bike pushers to the right. We're somewhere in the middle. Dennis is either working hard up a hill or in crowd for the entire Garden of the Gods loop, so picture taking does not happen for a while.

Finally, out side of the Garden of the Gods, Terry finally gets to side up to Dennis, who in turn can bike and take a picture at the same time. Terry is amused.


TWO IMPORTANT POINTS:
1) The ride through the Garden of the Gods was magnificent. We could see the road because of our lights and other riders but just about everything off to the side was pitch black. It was a star filled clear night, so we knew that the rock walls of the Garden of the Gods stated where the visible stars ended. It was kind of erie, different, and exhilarating all in one breath.

2) There was almost NO WAY TO TELL WHAT GEAR we were in, unless we were in the top most gear and could not shift up anymore. We didn't need Granny Gear, so we never hit the bottom end, which means that we were in that limbo range of settings. We just shifted, up or down, as needed. Terry's bike has Integrated Brake/Shifters with no gear indicator anyway, so she's used to riding by feel. On the other hand, it was all new to Dennis. Funny thing is, it would not take more that a florescent strip, to correct the problem. Hmm, ...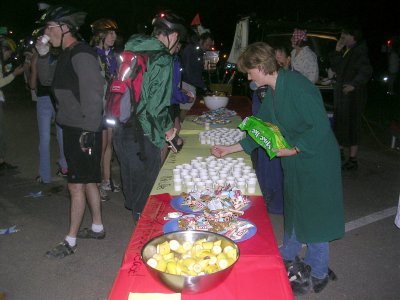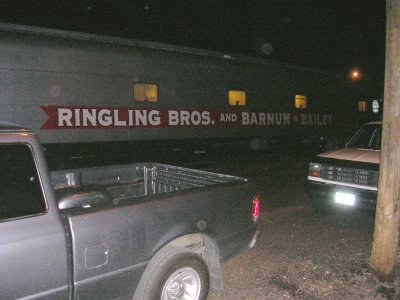 Above Left: We are now at the halfway point (distance wise) and at the first rest area. Nanners (bananas), cool aid, gator aid, candy, chocolate, coffee - all good stuff. There is live band. We dance to a song.

Above Right: The rest area is near the railroad tracks and it just happens that the circus is in town. Its about 1 AM and most of the lights are on in the train.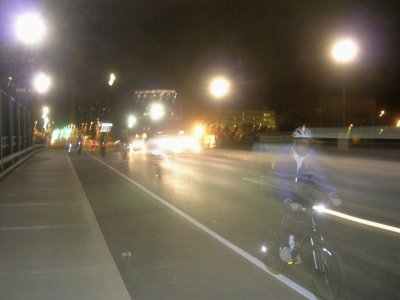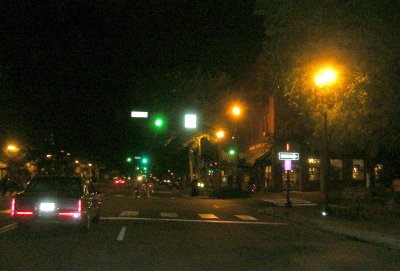 Above Left: Riders at the rail bridge on Colorado Blvd in Colorado Springs. Colorado Springs was a made up name from both Colorado City and Manitou Springs.

Above Right: The view ahead at Colorado City.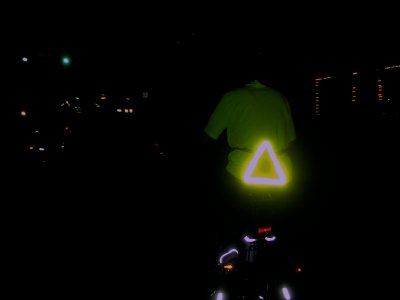 Above: A good example of the importance of wearing a good safety triangle.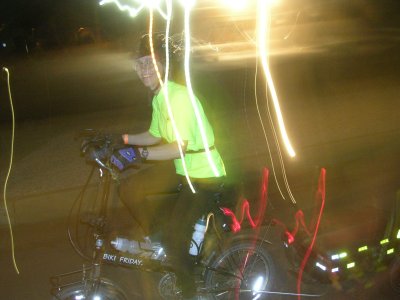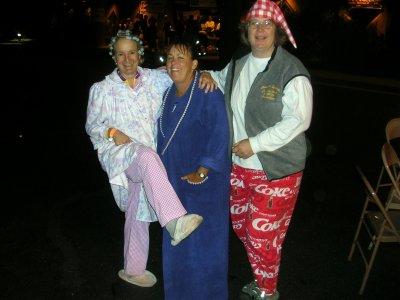 Above Left: Terry, enjoying Dennis' attempt to bike, pedal, and take a steady picture at the same time. Well, its an interesting result.

Above Right: Happy Support Volunteers at the end of the ride. The volunteers really did a good job and should be patted on the back. There was a full pancake breakfast where they served (bacon and eggs too). Dennis had some of everything! Yum.

We really thought that this was a well organized event and most importantly we really had a good time. It was about 4:30 AM when we loaded the bikes and departed. Neither of us had been up that late since we were in our twenties.




We were well prepared and everything worked (bikes, lights, and us).
It was a good ride.








Previous Adventure Top Next Adventure