| << | 11 |

| 13 | 14 |

|

|

|

|

| >> |
1 | 2 | 3
Mexico Adventure, Page 1

Pictures and Stories About Bicycle Adventures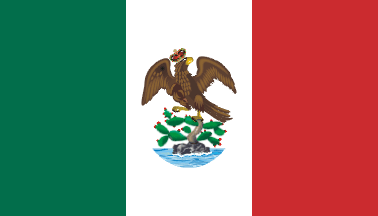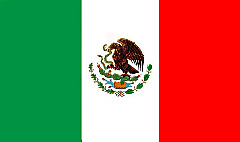 Puerto Vallarta, Mexico, Round Trip
Through Punta De Meta Via Bucerias,
By Bicycle, February, 2007

| | |
| --- | --- |
| | |
| BEFORE | AFTER |
Some Puerto Vallarta Facts


The capital of the State of Jalisco, Mexico, is the city of Guadalajara. Jalisco is known for being the birthplace of Mariachi music and Tequila. The word Mariachi is derived from the French word Marriage (Marriage Music). Jalisco contains the cities of San Sabastian del Oeste (in the mountains) and Puerto Vallarta (at the western tip of Jalisco's coast). The French language and all things French were imposed during the brief French Empire reign. Also, the concept of the central Plaza, always located next to the church, evolved from French rule as well as many other Franco cultural influences. Cinco de Mayo (Fifth of May) is a celebration of Mexican Independence from French Rule.

The capital of the State of Nayarit is Tepic. Punta de Mita and Bucerias are in Nayarit (at the southern tip). Punta de Mita, Bucerias, and Puerto Vallarta share the Bahia de Banderras (Bay of Banners), respectively from West to East. The Bay of Banners is named for a native warrior tribe who displayed their colorful shields in such a manner that from a distance they looked like long streaming banners. Punta de Mita and Bucerias remain less tourist oriented than Puerto Vallarta (a pleasant delight for us). Curiously, Nayarit is in the Mountain Time Zone and Jalisco is in the Central Time Zone.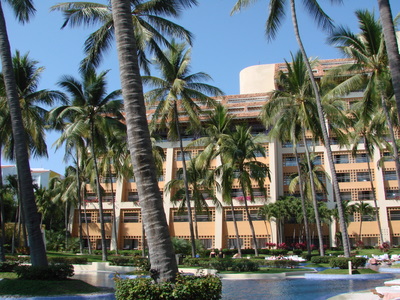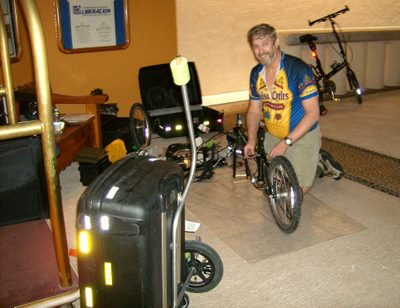 DAY 1, Agenda: Assemble the Bikes and Ride!

Above Left: Before we ride, we need to drop off our conference luggage (at the Puerto Vallarta Westin Hotel). Then we need to assemble the bicycles and hit the road. We are running later in the day than expected, so we will not be able to ride for more than four hours before night fall. Neither of us wants to ride at night. Additionally, we do not have a hotel reservation, we're just going to wing it.

Above Right: We are just enjoying the moment. One bike is assembled (behind Dennis). The remaining bike is 30% assembled. We're in a side hall of the hotel lobby. Lots of people stop to talk.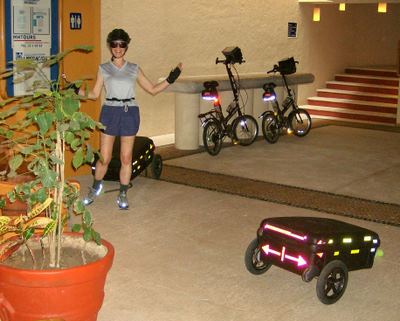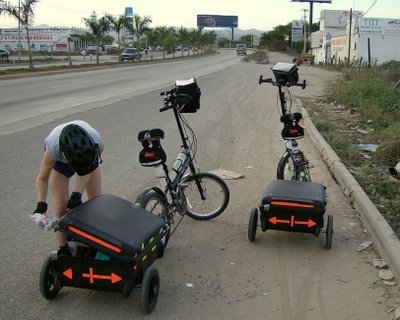 Above Left: The travel suitcases become travel trailers.

Above Right: We're on the rode again! Aint it Cool. We're far enough out of Puerto Vallarta's heavy traffic to take a short break and water up.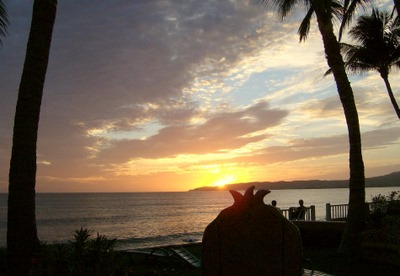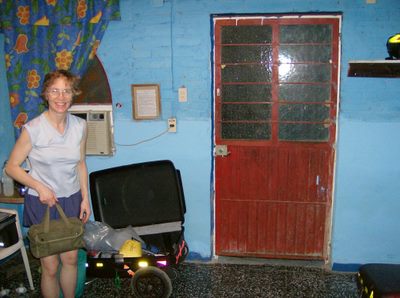 Above Left: We're in a town called Bucerias. The sun is going down. We checked the nearest beach road for a hotel that may have a room at the inn. No Luck.

Above Right: We find a hotel, inland just two blocks. Its a dive but as they say, "Any port in a storm." The hotel has a court yard and a Mother Mary shrine so we don't worry about locking up the bikes while we stroll for dinner in a new unknown place.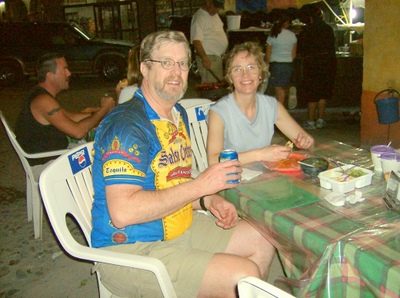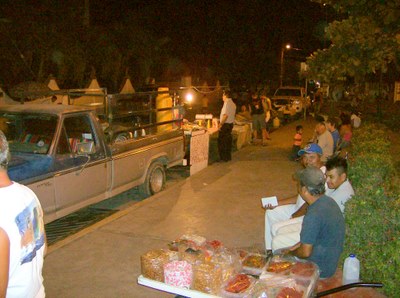 Above Left: Two blocks away we find dinner. Its kind of a Carne Assada street dinner. Our 100 Spanish Word vocabulary is good enough for street survival. A gentleman wintering from Alberta takes our picture and shares local knowledge.

Above Right: After dinner, we stroll to the plaza. There's a Church of course. These vendors are facing the church. Terry will buy some dried sugared mango for a snack from these vendors in the foreground. We have had zero problems. Everyone is helpful. We've been up for 20 hours and drove through fresh snow to get to the departing airport in order to start the day. We will have no problems sleeping tonight.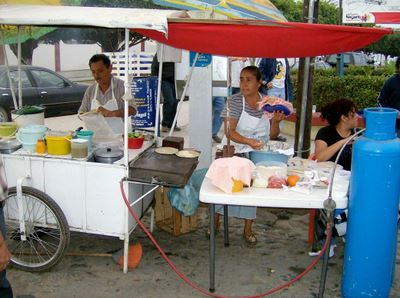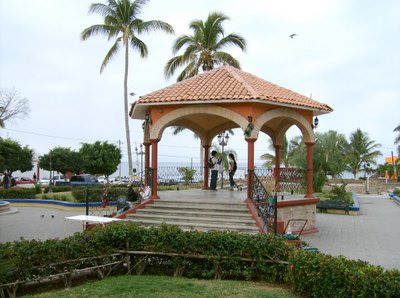 DAY 2, Agenda: Leisurely Bike Tour to Punta de Mita (Point of Simple Pleasure) from Bucerias.

Above Left: We slept well. We checked out of the hotel and instinctively headed for the main plaza. We passed a couple of restaurants and discovered this street vendor on the plaza. We figure that if a lot of locals are in line for this particular vendor then they already have a reputation for good food at a budget price. We were right.

Above Right: At the center of the plaza, looking due south, there is a gazebo. At present, two school aged kids are meeting each other. There are plenty of uniformed kids around starting to head for school. It happens that the grade school is adjacent to the plaza to the west (next picture). Notice the ocean just beyond the plaza.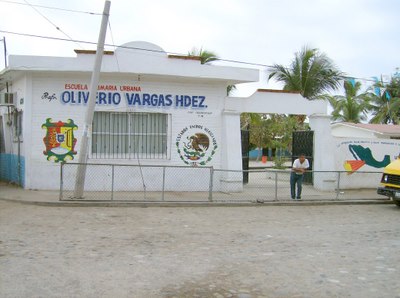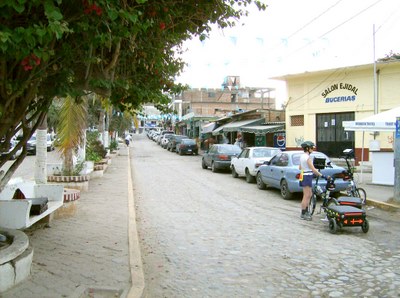 Above Left: Bucerias Grade School. Lots of nice mural graphics depict where they are from and the name of their Professor (Principal) is in huge letters. The gentleman on the gate appears to be both a custodian and a security officer. The kids know him and he clearly cares about them.

Above Right: We're looking to the northeast from the town plaza. Terry is patiently waiting for me. Note that the town center is very clean.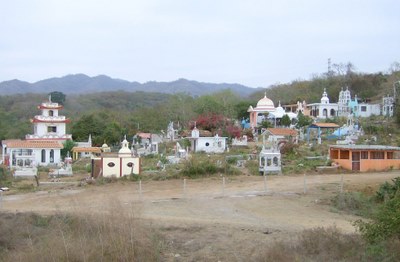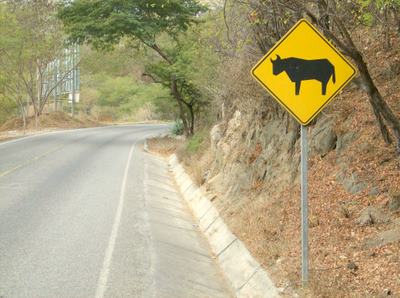 Above Left: We're looking from the top of a "Lateral" (a ramped flyover) that takes us off the main road (Hwy 200) to the road to Punta de Mita. We are viewing a (Mexican style) cemetery to the northwest, .

Above Right: We are truly in a rural setting. The scenery is magnificent. We are in a Mesquite Tree Forest (see next picture). We never saw a loose animal on or near the road, but we looked. Traffic is polite and tolerant of our slow pace and we are biking right up to the edge of the road (most of which does not have a shoulder). When there is a shoulder we either pull off for the traffic or stop to check out the views.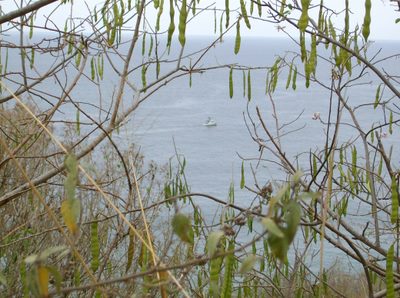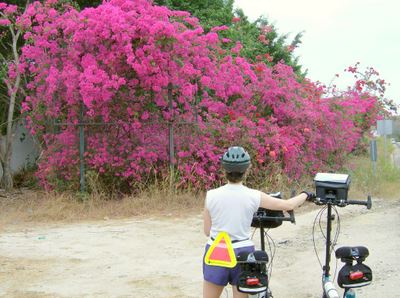 Above Left: We're riding parallel to the ocean. The road is hilly and winds a lot. The temperature, weather, and terrain are perfect for bike riding. We will give thanks later. We hear noises just over the brim. Dennis looks. The sound is coming from workers who are gathering up mesquite seed pods that have dropped to the ground. We use the same thing on our barbecue at home - mesquite seed pods provide a great smokey flavor and taste!

Above Right: Isn't it beautiful! We ride next to these flowering heavily scented Boganvia flowers for about a quarter of a mile. They come in all colors between yellow, orange, red, pink, and lavender.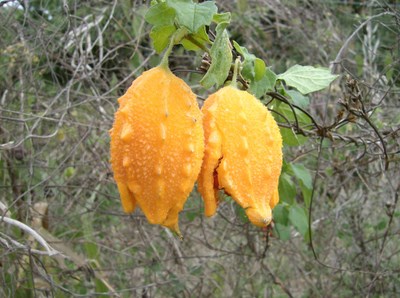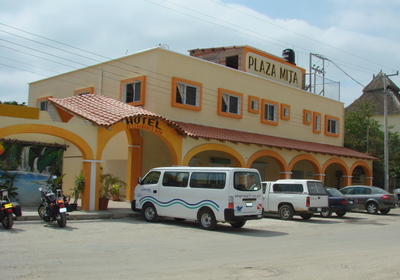 Above Left: We don't know what the pods are. The insides are juicy red with pea sized red seeds.

Above Right: Its about 1 PM. We arrive at Punta de Mita. There are two four star hotels (also listed in the Internet - we're not interested, we did not make this journey to be with other Americans). There is a one star hotel on the entrance edge of town which is serving as our backup hotel. Remember, we have no reservations. We ride trough town and reach this unlisted hotel next to the ocean. When we walk though the alcove (see next picture) and ask if they have a room, the answer is "Si, 700 Pesos por favor". We book it immediately, that's about $65 USD and the place is three star quality with a five star view right next to the ocean.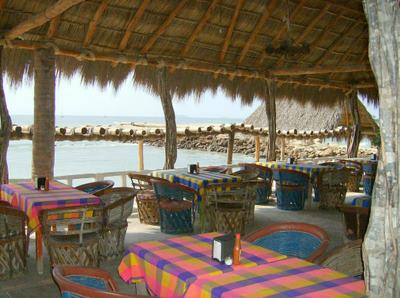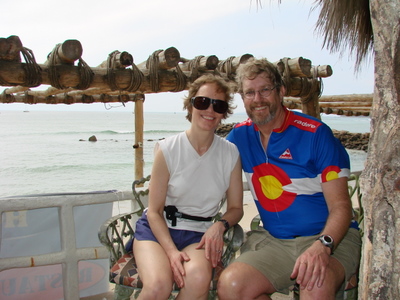 Above Left: We carry the trailers to the room, chain up the bikes in the court yard, and go back to the dining/bar area. This is our view. We will end up having dinner two properties west next to the ocean and the next day we will have breakfast two properties further. Is this cool or what?

Above Right: We met two people who sailed down in their own boat from the San Francisco area. They winter here every year. Debbie took our picture.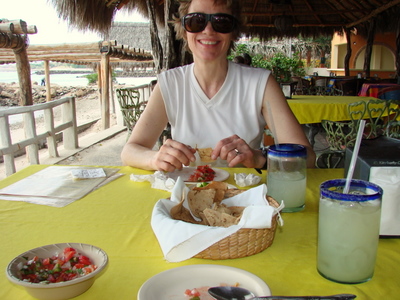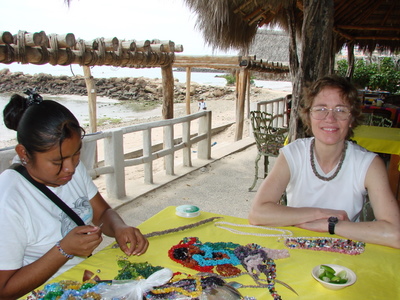 Above Left: We haven't eaten lunch. We order margaritas and can't decide what to order for a meal. About half way through the first margarita, chips and salsa get delivered to our table. We never do order anything to eat but we go through two or three bowls of salsa and chips. Dennis will end up drinking five margaritas and then nap for some reason. Meanwhile ...

Above Right: Every now and then, a beach walking vendor passes by us. They are respectful. If we say 'No' they will move on. We had been saying 'No' for an hour or so when this young lady came by with strands of different jewelry. Jewel quality is very good and the prices can't be beat. Terry takes an immediate fancy and does her Christmas shopping for 2007 all in one setting. Pictured here, this young lady is redoing and assembling a necklace strand. Immediately in front of Terry is the booty. Also notice the before and after pictures of Terry's neck.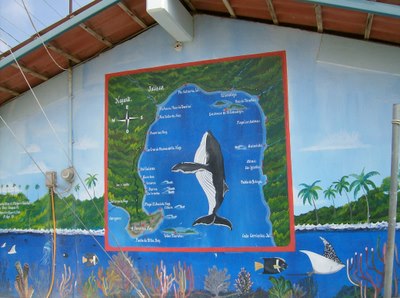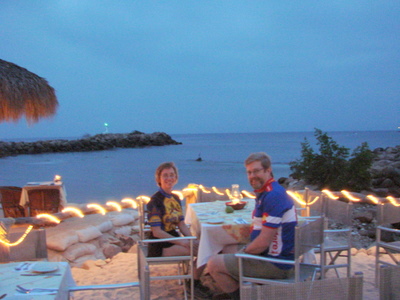 Above Left: While Dennis takes a margarita nap, Terry explores. Pictured is a school rendering of the Bay of Bandaras. The highest water point on the map is Puerto Vallarta. Punta de Mita is located at the tip of the peninsula boot. While we don't see any, there are plenty of whales in the bay. Aquatic Tourism is big here.

Above Right: Dinner.





Previous Adventure Top Next Day