Bicycle Tour Adventures #9

Pictures and Stories About Bicycle Tour Adventures

Bike Touring Table of Contents
A Note About Good Bicycle Touring Literature
Hartsel, South Park, Buena Vista, Colorado;
via San Isabel National Forest, USA; July, 1999;
Great Divide Mountain Bike Route (GDMBR - Segment)
Fox Run Regional Park, Colorado, USA, August, 2003
Palmer Lake Park, Colorado, USA, August, 2004

A Note about good Cycling Literature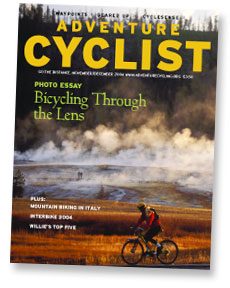 We had looked for information about touring on bicycles and came up dry. This was before the internet exploded. All of the book stores and grocery stores had magazines about mountain bikes and other bikes for racing but nothing about touring or panniers or places to go. We kind of invented things on our own and then somehow, we came across a copy of the Adventure Cyclist Magazine and Organization. It had articles about people touring, issues that touring people had to address depending on the type of outing, touring product information (bikes and equipment), and Pro and Con Articles about different touring subjects or topics. We had long last found information about the thing that we like to do, Bicycle Touring. Its a good magazine managed by very capable people and we recommend joining if you like this sort of adventure.



Great Divide Mountain Bike Route
(GDMBR - Segment); by Bicycle Tour:

Hartsel, South Park, Buena Vista, Colorado;
San Isabel National Forest, USA; July, 1999;

Top

This was a two vehicle logistical operation. This is also part of the Great Divide Mountain Bike Route which goes between Canada and Mexico. In fact we are inspired by one of the many maps that we obtained from Adventure Cycling (discussed in preceeding section) that covers a State of Colorado segment of the Great Divide Route. Anyway, Terry and I drove separate vehicles to Buena Vista, Colorado. We left one vehicle near Buena Vista and we drove back together to a place near Hartsel, Colorado. Hartsel is in the center of a huge mountain valley/basin called "South Park." We had planned for this to be a three day trip, but it was a too easy two day trip. In any case we had fun.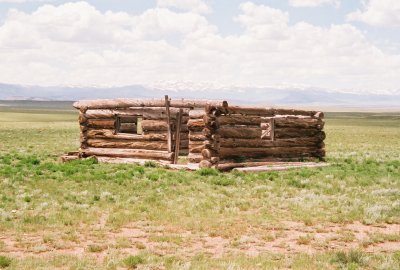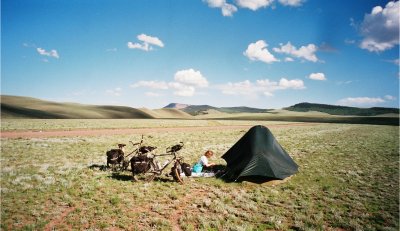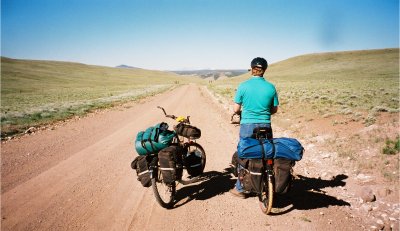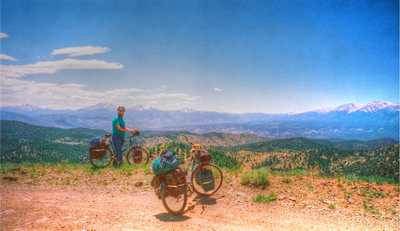 Fox Run Regional Park, Colorado, USA, August, 2003
Fox Run is in the Black Forest of Colorado. Its about twelve miles from our house. Getting to Fox Run is easy, as it is down hill from our house. Getting back can suck the wind out of a person. Our house is at 7,500 feet elevation. Fox Run used to be a commercial Fox Fur Ranch. They turned the foxes loose, closed the business, and donated the property for public recreation (a long time ago). In the winter we go there to snow shoe.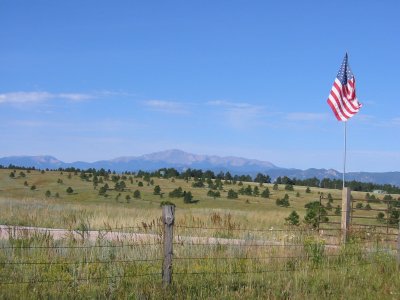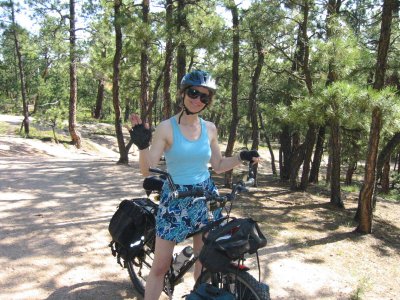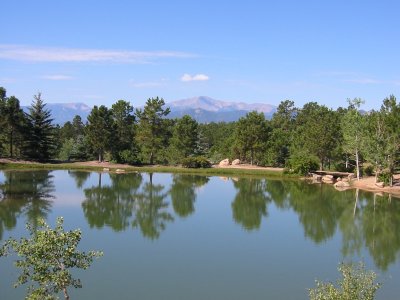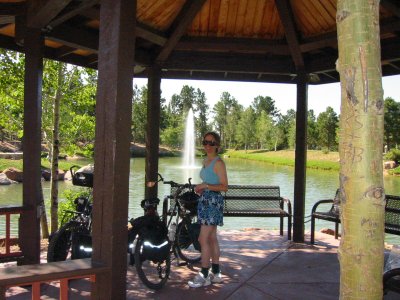 Palmer Lake Park, Colorado, USA, August, 2004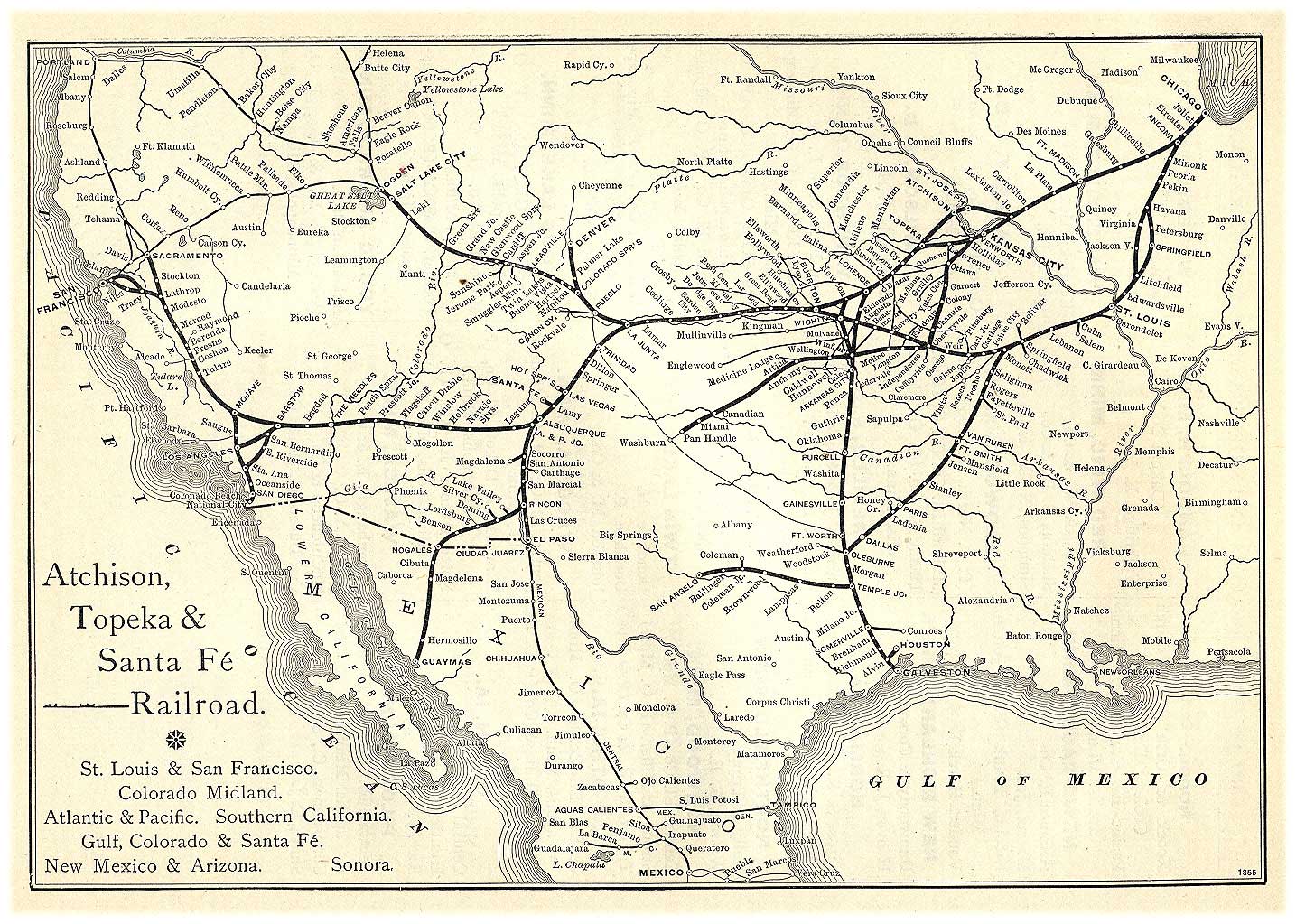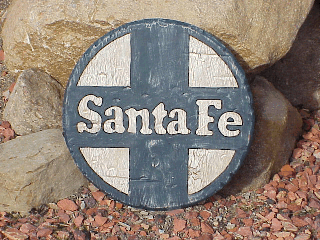 We are riding on the old Santa Fe Railroad Trail. We usually take our truck to a Trail Head just outside of the US Air Force Academy, north of Colorado Springs. We typically bike up hill to Palmer Lake Park which is in the town of Monument located geographically on the Palmer Divide. The Santa Fe Trail parallels Fountain Creek in this portion and we actually cross it a couple of times (via a cement ford and a bridge). This railroad segment/spur starts in Denver, goes through Colorado Springs, Pueblo, and La Junta, where it joins the main trunk (from Chicago through KC, Las Vegas (New Mexico), Santa Fe, and eventually San Francisco).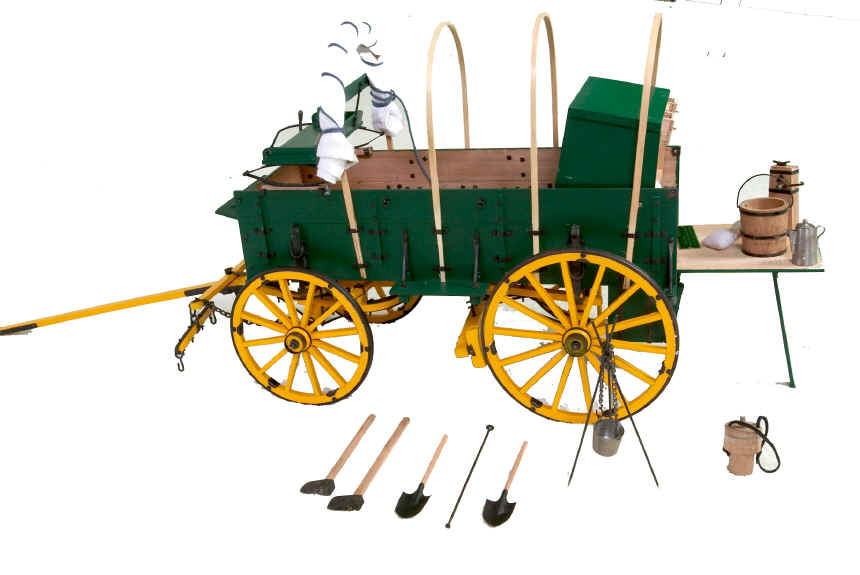 Parts of the trail, in the Pueblo area, are shared with Charles Goodnight's "Goodnight Trail." Charles invented a special cooking and food wagon for his "cowboys," called Chuck's Wagon.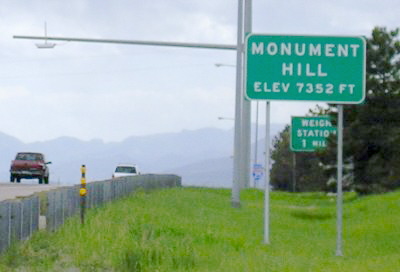 The Palmer Divide is a very interesting geographic area, as it is (reported to be) the highest point on the Great Plains and as such it traps cloud moisture from all clouds moving North or South. Additionally, the Front Range of the Rocky Mountains catches all Westbound moisture. Therefore this little spot in the US catches the weather from 75% of the compass points. The summer is not so bad (afternoon thunder showers), but in the winter Interstate 25 on Monument Hill is the first place to ice up and often the first place to close. Anyway, its a bright sunny day for us.


Monument creek (sometimes called Fountain Creek) runs from the city of Monument downstream to the city of Fountain. As in any larger city, there are a few places in town where ladies should not be alone (generally south of Bijou Street to the South end of the Springs to south Nevada Avenue) because on occasion there are a few homeless drug abuser/alcoholics that sometimes frequent just that area - Of course only a few homeless have drug habit problems. We have never had an incident at all, in fact these people have been courteous, but we know that every once in a while one of these persons has some heavy duty mental issues. We just say Hi and that is usually the response, but Dennis knows that Terry would not ride that section alone.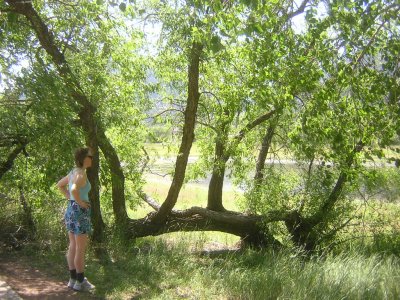 We've ridden as far south as the city of Fountain but we didn't ride to the end of the trail in that area and there are a couple places where one has to get off the bike to negotiate a broken trail or river bank.

The north end of the trail goes all of the way through the Air Force Academy, along the old original Santa Fe Trail, to Palmer Lake Park in Monument. Bike trail riders are usually uninhibited while crossing the US Airforce Academy (USAFA) on this trail, but note that the USAFA is a Federal property and that the USAFA is closed to the public. [Also note that if there was a recent terrorist activity, the USAFA will sometimes shutdown the trail - it is wise to check for public access - I don't know who to call but it is likely that nearby bike shops will know.] We usually have a snack at the turn around point in Monument. The section on the north end of the Air Force Academy and just north of the Air Force Academy can get pretty windy after about 2pm, it is in the open (no trees).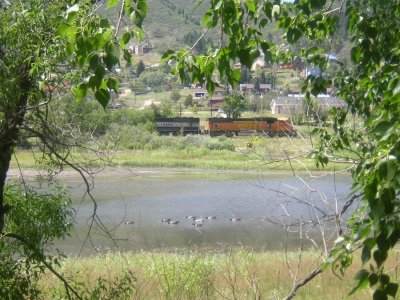 We typically use one of three different places to gain access the trail:
One is downtown near Colorado College, there is a big park there called Monument Valley Park (lots of joggers and sun worshipers and dogs). The park can be reached from Monument St (area), maybe Boulder St.
Another access is at the Criterium Bicycle shop (where we do bike business), conveniently located on the Colorado Springs Bicycle Trail, access from Woodman to Corporate Center Drive.
The third access point is the trailhead right next to the North Entrance of the Air Force Academy.
We always try to ride uphill first (north) - Monument is the most uphill. The trail ends in Monument at a place called Palmer Lake Park (named for General Palmer, Civil War, real estate creator/developer of the town Colorado Springs).




Previous Adventure Top Next Adventure