These are pictures of the "types" of helicopters flown by Dennis,
not the actual helicopters flown. Dennis was in Army Aviation
during the Vietnam War Era, but never went to Nam.
Kind of lucky for a Helicopter Pilot.
Dennis did perform some DMZ service in Korea.
Most of these pictures are borrowed from other web sites.

Dennis was in the 181st Assault Helicopter Company (AHC),
162nd Assault Helicopter Company,
4th Squadron of the 7th US Cavalry Regiment (Garry Owen*),
and the 1st Squadron of the 10th US Cavalry Regiment (Buffalo Soldier).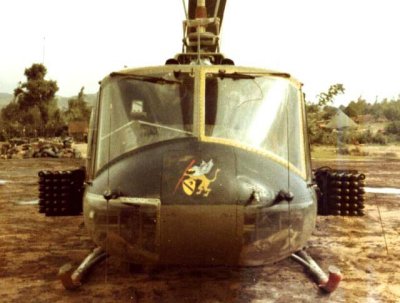 STORY: The Bravo Model (type pictured above) had a Start Fuel switch and a Main Fuel switch. The D & H models had only a main fuel switch (in the same position as the B's start fuel switch). The start fuel switch had to be turned off after starting the turbine engine. For us guys that were switch hitting between aircraft types, many a guy (including moi) has turned off a main fuel switch out of habit from flying models with start fuel switches. Luckily the Huey class of helicopters was one of the most forgiving aircraft in the world (which is the opposite of the Cobra class). Pictured, is a 1st Cav B Model Gun Ship.

* Garry Owen is that Irish ditty / drinking song that we have all heard as the background music for all of the John Wayne, US Cavalry Movies. General Custer more or less made Garry Owen the theme song for the 7th Cavalry.
Home



Helicopter Types Flown By Dennis:

Huey: "B" Model
Gunship

Huey: "C" Model
Gunship

Huey: "D" Model
Slick

Huey: "H" Model
Slick

Cobra: "G" Model
Attack Helicopter

Basic Trainer: TH-55
"Mattel Messersmidt"

Instrument Trainer:
TH-13

Instrument Trainer:
TH-23 "MASH"

More Helicopter
Pictures



Home

Another Web Site about
Army Helicopters