- Hover Mouse Over Pictures -

Bicycle Tour Adventure #3

Pictures and Stories About Bicycle Tour Adventures

Grand Mesa, Bike Adventure, Colorado, USA,
April, 1998 (Early Season)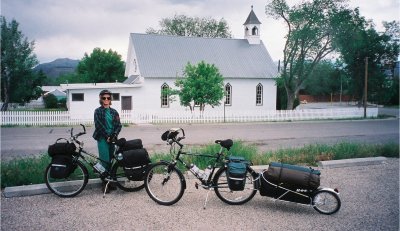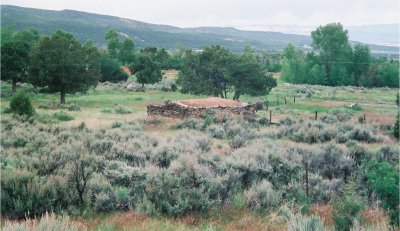 Above Left: We parked our vehicle in the nice town of Mesa, near the Town's Church (pictured in the photo). We're guessing that the town population is 50 to 75. Nice small kind of town! We are also testing a brand new Bob Yak trailer. The Bob Yak trailer, turns out to be a Good News / Bad News story. That's Terry in the picture.

Above Right: We passed by this old Sod structure. Outside of the town of Mesa, the terrain is bunch grass and sage. As we slowly climb the topography changes to mountain alpine (ponderosa, fir, spruce, & aspen).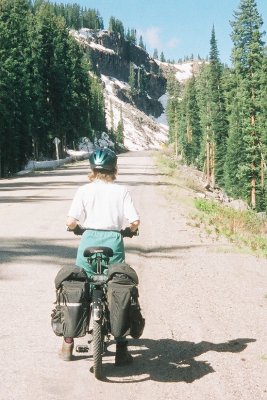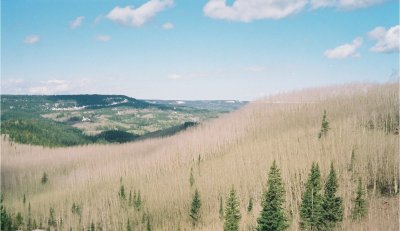 Left: Terry waiting for Dennis. Always.

Above Right: The Aspen has not even budded yet at this altitude. Part of Grand Mesa in the left background. All of the Mesa top is nearly at or just above 10,000 feet.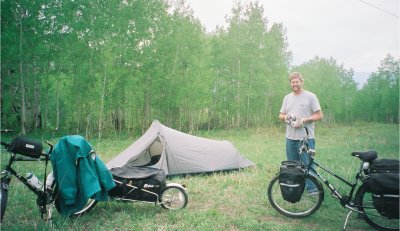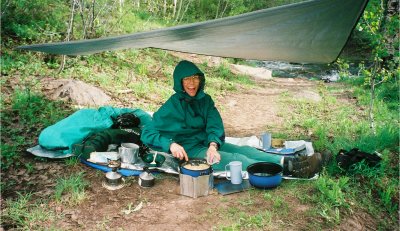 Above Left: We set up camp with a new tent - The tent is OK and light but it is not as well laid as our old Hollubar Kit Tent (Dennis bought the showroom floor model in the 70's). Dennis is gathering empty water bottles to fill from treated creek water - we use a water purifier (not just a filter).

Above Right: Terry has set up a cooking area. She is actually throwing a wink at Dennis. We avoid cooking in the tent as it associates food smells with us - admittedly we've spent days in a tent waiting out a weather system. Here, we are in lion and bear country. We probably had chocolate brownies for desert. While it did not really rain on us this day, it felt and looked like it was going to cataract at any moment. The air was heavy with humidity and it can be seen in the pictures. Not to worry, within 24 hours it will rain and snow!

Comment About the Bike Trailer: There is a distinct difference between having two wheels on the ground versus three wheels (the bike and the one wheel trailer). Three wheels have a noticeable increased rolling resistance, uphill and downhill. We carried the big bulky stuff on the trailer (sleeping pads, subzero sleeping bags, & tent). The bike has better steering control, especially since there are no front panniers mounted for this trip.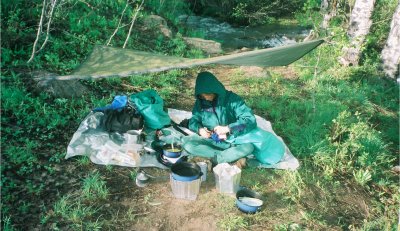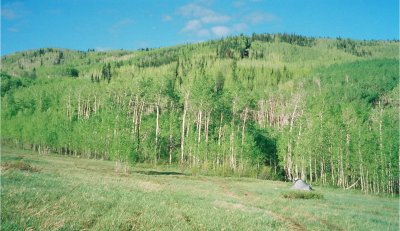 Above Left: Terry has about 2% body fat. She is always cold if she is not moving, meanwhile Dennis is usually in a short sleeve shirt. Note the creek behind Terry.

Above Right: Its dry and clear. Dawns a new day. Note how nice the new tent blends with its surroundings.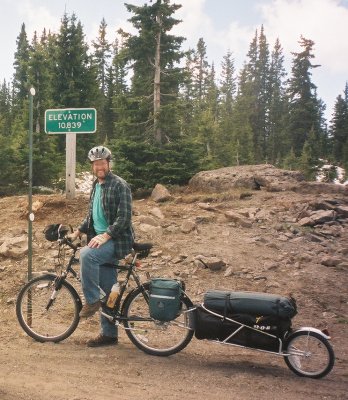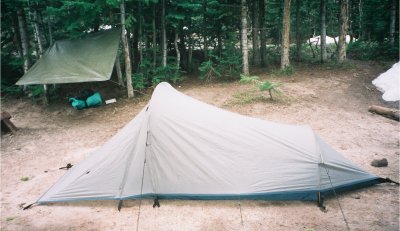 Left: Day 2, we find more altitude. We relocated and setup a new camp. We visited two locations with cabins to check them out for a family reunion that we are hosting later in the year.

Above Right: The campground still has snow. It will snow and rain before the next morning. Meanwhile, the fishing is great. The ice is just starting to melt and expose open water and extremely hungry trout. Fishing is so good, its not fair. Dennis is spin casting a line with a plastic bubble pulling another six foot of line terminating with a [dry fly] mosquito. We eat well. Nothing like being married to the State of Colorado's 4H Cooking Grand Champion.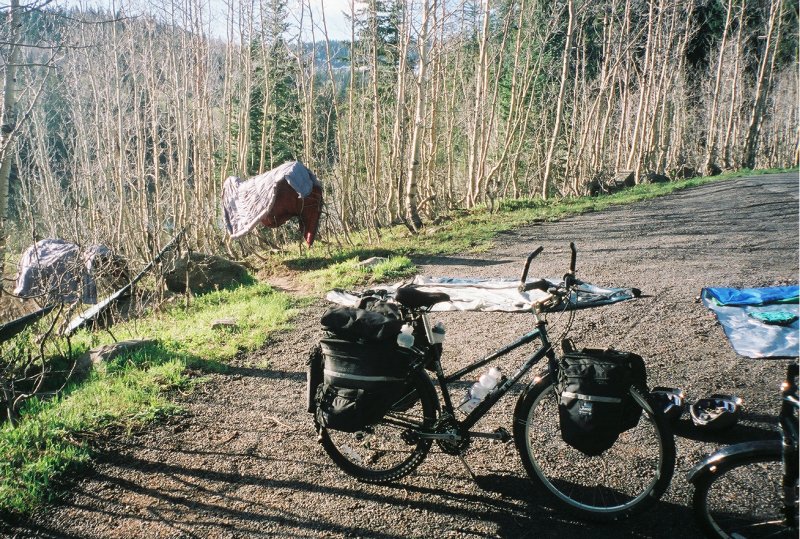 It rained and snowed during the night. We have two very nice -40ºF down sleeping bags in which we slept very comfortably. However everything is wet on the outside. The new day is clear, dry, and warm. We need to dry everything that got wet.



Bad News About the Bob Yak Trailer
Terry had an accident that was caused by mounting the Bob Yak trailer on her bike.
Going back a little: Dennis had no trouble pulling the Bob Yak trailer up or down the roads. We got back to our vehicle and eventually to our home. On the next day Dennis mounted the Bob Yak trailer on Terry's bike in order for her to experience the different kind of ride. Terry has a Trek girls frame and didn't ride with the trailer for more than a mile before going down a hill and entering into some kind of resonance vibration that kept increasing and it ended up throwing her off the bike. We don't know what design or design combination caused the accident but
Terry ended up with a permanent third degree shoulder separation.


We got rid of the Bob Yak trailer!
Terry still rides her Trek.



Previous Adventure
Top
Next Adventure