- Hover Mouse Over Pictures -

Bicycle Tour Adventure #7

Pictures and Stories About Bicycle Tour Adventures

Pikes Peak National Forest, Colorado, USA,
By Bicycle, June, 1996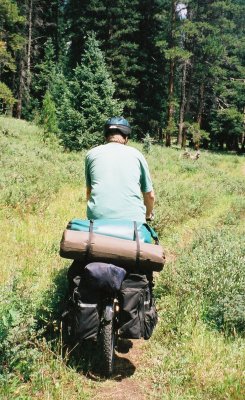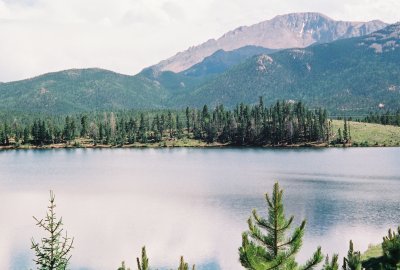 Above Left: Dennis on the trail. We carry everything including food, tent, bags, water purifier, and gas stove. We will be biking in the field and on our own for three days on this short expedition.

Above Right: Couger Lake. Pikes Peak in the Background.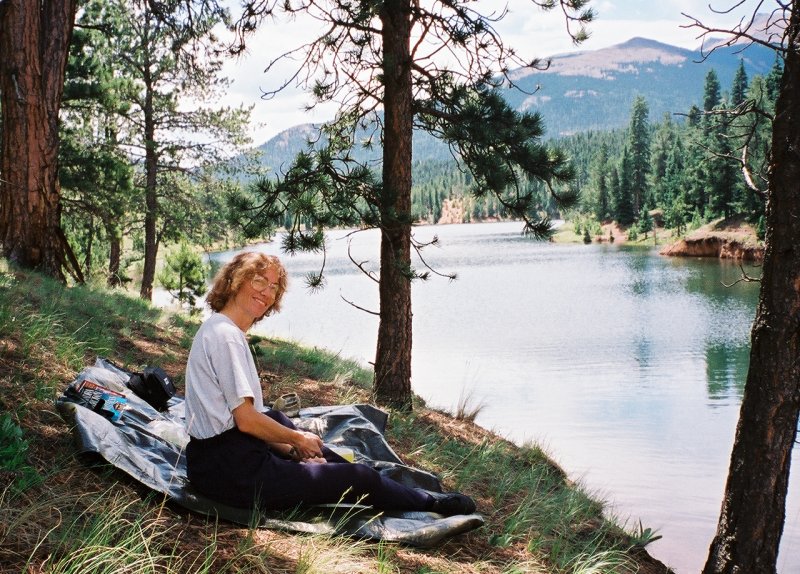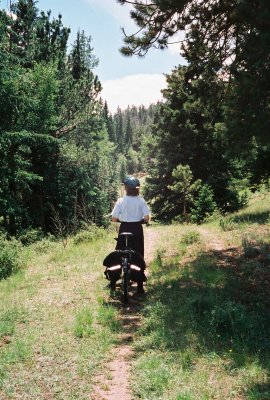 Above Left: It is lunch time. That's Pike Peak in the background. Terry has selected a nice view for lunch. We often eat our lunch as a picnic on top of a space (thermal) blanket.

Above Right: We're on the trail again. While Terry is waiting for me, she is deliberately resting in the shadow of a tree to stay cool. We have learned that one can observe more natural animal activity from shadows than in the open. Somewhere along the way, we became trail savvy. We are starting to learn that one wants the camera flash turned on for a lot of day time pictures as the flash will remove shadows.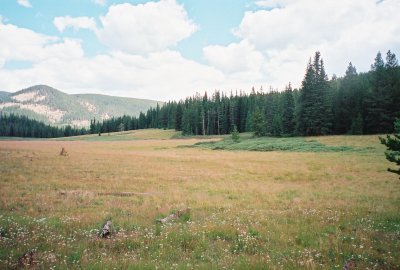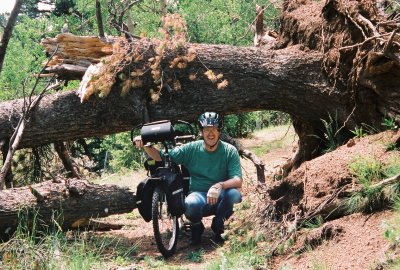 Above Left: An open field with flowers - This kind of view and privacy is one of the reasons why we bike. We were within 30 miles of Colorado Springs, Colorado, and did not see a person until we returned to our vehicle.

Above Right: Dennis under a trail hazard.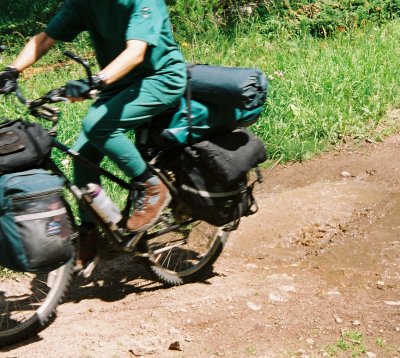 Left: We tried to get an action shot of Terry riding through some muddy water. Its tricky with digital cameras (or cameras with electronic auto adjustments). It takes time for the cameras to check measurements and makes their internal adjustments before the shutter is actually triggered. We have since learned to pre-focus the frame by holding the shutter at the mid-way down position and wait for the action to come into the frame. Better pictures still require some reflex skill, none of witch is being demonstrated here.

The same a picture does happen to give a close up of how our bags are loaded. We store items, like clothing (socks, ...) in a clear-sided waterproof plastic bag. Also note Terry's up-turned handle bar. We came to appreciate sitting in the seat up-right for good posture and comfort while biking long level distances. This is an unusual mountain bike configuration but one that works better for cross country bike touring (on a mountain bike). A few years later, after Terry had a 3rd degree shoulder separation, she will turn the handle bar outward for better control, like a Texas Longhorn.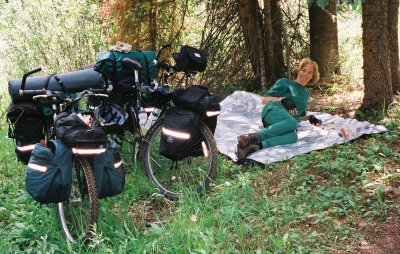 Right: Another day, another picnic lunch. Notice that if we did not have the camera flash turned on for this pictures, everything would have been in dark and light splotches.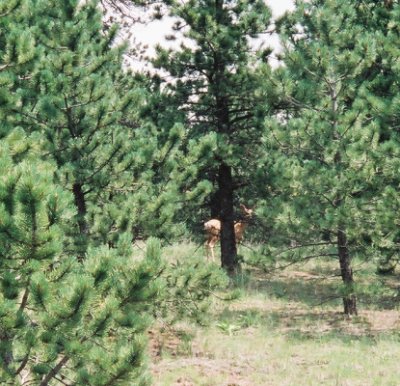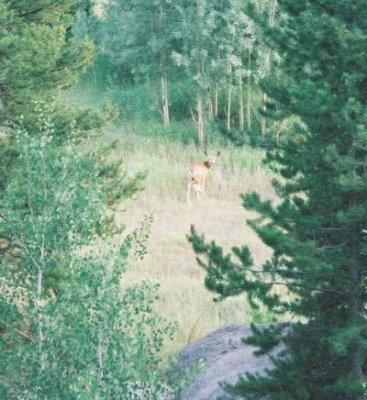 Above Left: A young deer, as curious about us as we are about it.

Above Right: More wildlife! We have discovered that if the bike is trimmed up so as to minimize rattling noises, one can get really get close to animals. We put one wrap of electrical tape between the metal pannier rail and the metal mounting hook. The fitting is too tight for more wraps. The wrapping really helps reduce noise.

In general, animals appear to be afraid of a person on foot but not a person on a bicycle. We've had similar experiences on horse back.



Previous Adventure Top Next Adventure