- Hover Mouse Over Pictures -

Bicycle Tour Adventure #6

Pictures and Stories About Bicycle Tour Adventures

Arapaho National Forest, Colorado, USA,
By Bicycle, July, 1996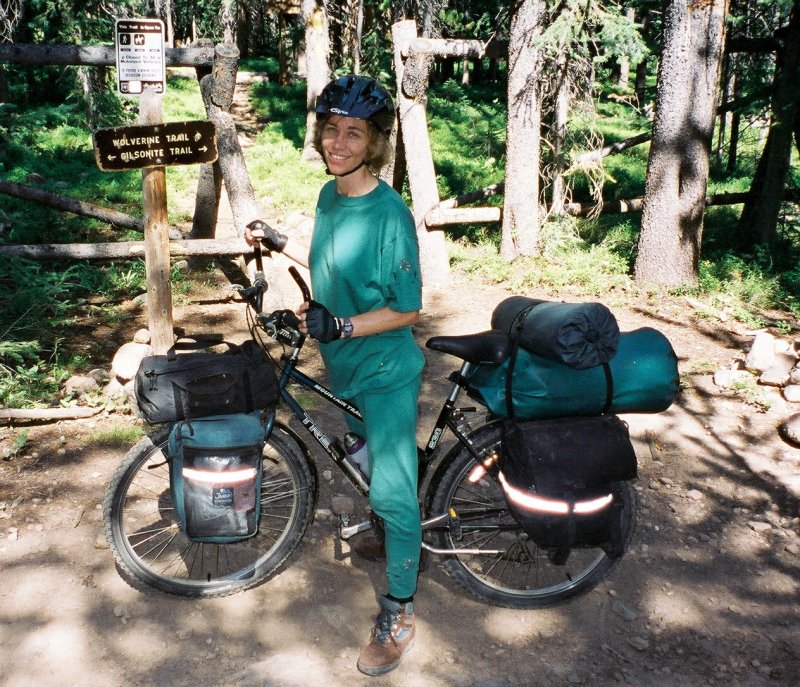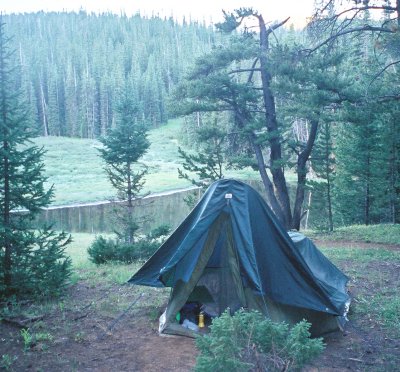 Above Left: It is our second time in this National Forest, but we are trekking in a more northern section. Everything is new to us. We are checking map coordinates at this trail intersection between the Wolverine and Gilsonite trails.

Above Right: Camp is set up for the night. Terry is right behind me, in the kitchen (next picture). We pack out everything but human waste. We make cat holes with a gardening trowel for waste.

Regarding waste (you never see anyone write about it and sanitation is important). We dig, with a garden trowel, a hole about a foot deep and four to six inches wide. Pile the dirt to the side because it is coming right back to the hole. Do business. Cover the business and paper work (arh arh) with the previously removed clean dirt - The shovel never touches the waste. Cover the filled hole with two crossed sticks, the international sign for don't step or dig here. This information is contained in older Boy Scout and Wilderness Survival Hand Books. Oh yeah, while we're on the subject, one does not make business near camp, food, or water systems.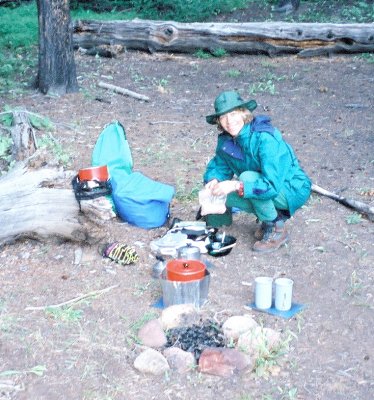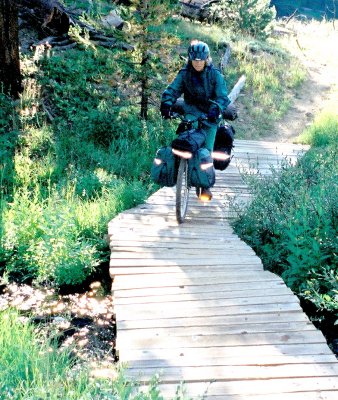 Above Left: Someone's in the Kitchen with Terry. The camp site is ancient, there are fire rings and signs of use over a long period of time. This spot has probably been used for camping for as long as man has been around the area. Terry is using a propain stove.

Above Right: Terry is negotiating a foot bridge.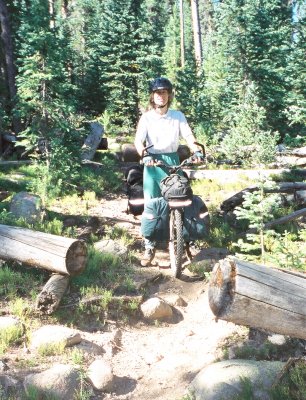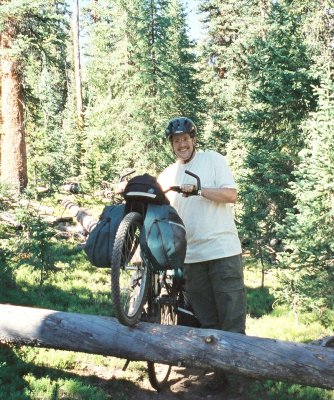 Above Left and Right: We are now on the downside of a hill. The upside had lots of loose rocks and gravel. we had to push the bikes uphill for about a 100 yards. This side of the hill top has lots of blow down material. Some of the blowdown material is new.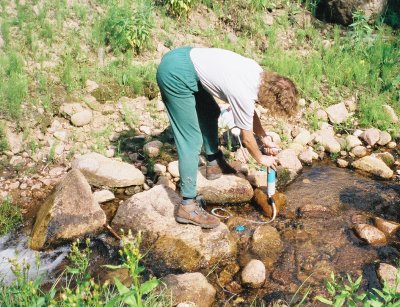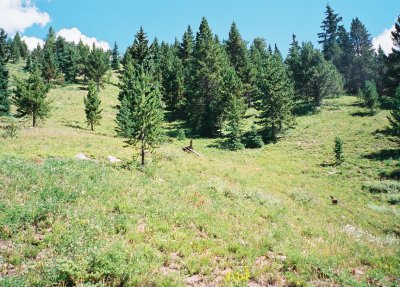 Above Left: Terry is operating the PUR water purifier. It purifies a gazillion gallons of water according to the brochure. What the brochure doesn't tell you is that it is only operable for two or three days once the filters get used/wet. We carry replacement filters but they are not cheap. We've even had the filter system checked in a PUR repair facility, but they keep pronouncing it as OK. We put up with this because the system still operates with more safe water output than any water purifier system that we know. Filter pumping is awkward hard work and favors upper body strength, usually Dennis does this.

Above Right: Another scenic view - lots of wild flowers.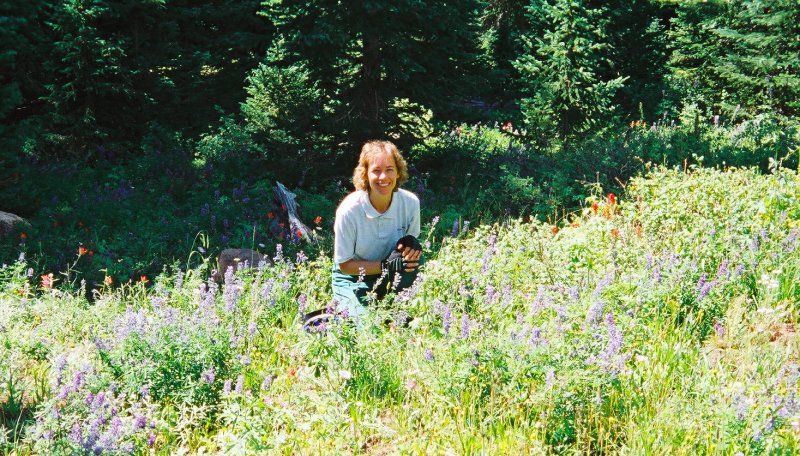 Above Terry is in a field of Penstemen, Vetch (Loco Weed), Indian Paint Brush, Coral Fairy Trumpets, and Hare Bells (Mountain Blue Bells). The picture demonstrates Nature at its best!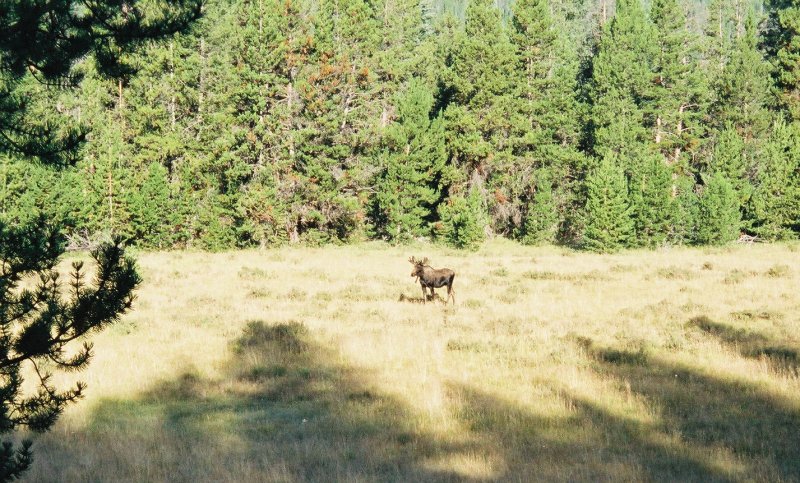 Above Early in the next morning we spot this Moose in a meadow.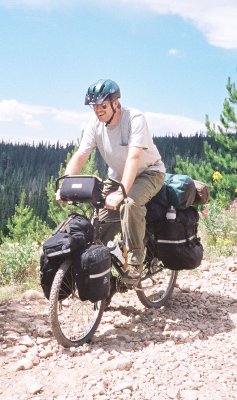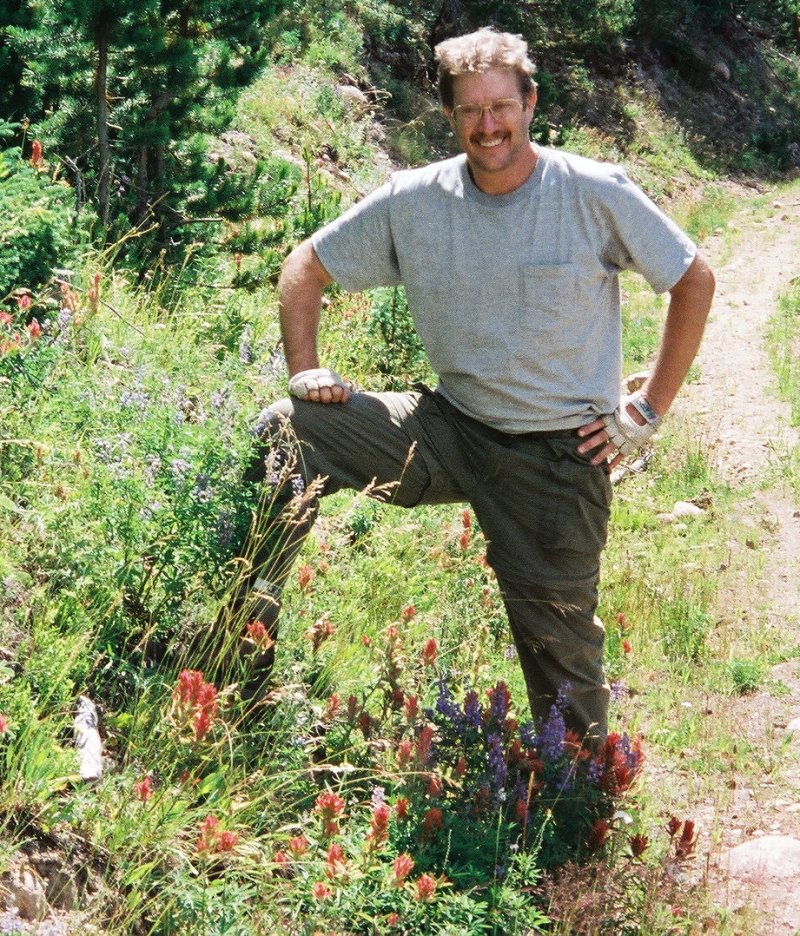 Above Left: We are riding down hill in loose rock for a couple of miles. It isn't difficult but it is time consuming and fatiguing on the (brake) hands. Stops are frequent, just to give the hands a brake (arh arh).

Above Right: Somewhere along the way, we stop to smell the [Wild] Roses. Its a good day.



It was a good Adventure!





Previous Adventure Top Next Adventure