- Hover Mouse Over Pictures -

Bicycle Tour Adventure #5

Pictures and Stories About Bicycle Tour Adventures

Wilkerson Pass, Colorado, USA,
By Bicycle, August, 2003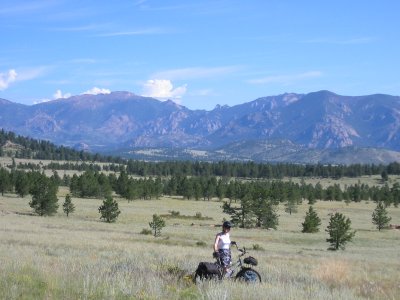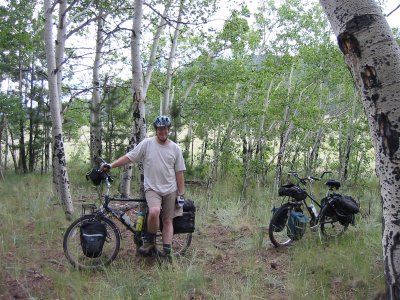 Above Left: We are climbing Wilkerson Pass tomorrow. Today our plan is to bike the old weather beaten back road system of fire access trails to an old mountain town called Tarryall and then take the prime National Forest (NF) dirt roads back to camp. We are camping inside Pike NF near a NF Campground but we are self contained and have selected a spot about two or three miles away where we are all by ourselves. Terry is patiently waiting for me. We are the only humans around - aint it cool!

Above Right: We are taking a lunch break in this Aspen Grove.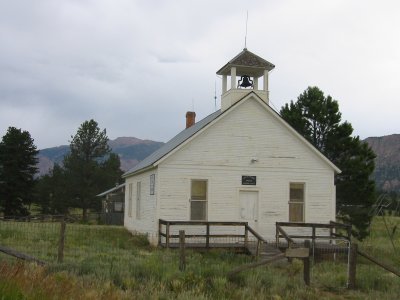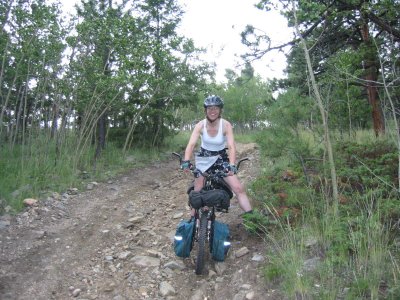 Above Left: We made it to Tarryall (the town). There are about 10 to 15 homes. Most of the homes are small wood sided structures and most of them are occupied. This is a very pleasant little mountain community. We love this old school house. A few moving automobiles are very courteous about their speed around us. We really appreciate it.

Above Right: We just went over this hill. It has lots of loose fist sized rock.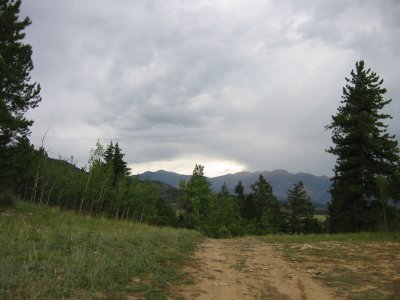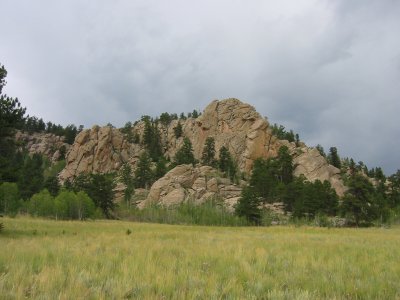 Above Left: Our back trail. An evening thunder dumper is moving in. We do have rain gear. We only fear lighting. When Dennis was a kid, a lightning bolt hit a pile of firewood stacked next to a tree next to Dennis. He had faster reflexes then, he dove behind a covered and elevated campfire structure. Flying debris took off the tin roof right where Dennis was standing. Terry had a pet goat killed by lightning, right in front of her. We have a deep respect for lightning.

When Dennis flew helicopters, he would always land or wait out lightning storms. He was teased about it. Later, one of Dennis' fellow pilots lost his rotor mast while flying in a Thunder Storm - hit by lightning.

Above Right: A neat looking rocky mountain formation. There is actually a water spring and two RV's hidden in the trees of this picture (not visible). That is how camping should be, unobtrusive to the scenic ambiance.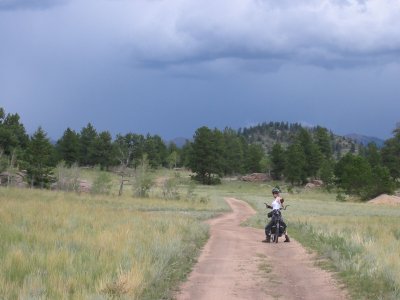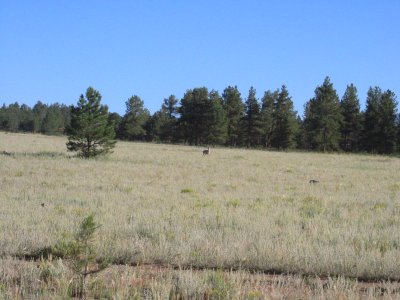 Above Left: Terry, anxiously waiving back to Dennis. Camp is just over the hill. Wine and cheese awards await our return. We never get wet.

Above Right: Early the next morning, we see a doe out our back door (just above center). Its a good sign and there is not a cloud in the sky, but it did rain pretty good during the night. Visibility is over a hundred miles, it is only limited by the curvature of the earth. In aviation we called this CAVU, Ceiling And Visibility Unlimited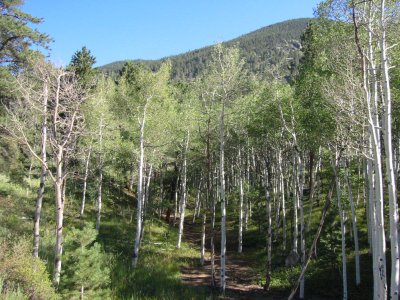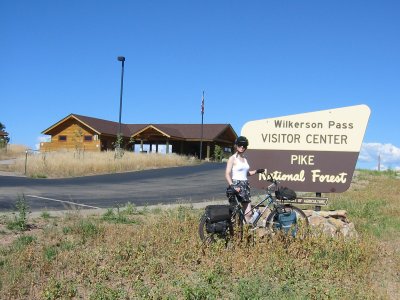 Above Left: We are biking up to Wilkerson Pass on Hwy 24. We stopped for Dennis to catch his breath next to this Aspen Grove. Aspen trees spread by a root system (not seeds). Aspen trees are old at 75 years, but it has been recently discovered that some Rocky Mountain Aspen tree root systems are about one thousand years old. An entire range can be genetically identical.

Above Right: Terry is standing by the Wilkerson Pass Visitor Center sign. We will lunch here for about an hour. This is the first leg of an equilateral triangle (more or less). The next leg will take us toward Eleven-Mile Reservoir. Then the next leg will head for the country store at the town of Lake George. And finally we will ride Hwy 24 back to our camp site turnoff. We are not fans of riding along highways, but sometimes one must.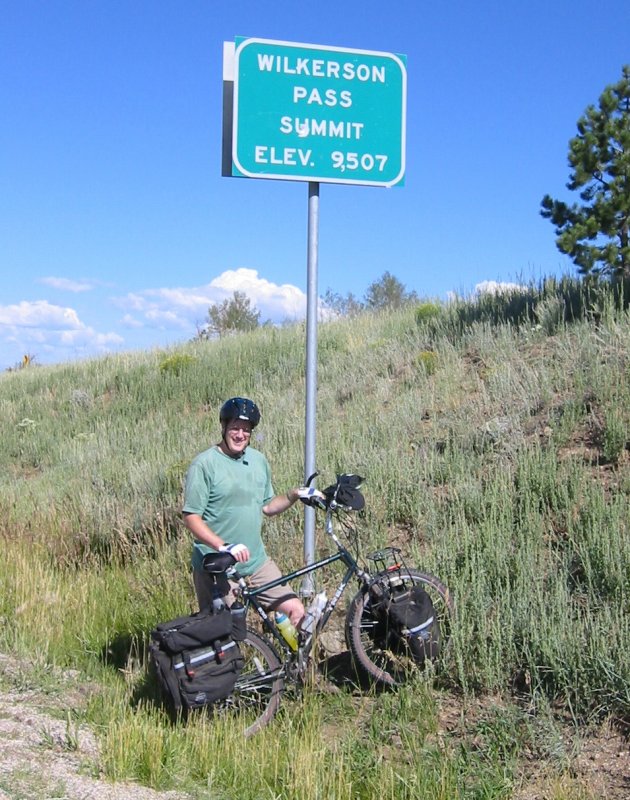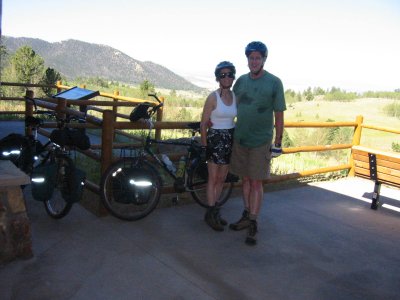 Above Left: Dennis, at the summit sign, across from the Visitor Center.

Above Right: Terry and Dennis, posing at the Wilkerson Pass Visitor Center. The reader's view is looking southwest into South Park.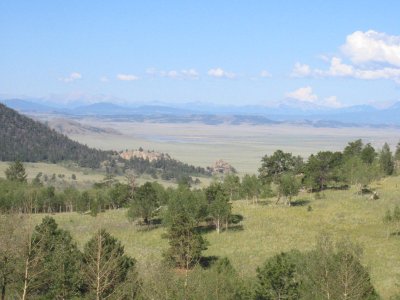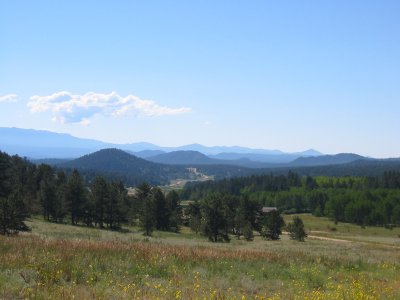 Above Left: We are still at the Wilkerson Pass Visitor Center looking southwest into South Park.

Above Right: We are downhill a couple miles on Hwy 24 east of Wilkerson Pass. This is the turnoff view of where we are heading. We're looking southeast toward Eleven Mile Reservoir.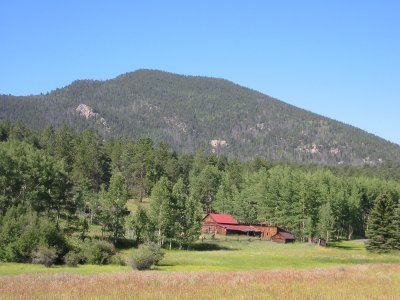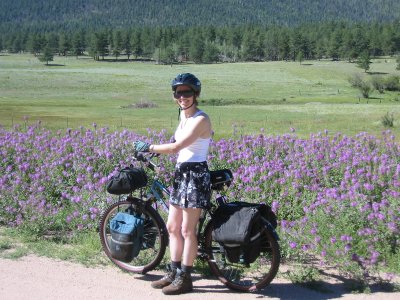 Above Left: A Colorado ranch and homestead.

Above Right: Terry is next to some purple flowering vegetation.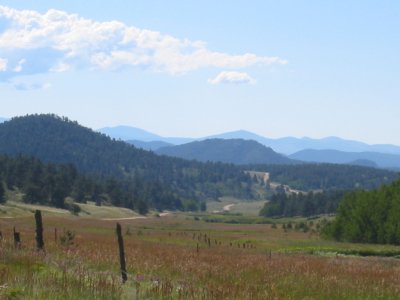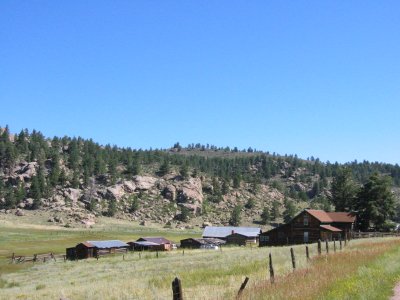 Above Left: Its a wondrous trail that we follow.

Above Right: Another working ranch.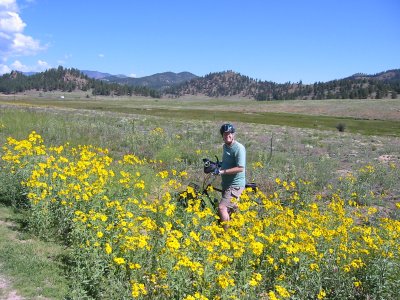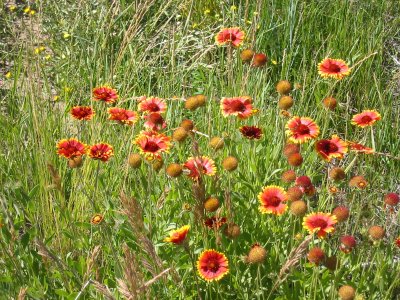 Above Left: Dennis, in a bed of Sun Flowers.

Above Right: Another type of wild Sun Flower.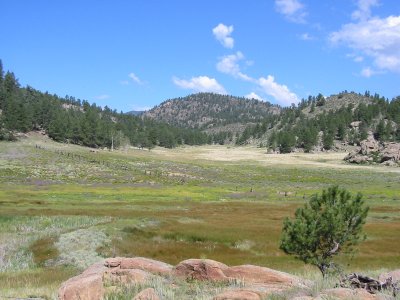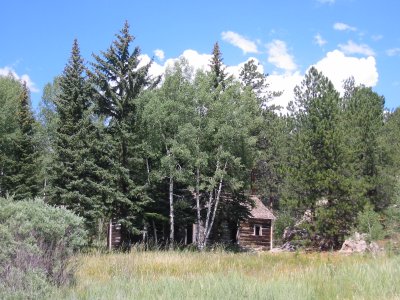 Above Left: More scenic Colorado.

Above Right: A really old homestead, probably from the late 1800's, visible from Hwy 24. This is the last picture from this trip. The journey was joy.




Previous Adventure Top Next Adventure